Qualcomm® Snapdragon™ 860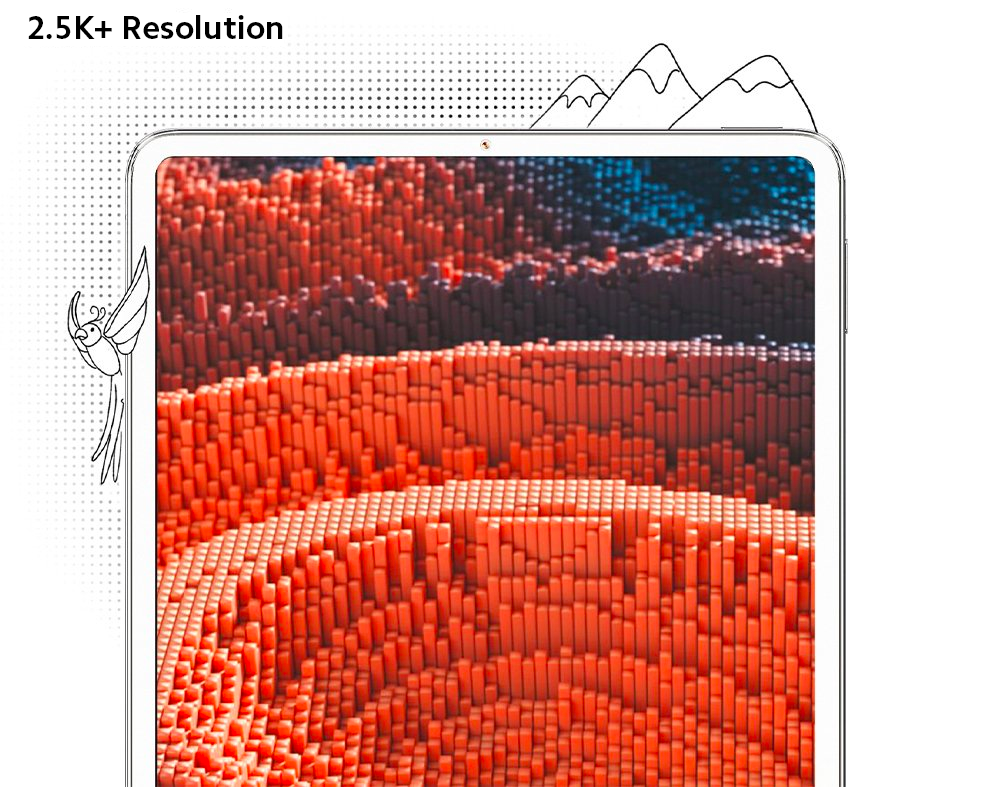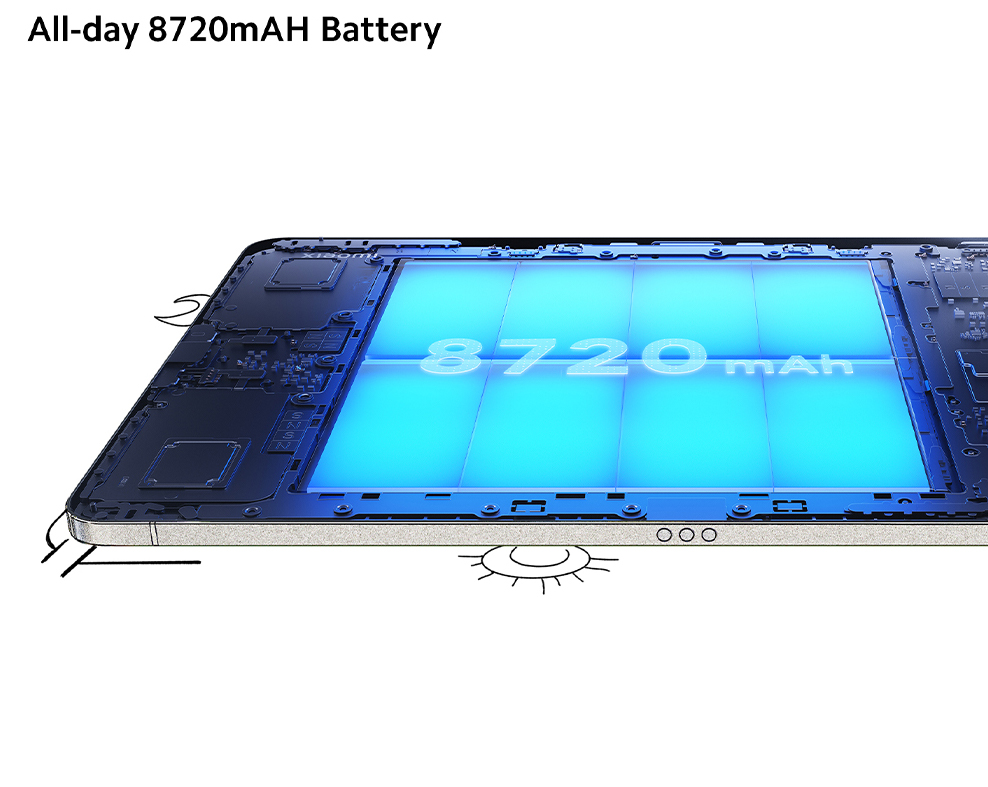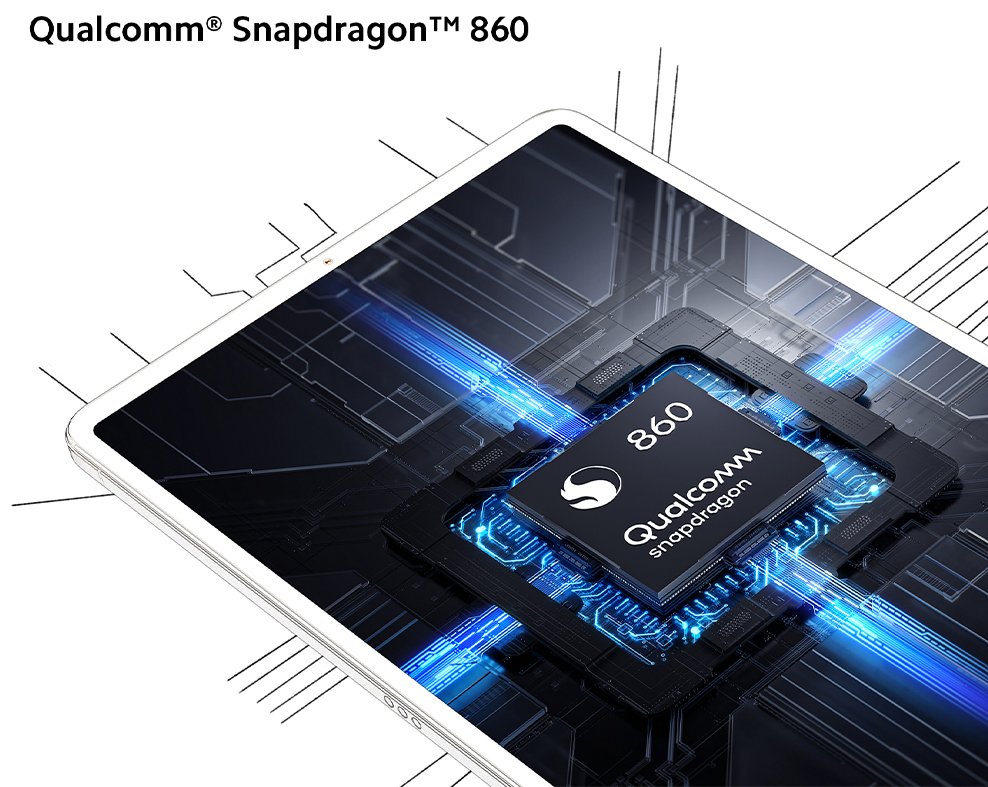 Sharper Details. Extraordinary
Be it watching movies, playing games or acing a project, the 27.81cm(10.95) display brings class-leading details and extraordinary colours.
2.5K+ Resolution
DCI-P3 Colour Gamut
1 Billion Colours
16:10 Aspect ratio
With 120Hz refresh rate, browsing through web pages, scrolling through the UI, and even gaming, is buttery smooth. Low blue light protection and colour temperature sensor ensure that your eyes don't feel tired.
120Hz Refresh Rate
H/W and S/W Low Blue Light Protection
Colour Temperature Sensor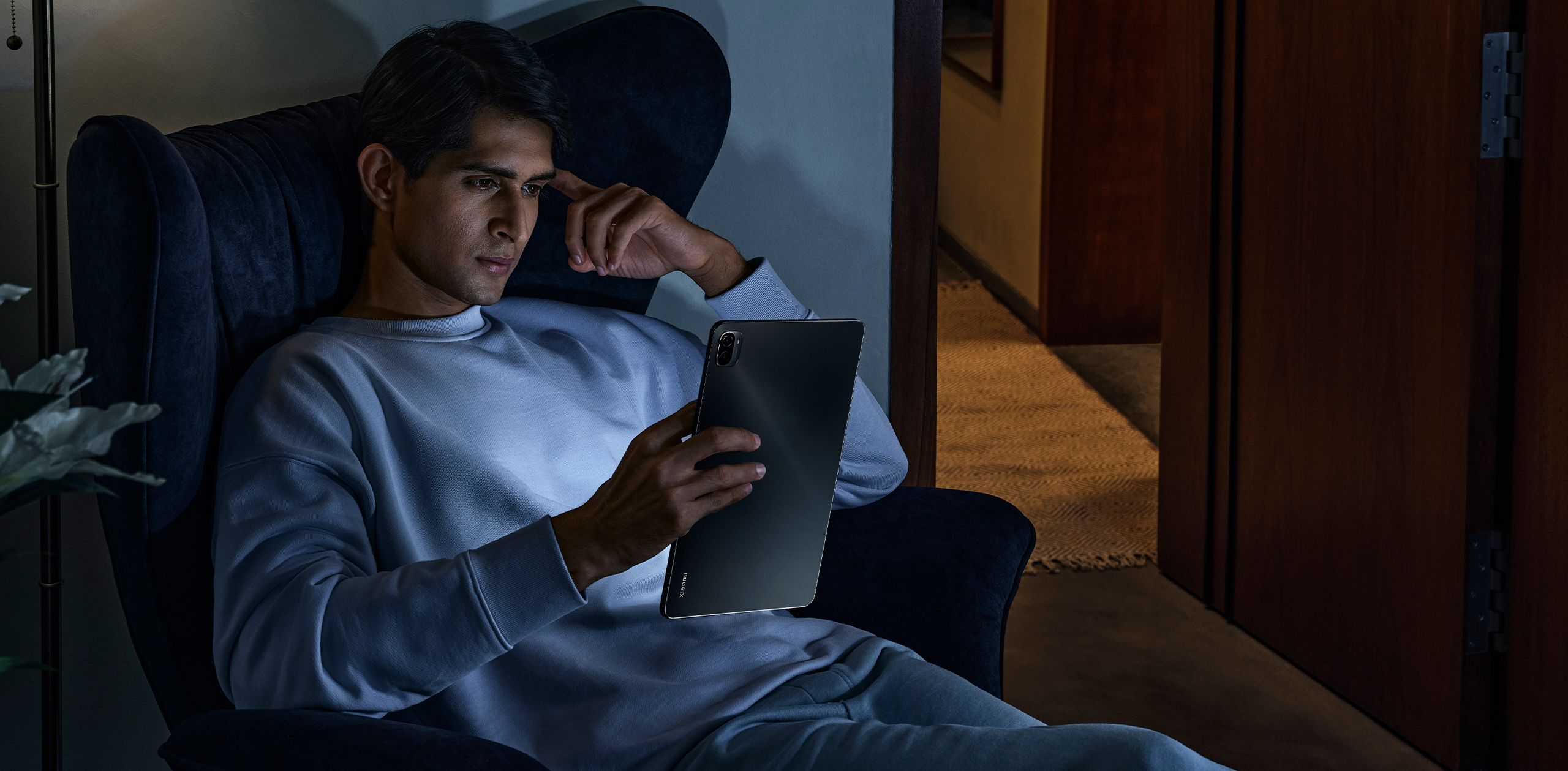 Tune in to an
experience
Quad Speakers
Dolby Atmos
Dual Microphones
Great
Even Greater
With Qualcomm® Snapdragon™ 860, everything is responsive. Be it playing games or using multiple apps, you'll always have more power to spare.
Qualcomm®
Snapdragon™ 860
8 x Qualcomm Kryo 485 64-bit Architecture 7nm process technology
Adreno™ 640
HDR Playback Codec support for HDR10+, HDR10, HLG and Dolby Vision
6GB+128GB/ 6GB+256GB
LPDDR4X UFS 3.1 UFS 3.12.96 GHz
Power through
The extra-large 8720mAh battery provides support all day, every day. Whether you are working, studying or playing, you never have to worry about running out of power.
16+ hours
of video playback
With 4096 levels of pressure sensitivity, Xiaomi Smart Pen accurately senses changes in pen pressure, allowing precise, smooth pen strokes. Be it taking notes, drawing illustrations or even navigating through the UI, Xiaomi Smart Pen does it all.
4096-level Pressure Sensitivity
240Hz Sampling rate
Magnetic Charging
Primary Button
Press and hold for Quick Notes
Secondary Button
Press and hold for Screenshot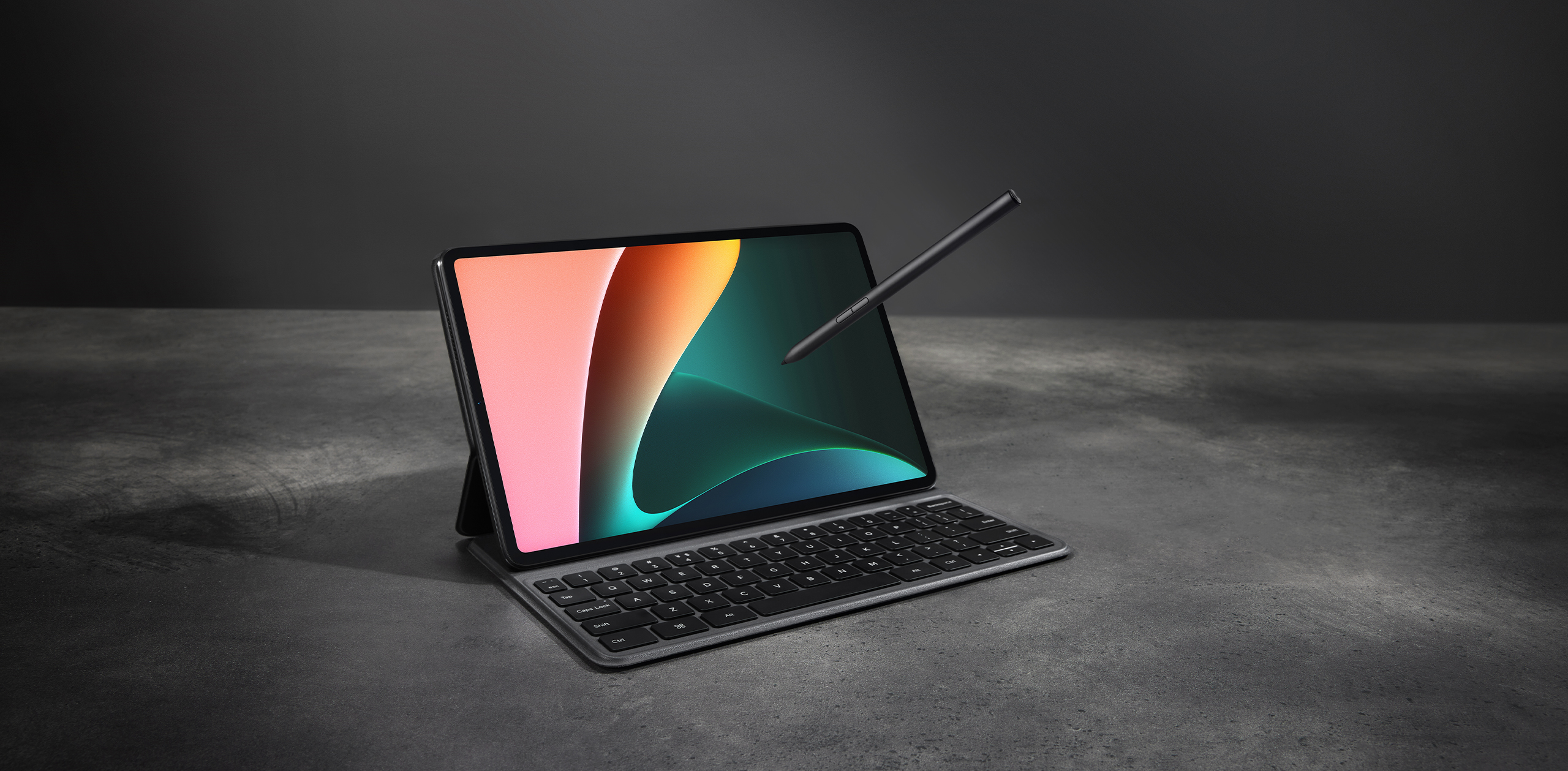 even when you aren't looking
Charge your Xiaomi Smart Pen by simply attaching it to the magnetic charging spot on your Xiaomi Pad 5, and enjoy up to 20 mins of power in 1 minute of charge.
20 mins
of usage in 1 min of charge
Customisable multi-task key
MIUI for Pad
Split screen
Watch a video and read an article at the same time by running up to two applications side-by-side.
Multi-windows
While using Split-screen, add a Floating window to write quick notes and run up to three applications.

Xiaomi Pad 5:
Do it better The Xiaomi Pad 5 is a powerful Android tablet which aims to let users 'Do it better', whether its Entertainment, Productivity or Gaming. Entertainment With the promise of a better entertainment experience, this device offers a great visual experience combined with a top notch audio experience as well. It comes with a brilliant 2.5k+ or 2560x1600 resolution screen measuring 10.95 inches along the diagonal. With this optimum size and resolution, its aspect ratio is 16:10 giving it just the right balance to do both productivity and content consumption really well. The tablet supports 120 Hz refresh rate which delivers a smooth user experience even while navigating the UI and also some games support this refresh rate for a refreshingly smooth game experience. The device supports Dolby Vision Atmos, a combination which delivers a lifelike experience both on the visual as well as audio departments. With a quad speaker setup and Dolby Atmos support, content as well as gaming and regular meetings - everything just feels better. Productivity Xiaomi Pad 5 comes with a remastered version of MIUI , especially made, called 'MIUI for tab'. MIUI for tab is optimized for the unique combination of resolution, aspect ration and orientations it can be viewed at while in use. Some apps which benefit are - Notes app, Weather, Calculator and Security. Of these the Notes app comes with the most customization. The Notes app works seamlessly with the Xiaomi Smart Pen, letting a user take notes akin to a pen on paper, or even switch to other tools like a pencil, paintbrush, eraser and more. For students who are in school or college, this app would be indispensable to take notes which include text, images, doodles and clips. All of these elements can be easily created and edited using the strong interaction between the pen and MIUI for pad. The Xiaomi Smart Pen attaches and charges magnetically with the pad. It weighs just 12g, and can charge to 100% in 18 minutes giving up to 8 hours of usage. Another aspect of productivity is how easily a user can use features like split screen windows to work on two tasks side by side, or add on to that with a floating window, making this device amazing at multi-tasking. The docking solution on this MIUI also enables quick access to active applications, and also easy access to other frequently used applications. Gaming The Xiaomi Pad 5 is a well balanced performance Android tablet with an Qualcomm Snapdragon 860 Octacore processor based on a 7nm process technology, which makes multi-tasking quite effective on this platform. It comes with an Adreno 640 GPU which makes rendering of games and graphics intensive applications easy. With 6 GB of RAM and UFS 3.1 storage of 128 GB or 256 GB, installing and playing even heavy games like BGMI or COD mobile are simple - and they run without any hitches at high graphics settings. With a 120 Hz display, some games really deliver a very smooth experience, e.g. Altos Adventure. The large display helps the user comfortably handle the game on screen controls and the quad speaker setup with dynamic mapping as per orientation lets the user comfortably swap positions after long hours of play without affecting the game sound. Who is the Xiaomi Pad 5 for? If you are someone who needs a portable productivity powerhouse for emails, taking calls on the go and for taking notes at meetings or classes, this device is perfect for you. It can also act as your personal theatre or stereo setup giving you long hours of immersive entertainment whether at home, on some kind of transportation or while traveling. You could be a student or a working professional hustling every day and looking for those few hours of 'me time' with your favourite OTT show or casual game.