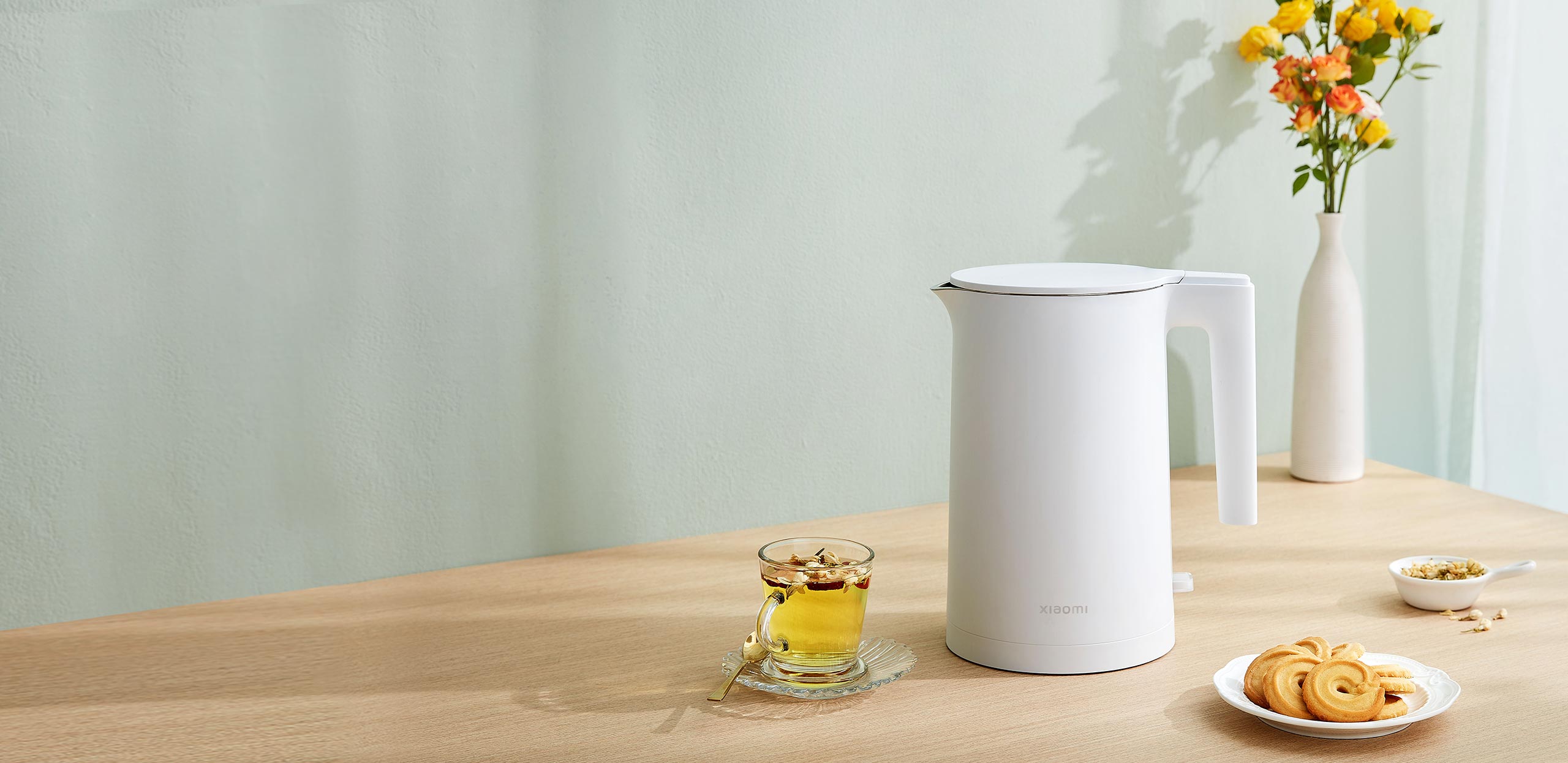 A pot of good water can warm your heart
Integrated vertical handle
Dual-layer heat insulation
4 electricity safety solutions

Integrated vertical handle
Dual-layer heat insulation
4 electricity safety solutions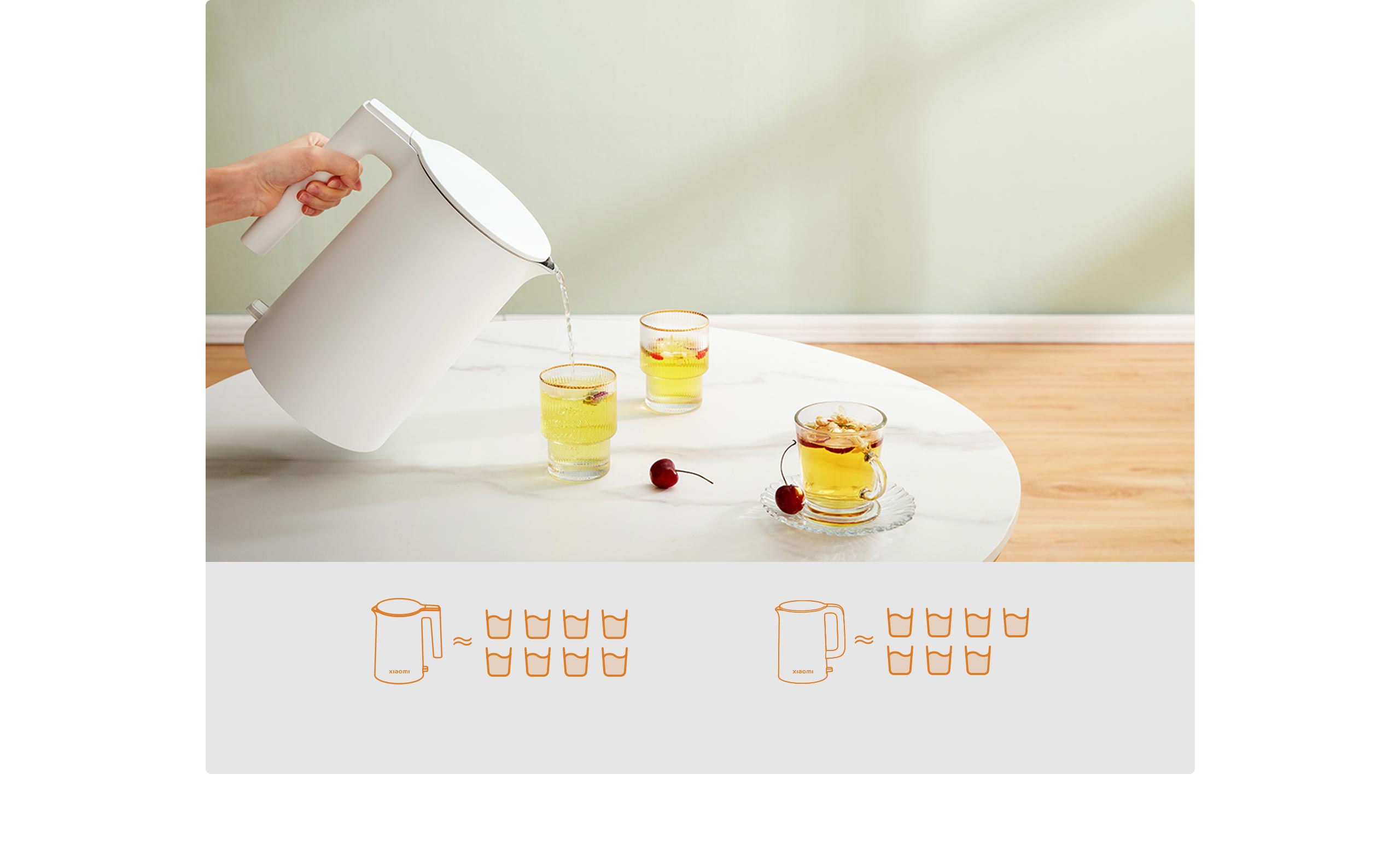 Upgraded capacity 1.7L high capacity, make more hot drinks without refilling
Capable of boiling 8 cups of water* in one go, enough for the whole family's needs
* 210 ml per cup of water
Xiaomi Electric Kettle 2 1.7L enough for 8 cups of water
Xiaomi Electric Kettle 1.5L enough for 7 cups of water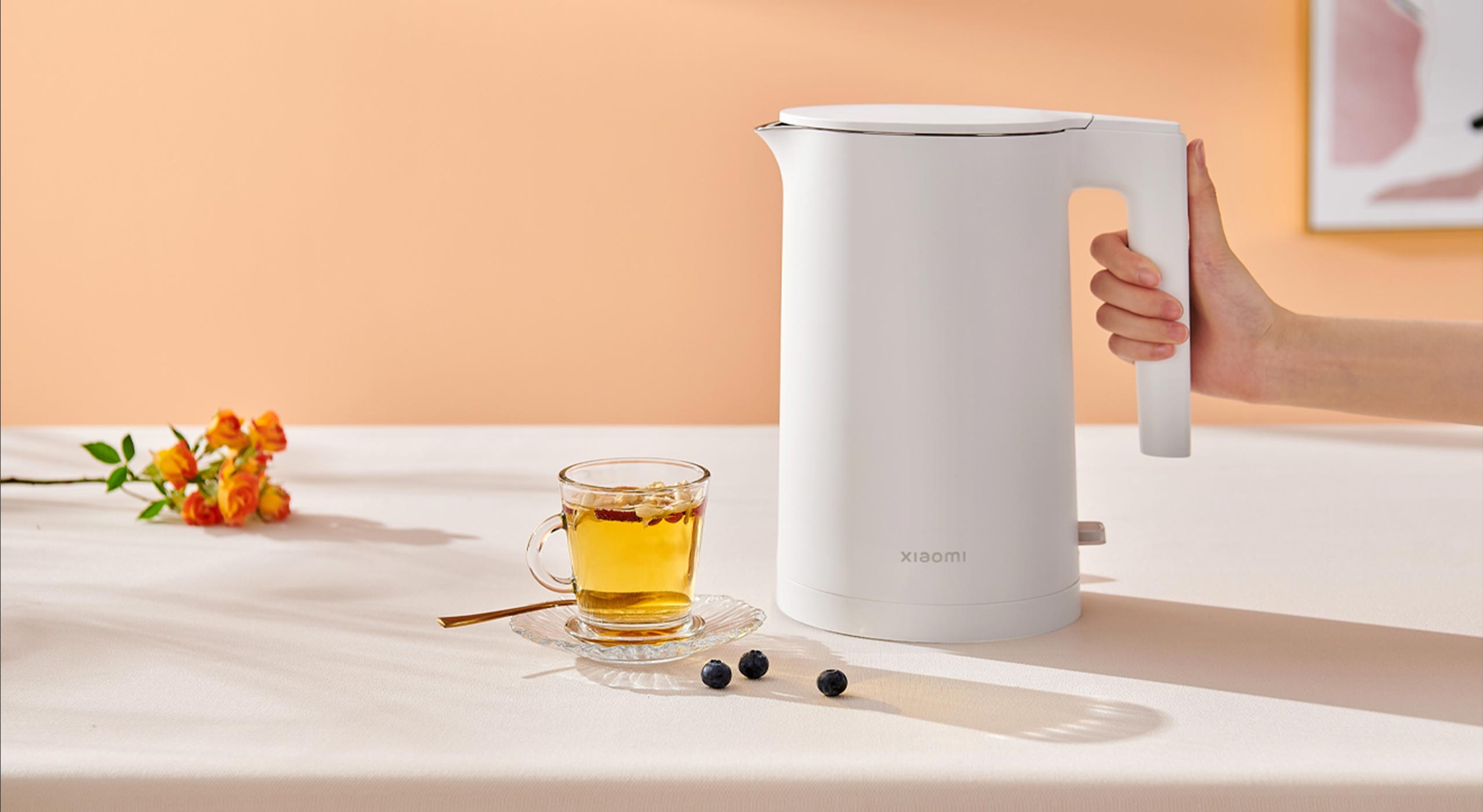 Upgraded look Open handle design, convenient and effortless
The vertical open handle shortens the distance between putting the kettle down and pressing the switch, optimising the movement and making operation more convenient, greatly enhancing the experience of use. The rounded handle provides a comfortable grip and makes pouring more effortless.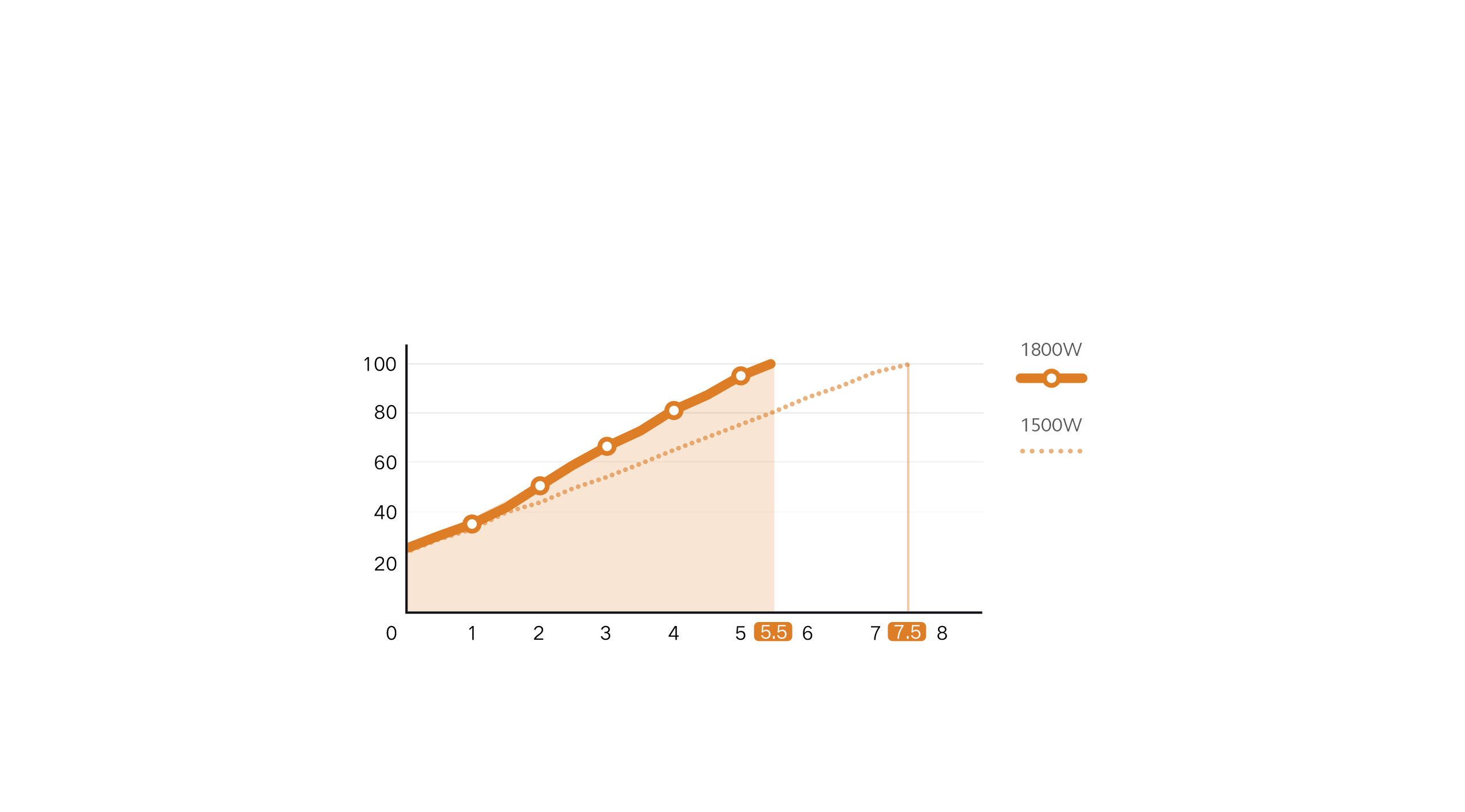 1800W high power output, saves 2 minutes with every boil
Xiaomi Electric Kettle 2 incorporates a 1800W heating base plate, for quicker boiling and shorter waiting time.
* At a room temperature of 24°C, the time from calm to boiling of 1800W and 1500W kettles, that each filled with water of 1.7L , was recorded as 5.5mins and 7.5mins respectively; the 1800W kettle saves 2 minutes compared with the 1500W.

Upgraded thickened aluminium heating plate Evenly heating, full boiling"
Thickened aluminium heating plate, for more uniform heat distribution, a full boil and safe drinking water.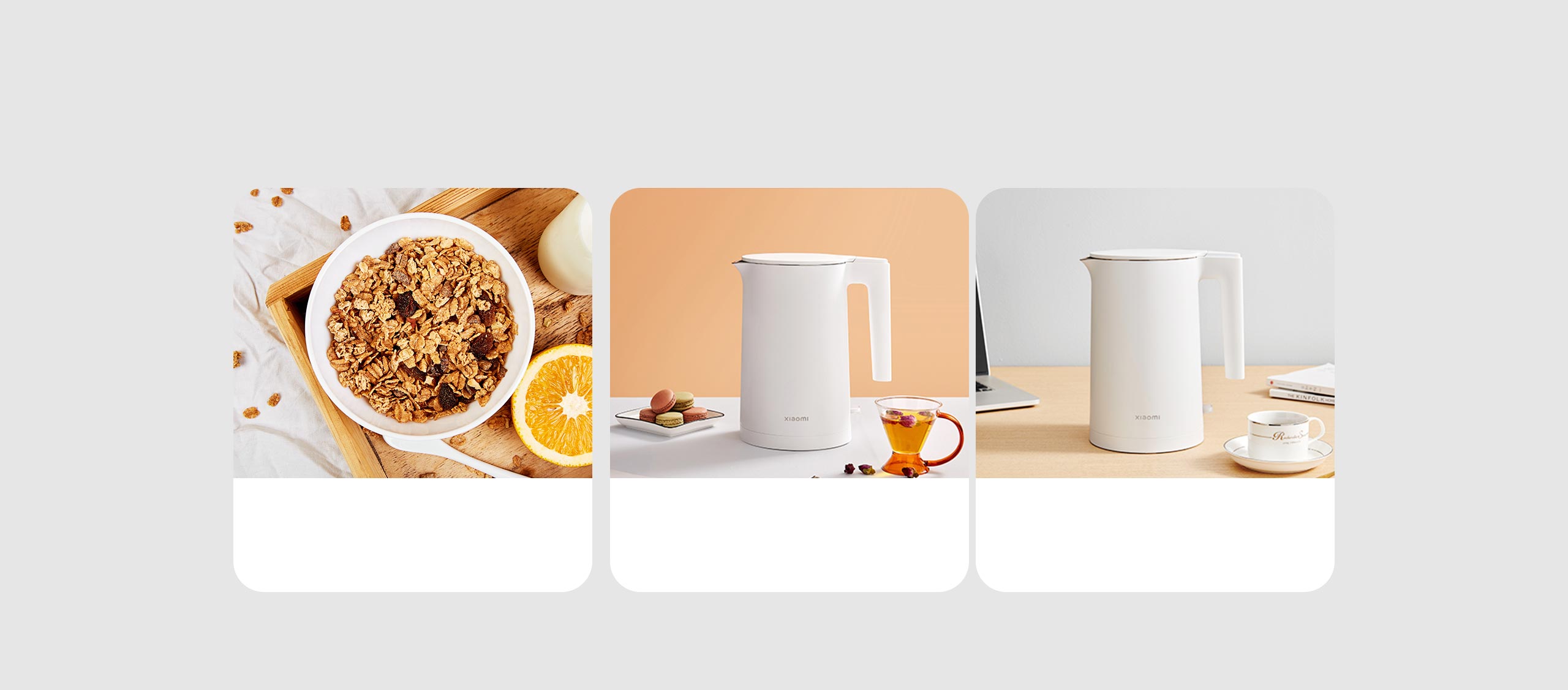 A pot of good water can warm your heart
A cup of rose tea after lunch will comfort your stomach.
A cup of hot coffee to chase away the irritability and weariness of work.
A cup of oat milk to energise you before you start your day.

All your worries, all at ease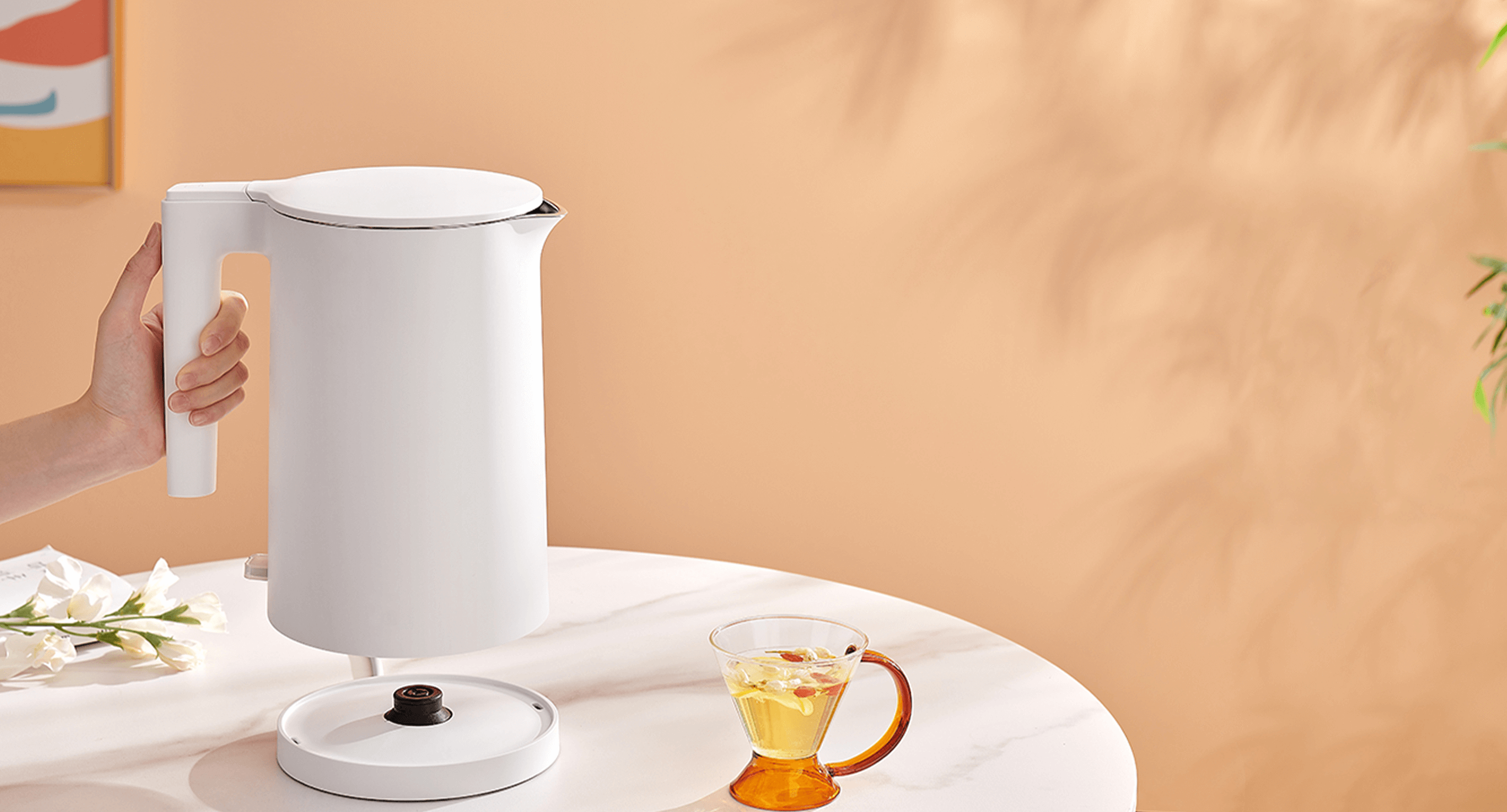 4 electric safety protection, for security and peace of mind
Xiaomi Electric Kettle 2's thoughtful 4 electric safety protection safeguard you and your family's drinking water health.




Automatic power shut-off after boiling
Automatic power shut-off when dry-burning is detected
Safe-to-touch electric shock protection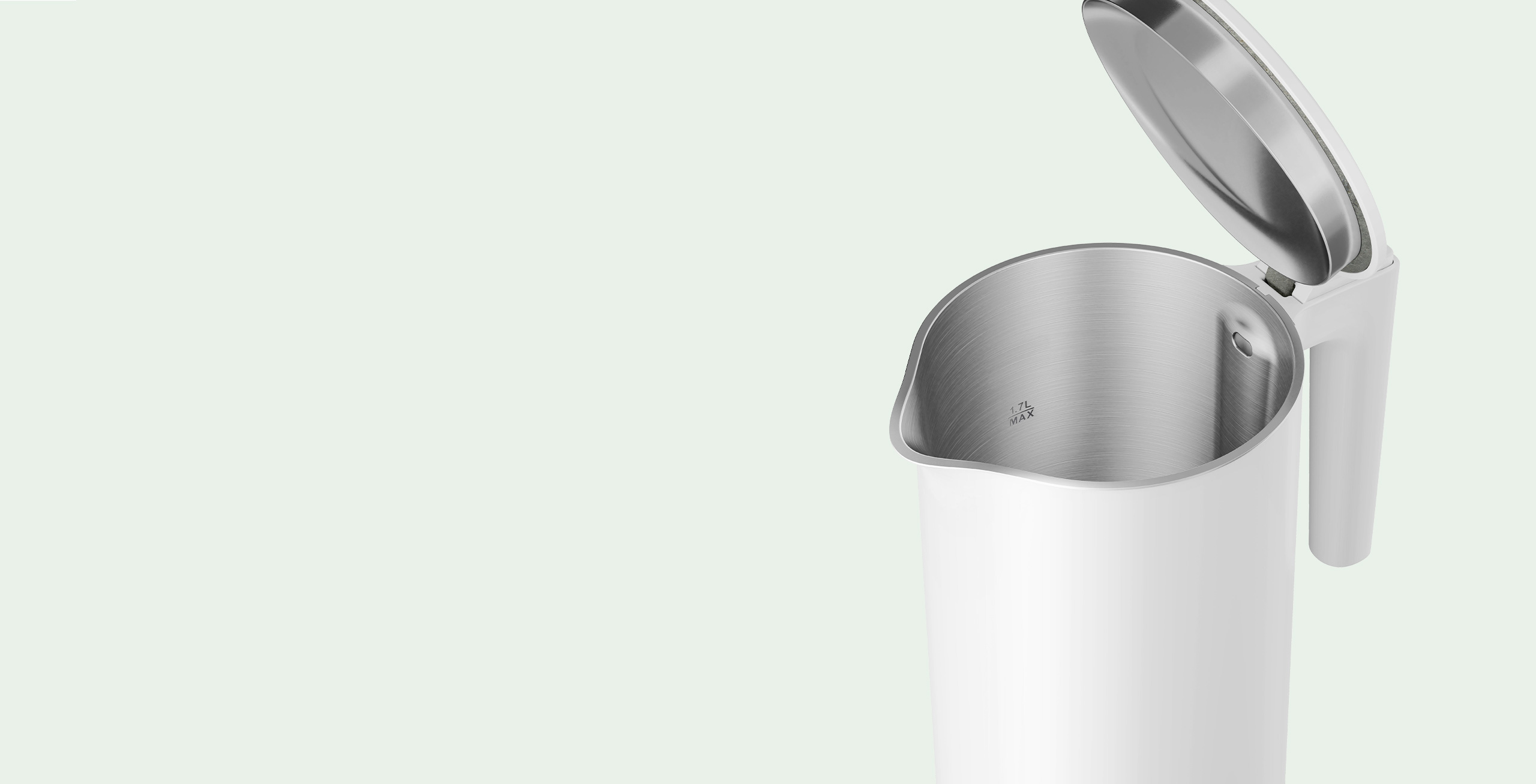 Food-grade good interior For healthy hot water"
The interior surface is made of food-grade 304 stainless steel, free from BPA or any other harmful chemicals, has a one-piece structure free from screws and solder joints. Resistance to rust and oxidation, so you can boil and drink water with peace of mind.
Stainless steel interior surface
Stainless steel inner lid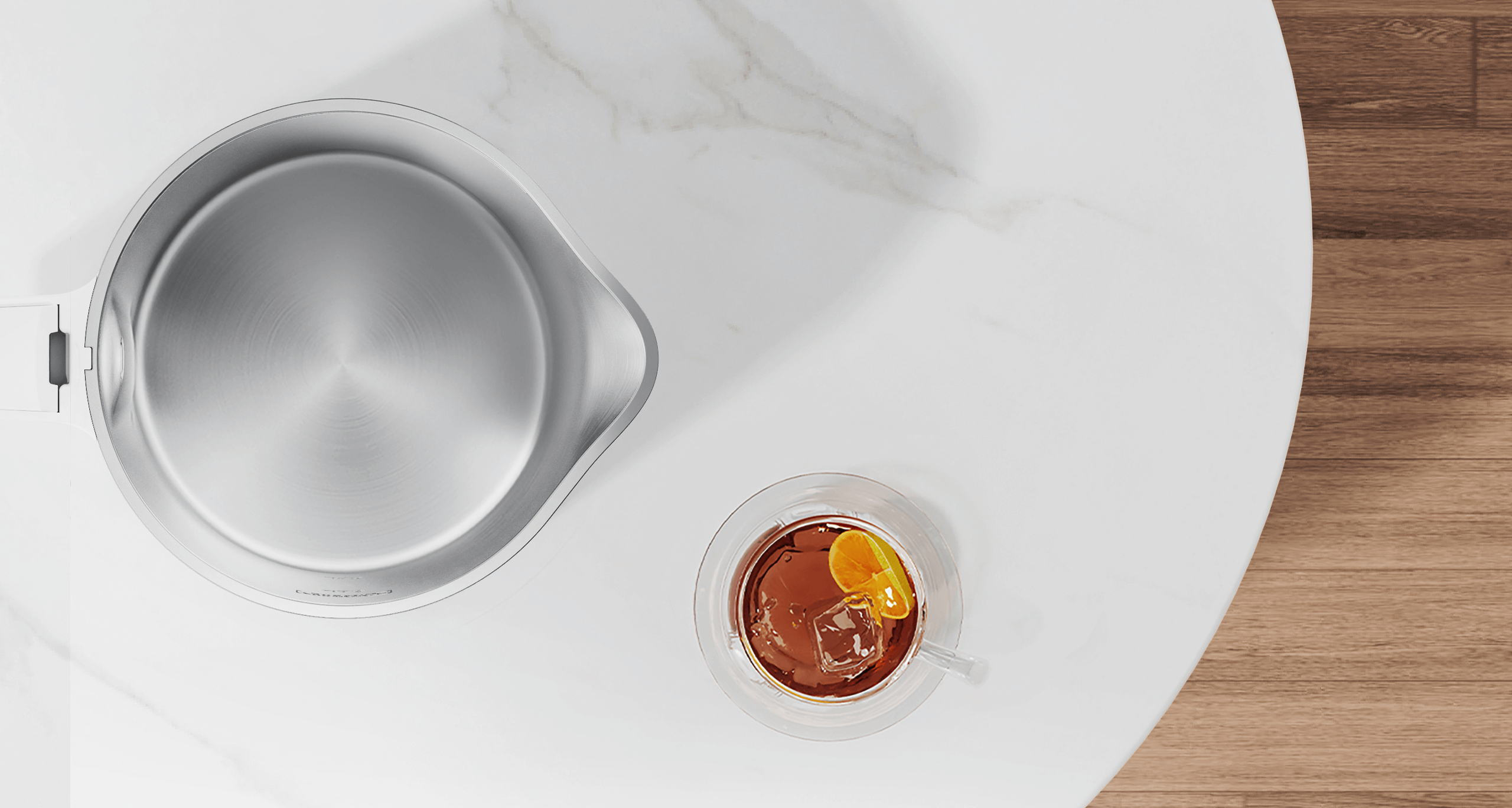 Easy to clean, hassle-free
One-piece liner with no joints or strainer at the spout, leaving no limescale stains and with a large diameter design for easier cleaning.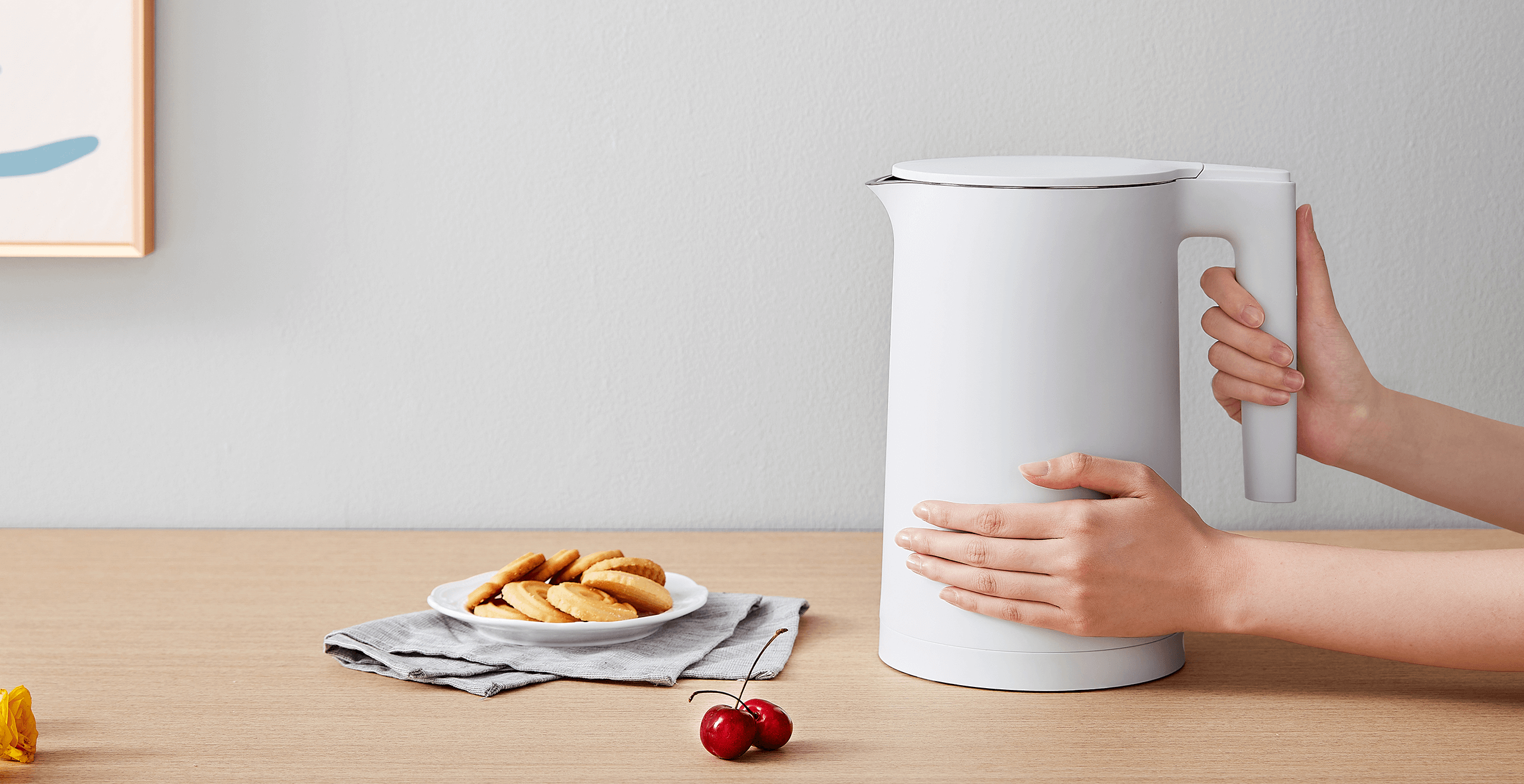 Double-layered heat protection body
The inner and outer dual-layer structure incorporates an intermediate insulation layer that effectively insulates the hot water inside the pot, preventing accidental burns.

Hassle-free, user-friendly design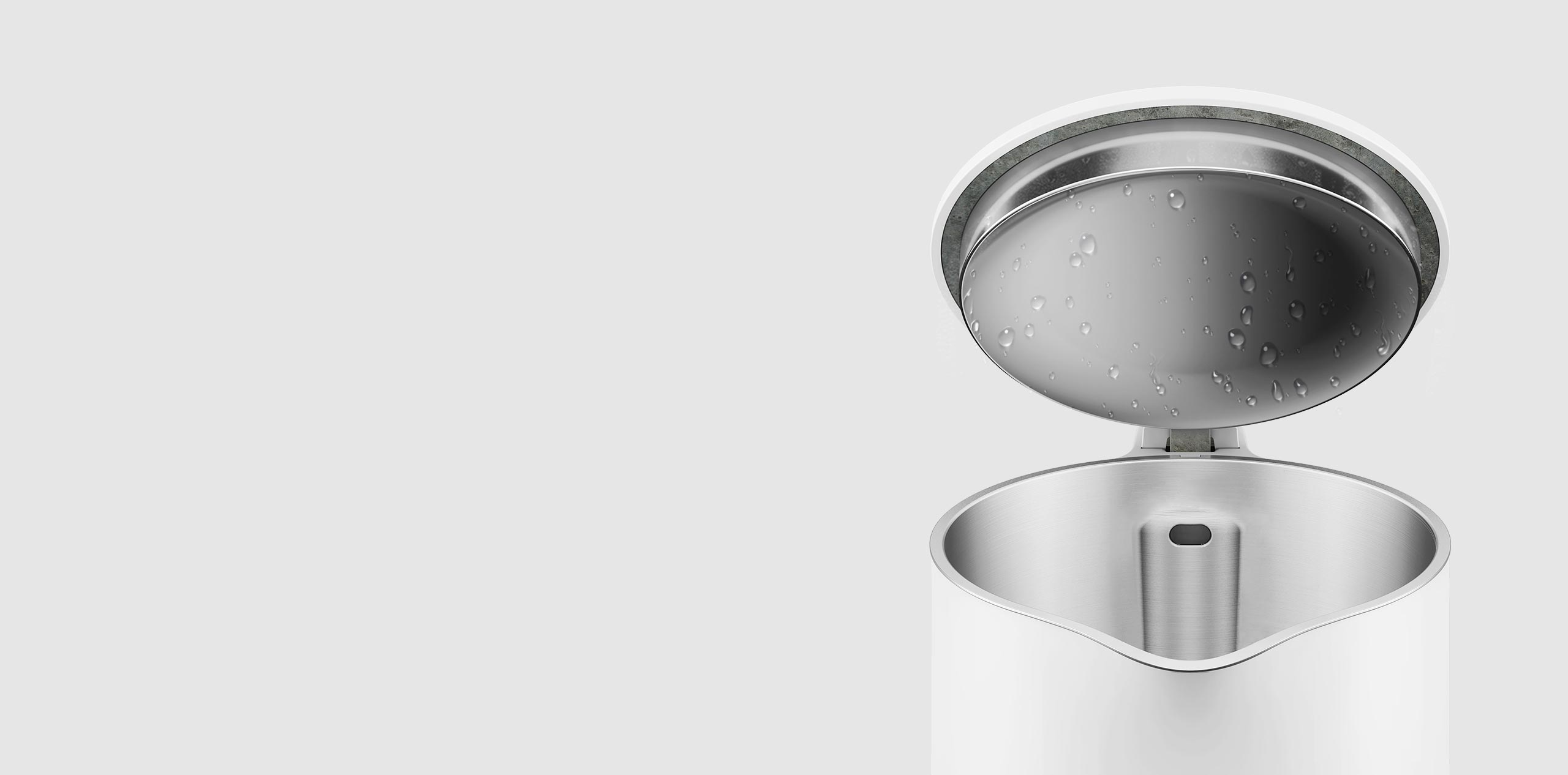 Water collection ring lid design Condensed droplets collected without splashing
When the lid is open, condensed water droplets formed by steam contacting the lid fall back into the kettle along the curved surface, preventing hot water from splashing when the lid is opened.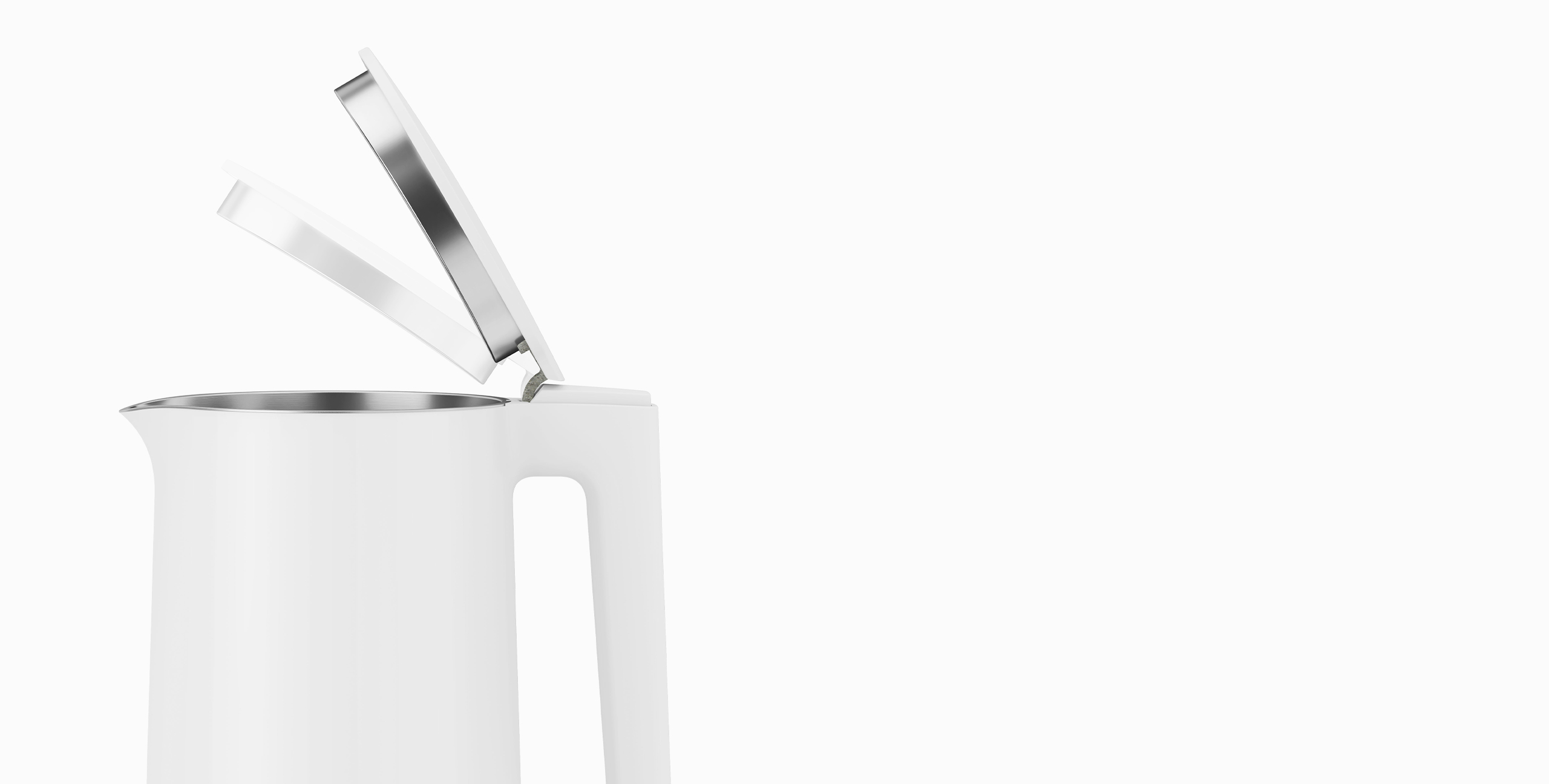 Two-stage damping lid design
Wide opening angle for easy cleaning
When the button is pressed, the lid opens automatically to half-way, preventing water droplets accumulated on the lid from splashing and scalding you; press again to open the lid manually, providing unrestricted pot access for more effective cleaning and filling.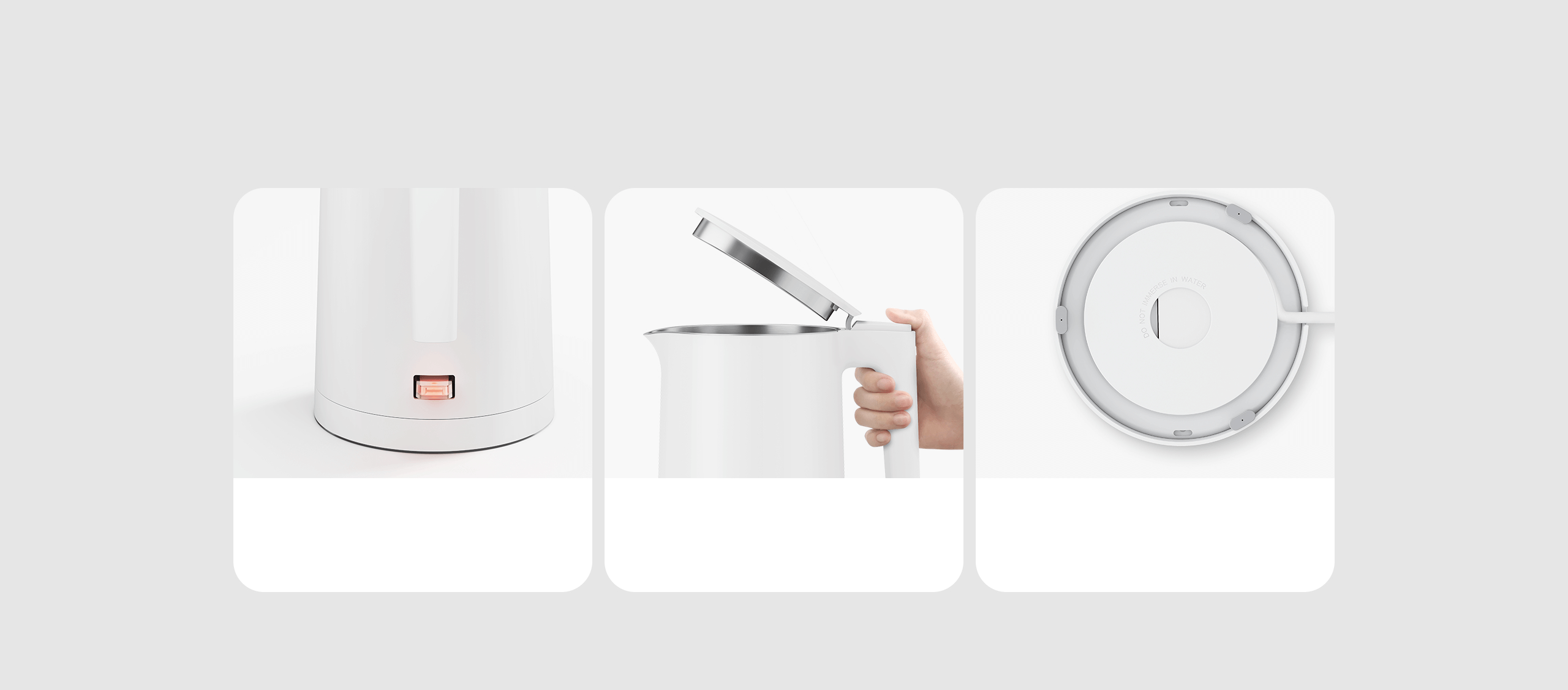 High build quality, exquisite attention to detail
Quickly open with one hand
Once the lever is pressed, it stays lit until the water is boiled.
One-touch lid opening saves time and effort.