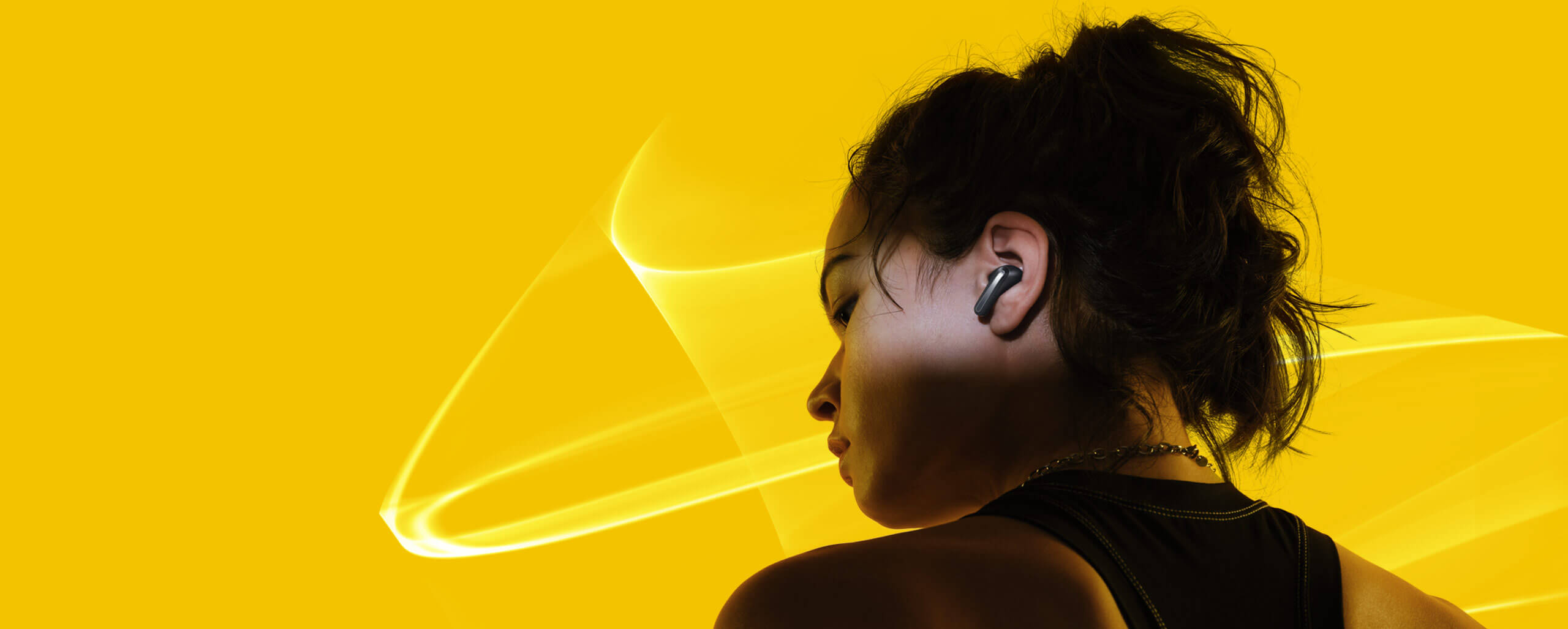 The Sound You Want

Hi-Res Audio Wireless Supported
Supports advanced LDAC audio codec*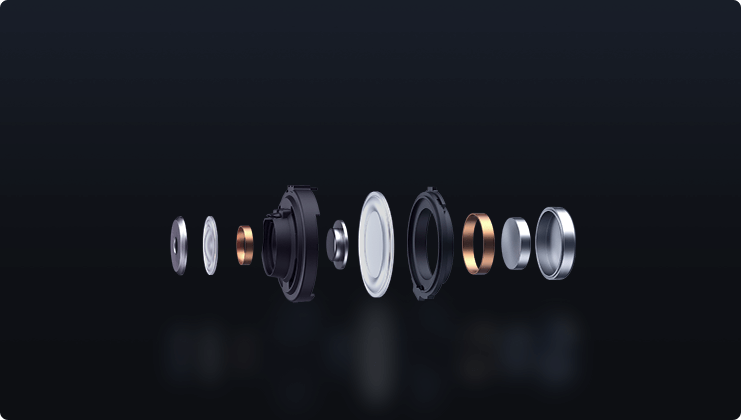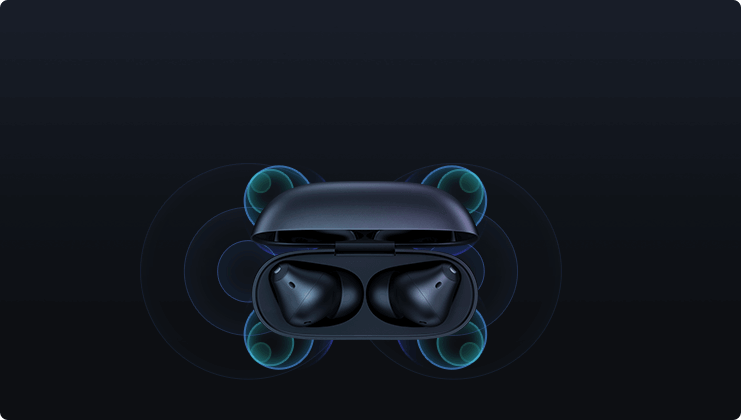 The ultimate immersive experience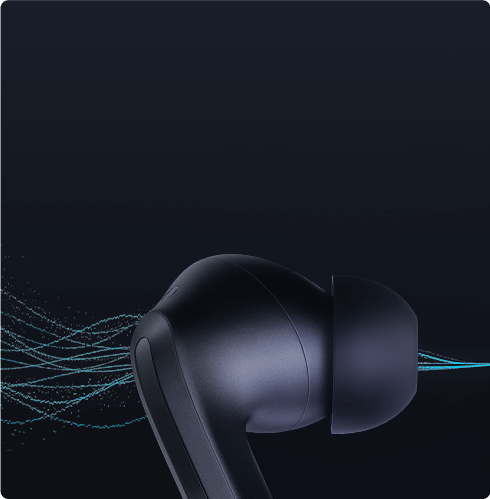 Up to 43dB active noise cancellation*
30-3000Hz wide frequency ANC*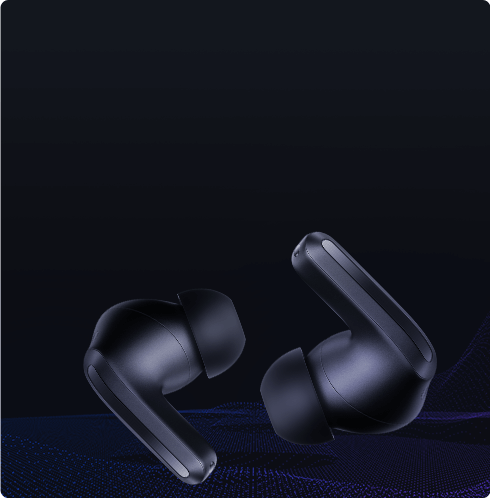 Enhanced technology for reducing wind noise
More immersive for outdoor sports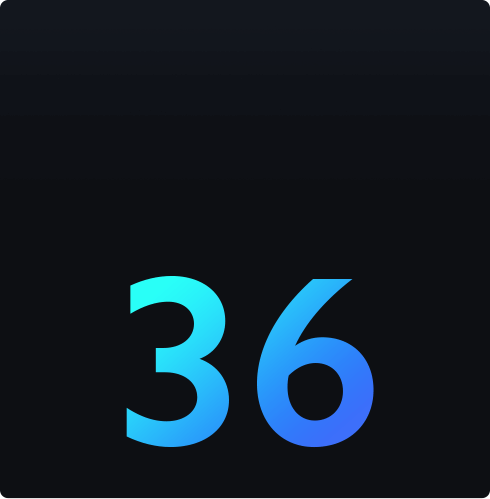 Up to 36 hours ultra-long battery life*
Up to 9 hours of listening on a single charge*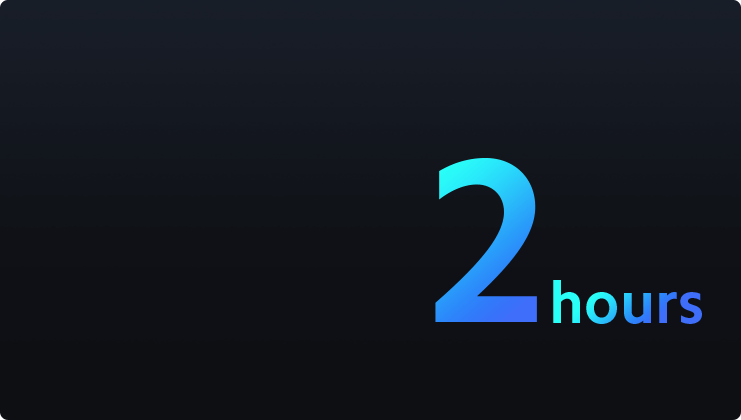 Listen to up to 2 hours of music with a 5-minute charge*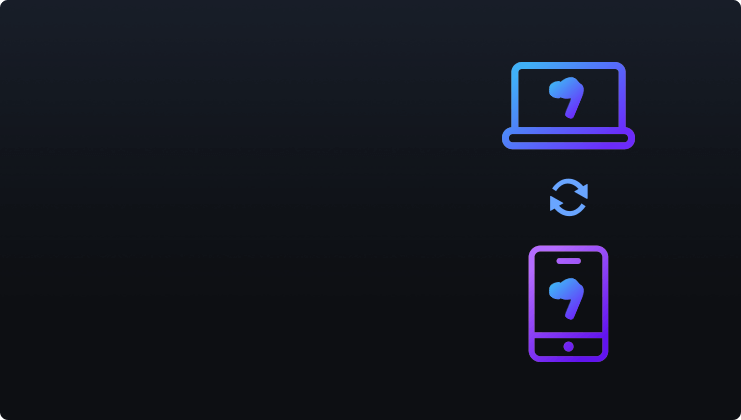 Dual device smart connectivity
Switch effortlessly between your smartphone and PC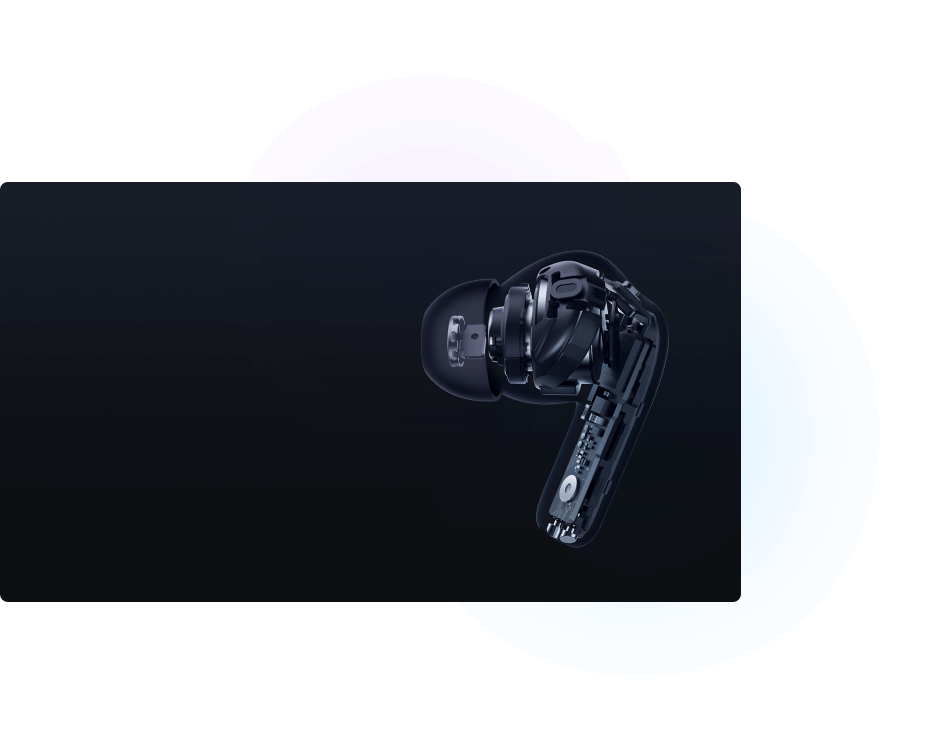 3-microphone noise cancellation for calls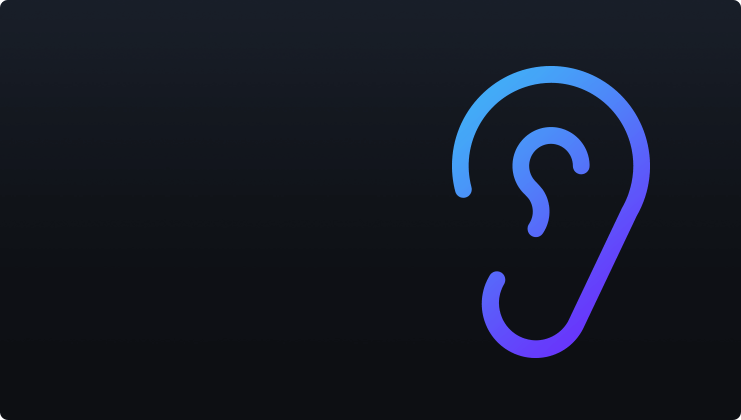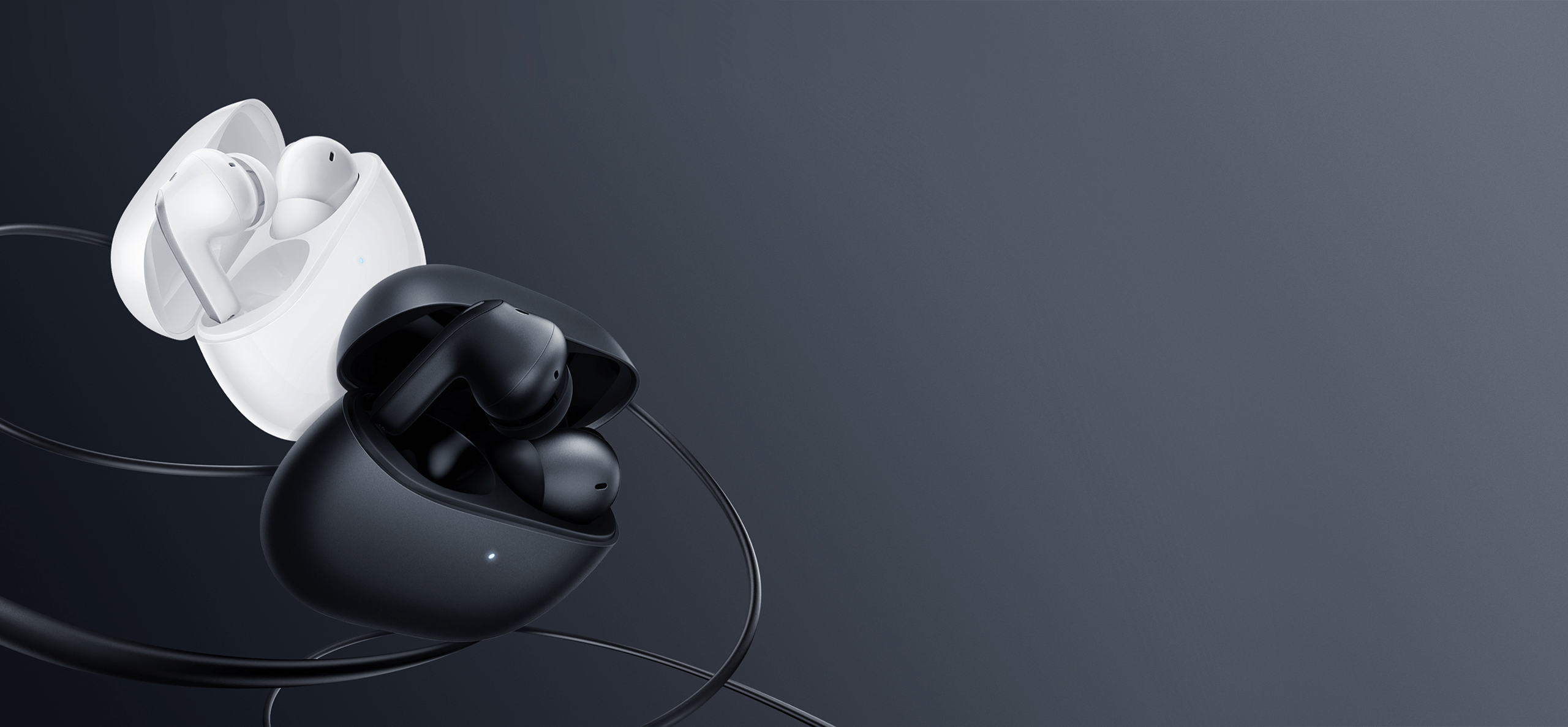 Hi-Res Audio Wireless Supported
A feast for your ears – Redmi Buds 4 Pro is certified by Hi-Res Audio Wireless and supports LDAC audio codec at transmission speeds of up to 990kbps, as well as audio resolutions of 96kHz/24bit and above.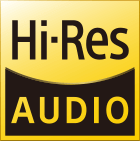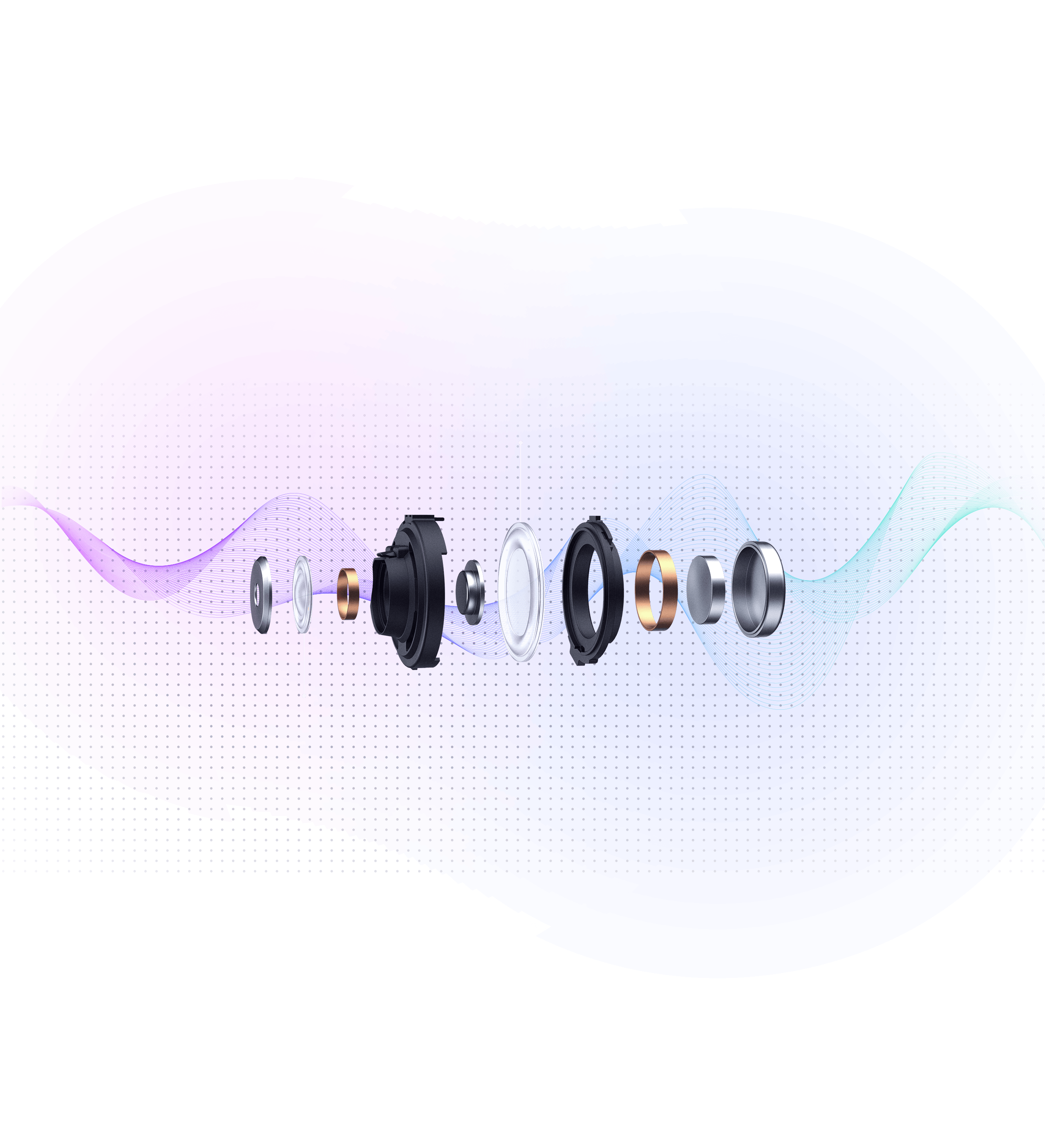 Hi-Fi sound quality

Create your own personal sound system
Redmi Buds 4 Pro features an all-new dual dynamic driver system, which consists of a 10mm aluminium alloy diaphragm and a 6mm titanium diaphragm for treble frequencies. Together, the two drivers combine to deliver crystal-clear treble and rich bass in a wide range of genres.
aluminium alloy dynamic driver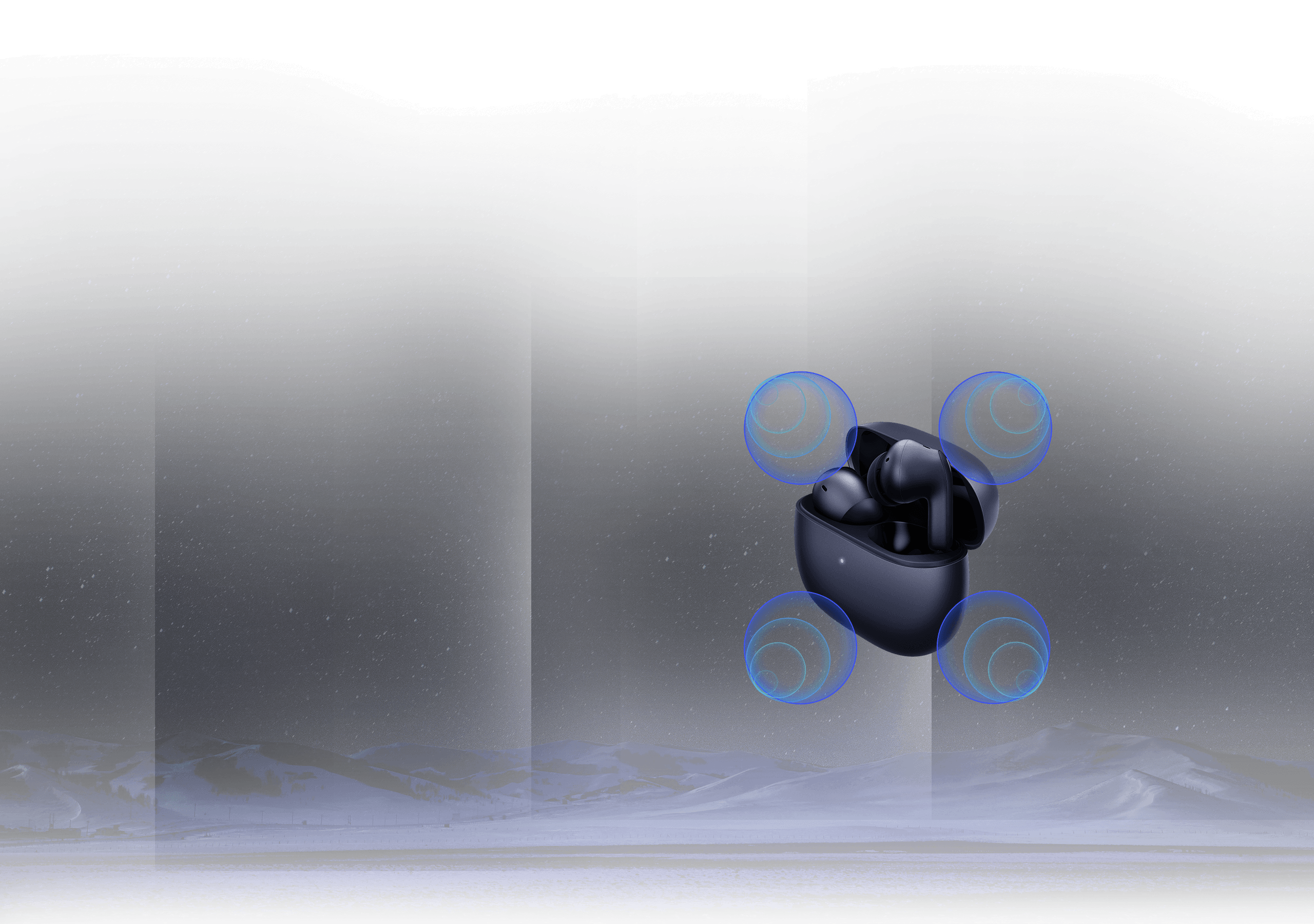 titanium dynamic driver for treble sounds
Cinema-like listening experience
For a live immersive experience
Redmi Buds 4 Pro features an all-new immersive sound system, which uses a Xiaomi proprietary HRTF sound algorithm to simulate real-life sound and a deliver a truly immersive experience when watching video, compatible with various audio source and playback devices.*
Get 4 months HD Music, on us
Each Redmi Buds 4 Pro has a unique promotional code for a free trial of Amazon Music Unlimited for eligible new subscribers to Amazon Music Unlimited. Promotion code redemption process as below

*Please refer to the terms and conditions for this Amazon Music Unlimited promotion in your region. This promotion is only available in selected regions: Austria, Brazil, Canada, France, Germany, Mexico, Spain and the UK.
Get 4 months HD Music, on us
Each Redmi Buds 4 Pro has a unique promotional code for a free trial of Amazon Music Unlimited for eligible new subscribers to Amazon Music Unlimited. Promotion code redemption process as below

*Please refer to the Amazon Music Unlimited promotions terms and conditions for further information
Cutting-edge noise cancellation technology

Up to 43dB active noise cancellation
Effectively reduce unwanted noise
The earbuds can reduce noise by up to 43dB*, allowing you to enjoy your music in peace and quiet.


Balanced noise cancellation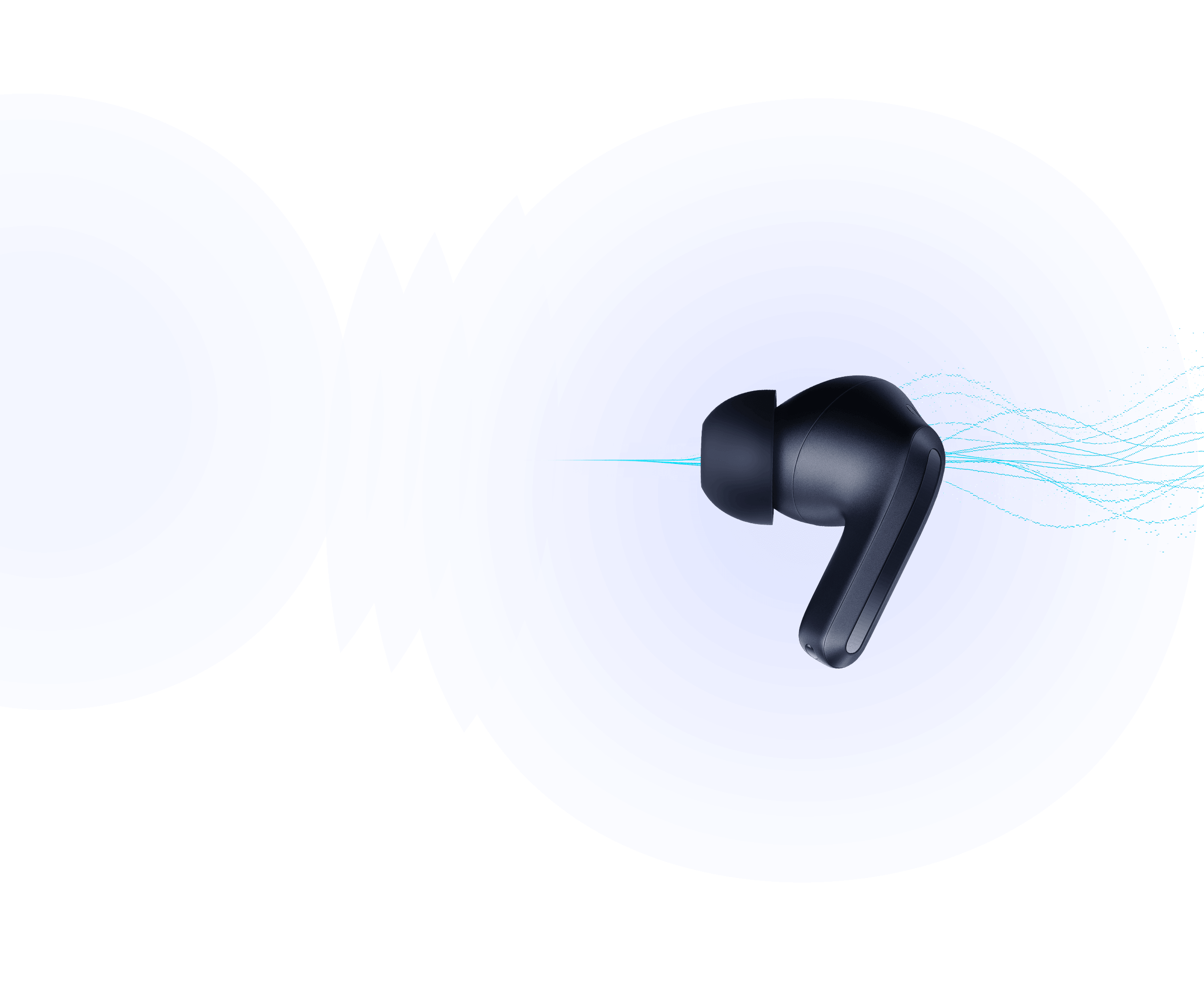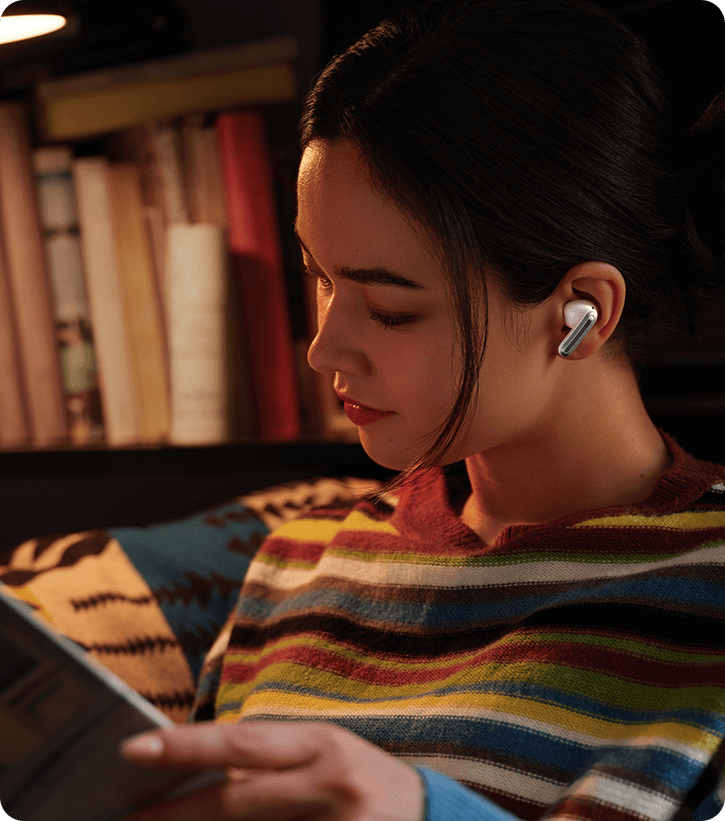 Intelligently switches between 3 ANC levels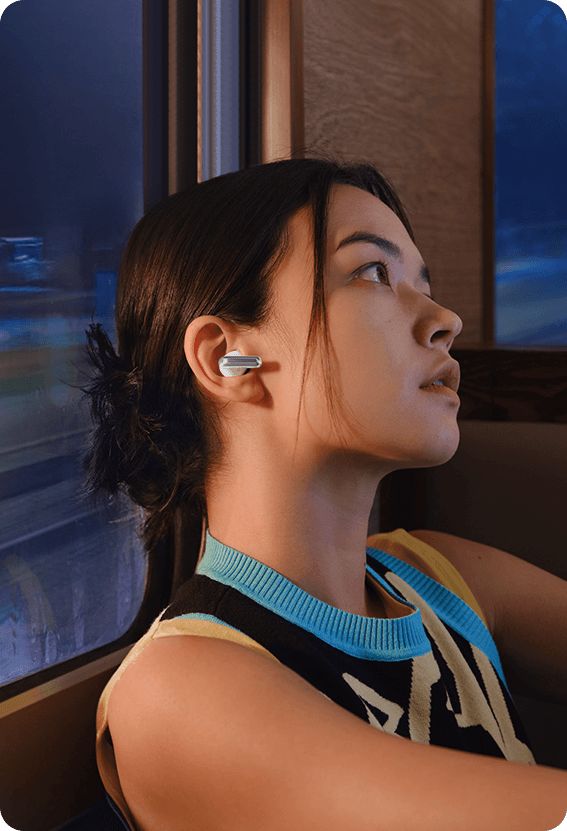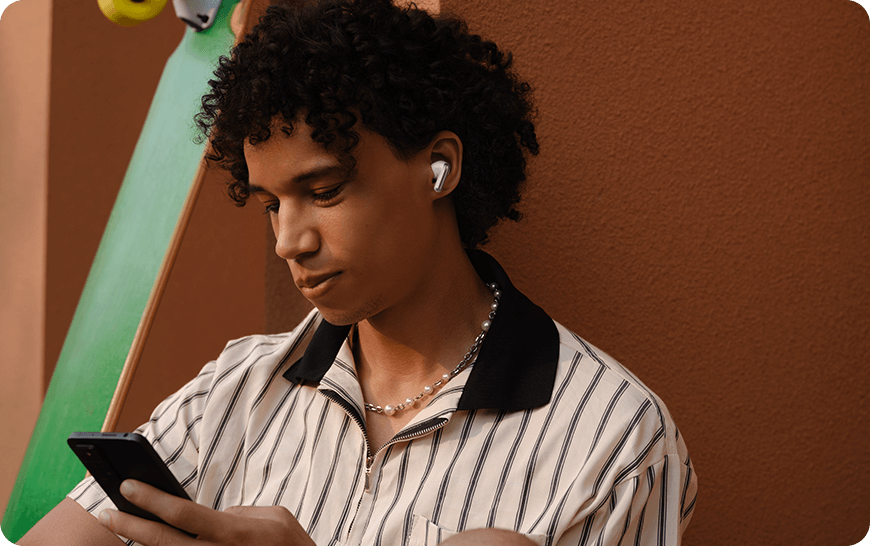 | Underground stations, Airports
Balanced noise cancellation
Listen to your surroundings and conversations
In regular transparency mode, you can hear your surroundings without having to remove the earbuds. You can also switch to enhance voice mode when you need to talk to someone face to face.
Regular transparency mode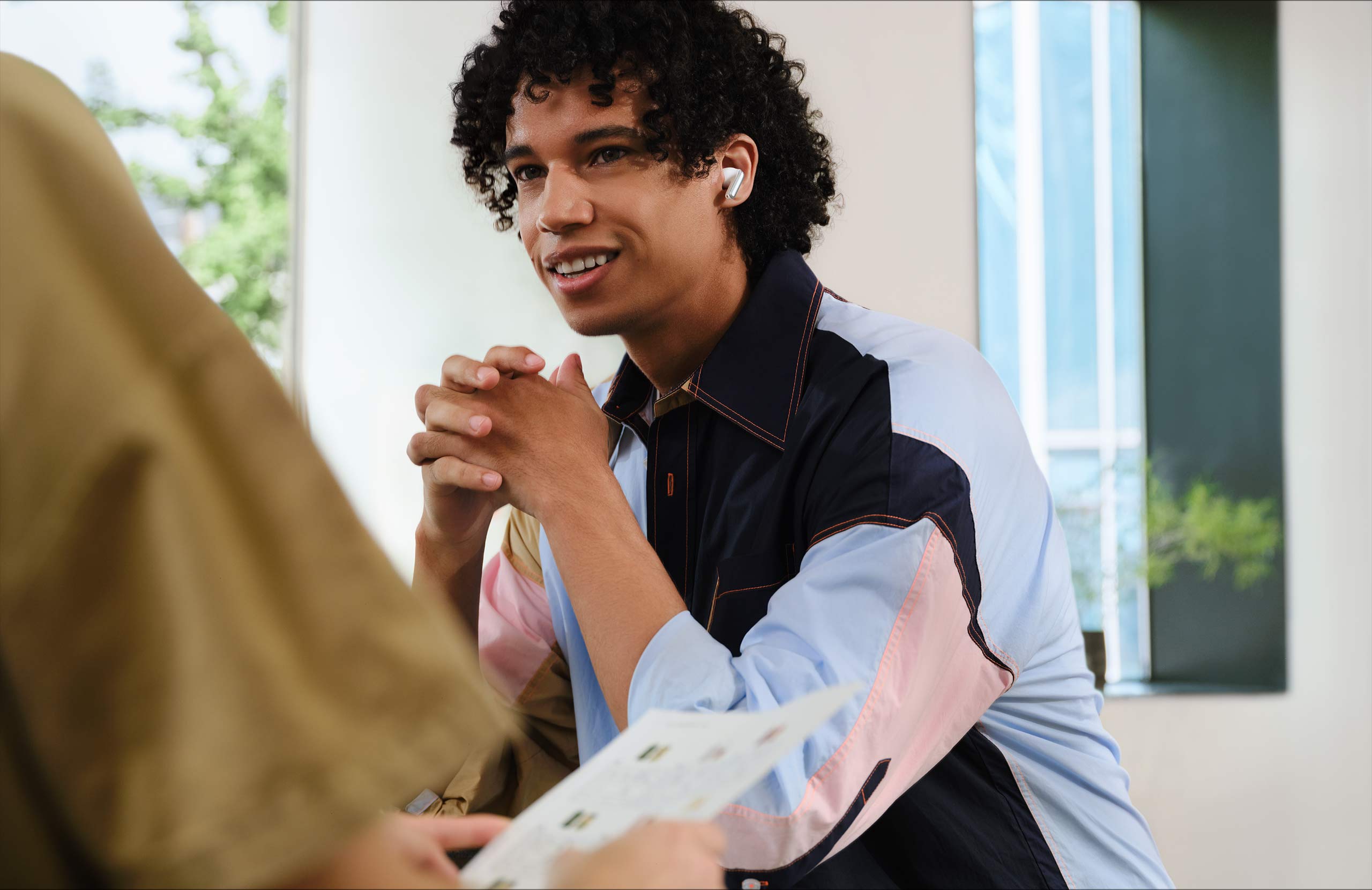 Innovative wind noise reduction technology
Run to your heart's content and leave the wind behind you
Each earbud features a built-in metal wind shield to effectively reduce wind noise, as well as a proprietary wind noise reduction algorithm that automatically switches on when the wind reaches a certain speed so that you can enjoy your outdoor activities without being disturbed.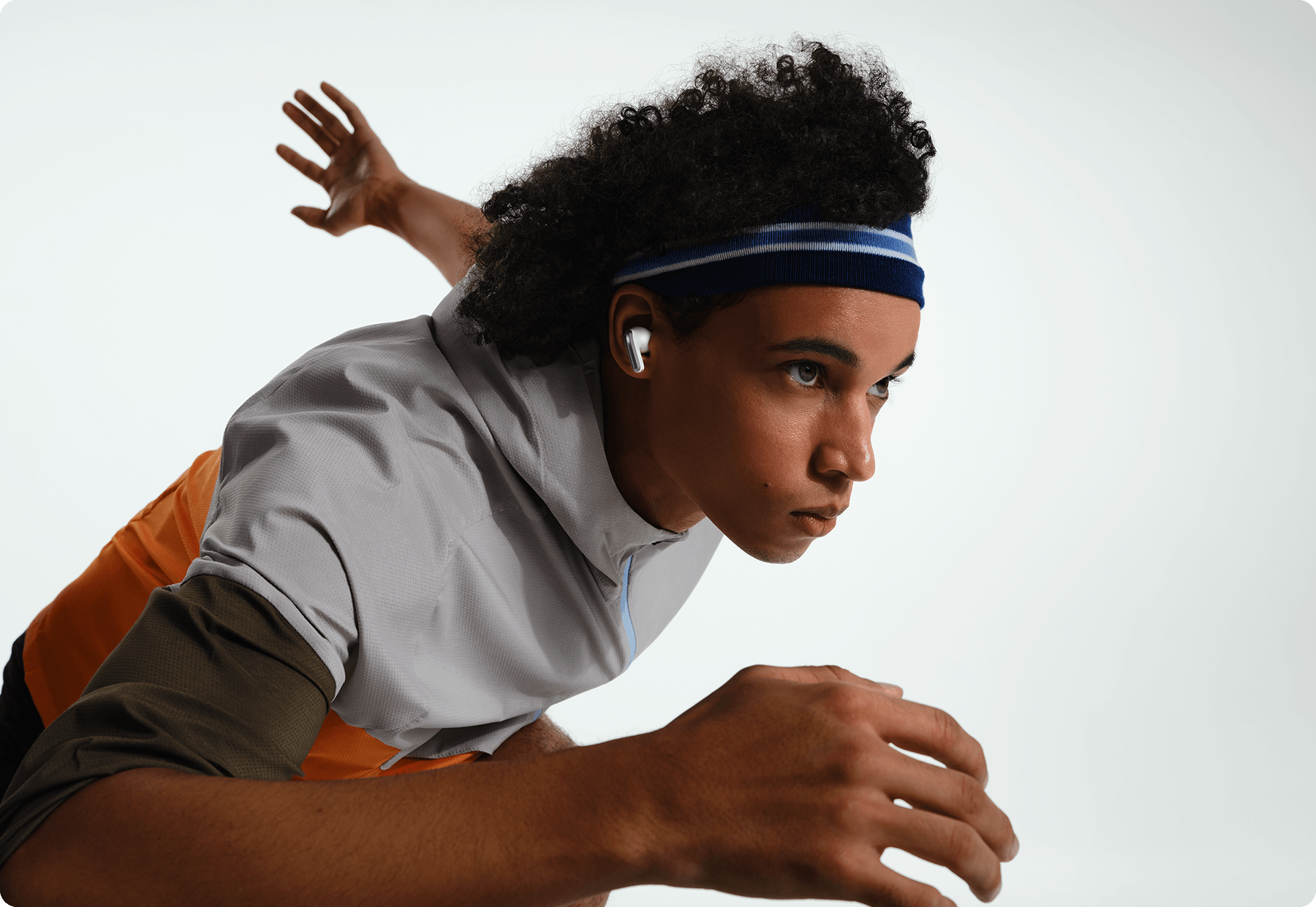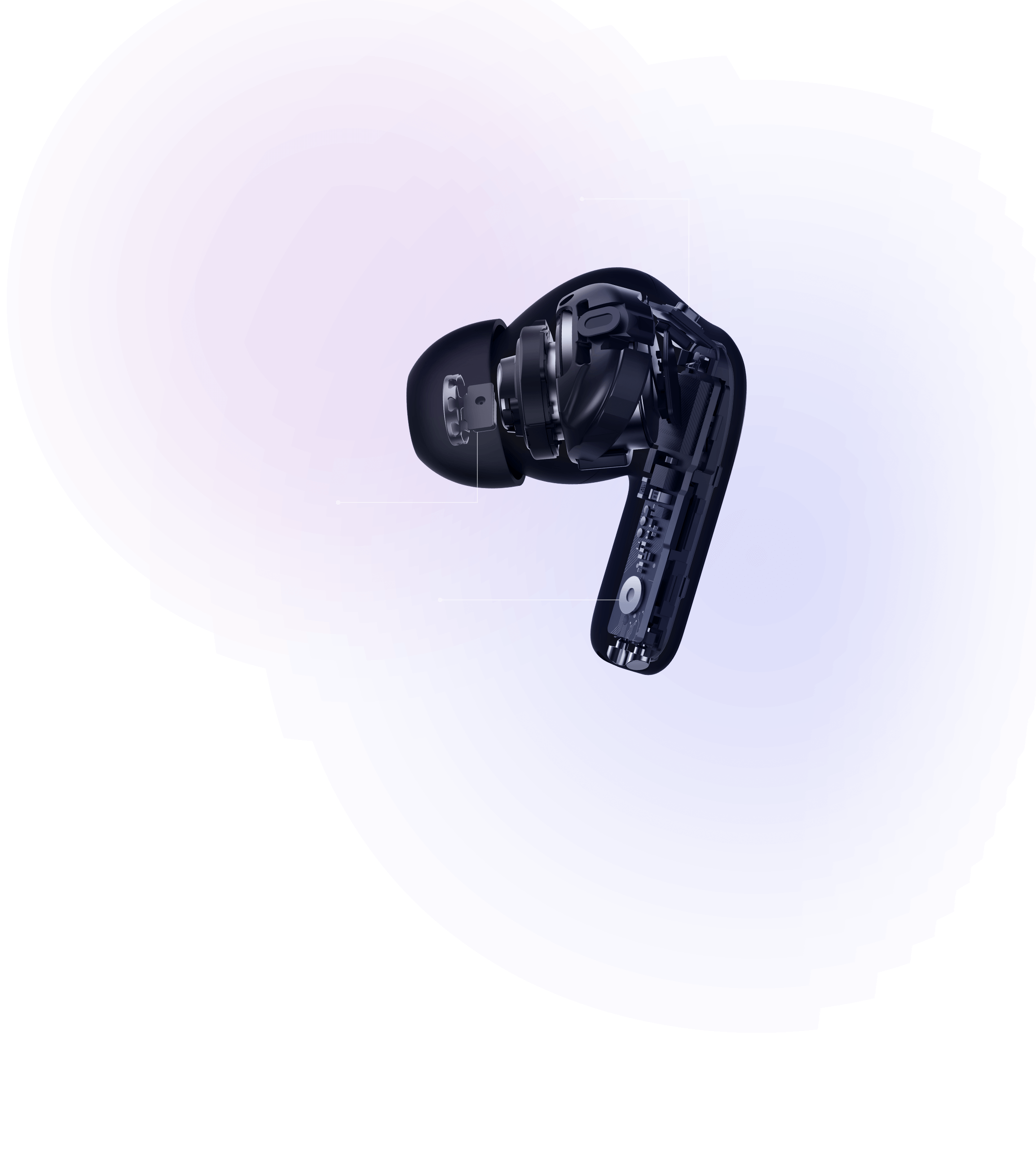 3-microphone noise cancellation for calls
Crystal-clear call quality, wherever you are
Each of the three microphones has its own function and extracts voice sounds with precision to effectively filter out external noise. Call quality is further enhanced by means of a neural network noise reduction algorithm.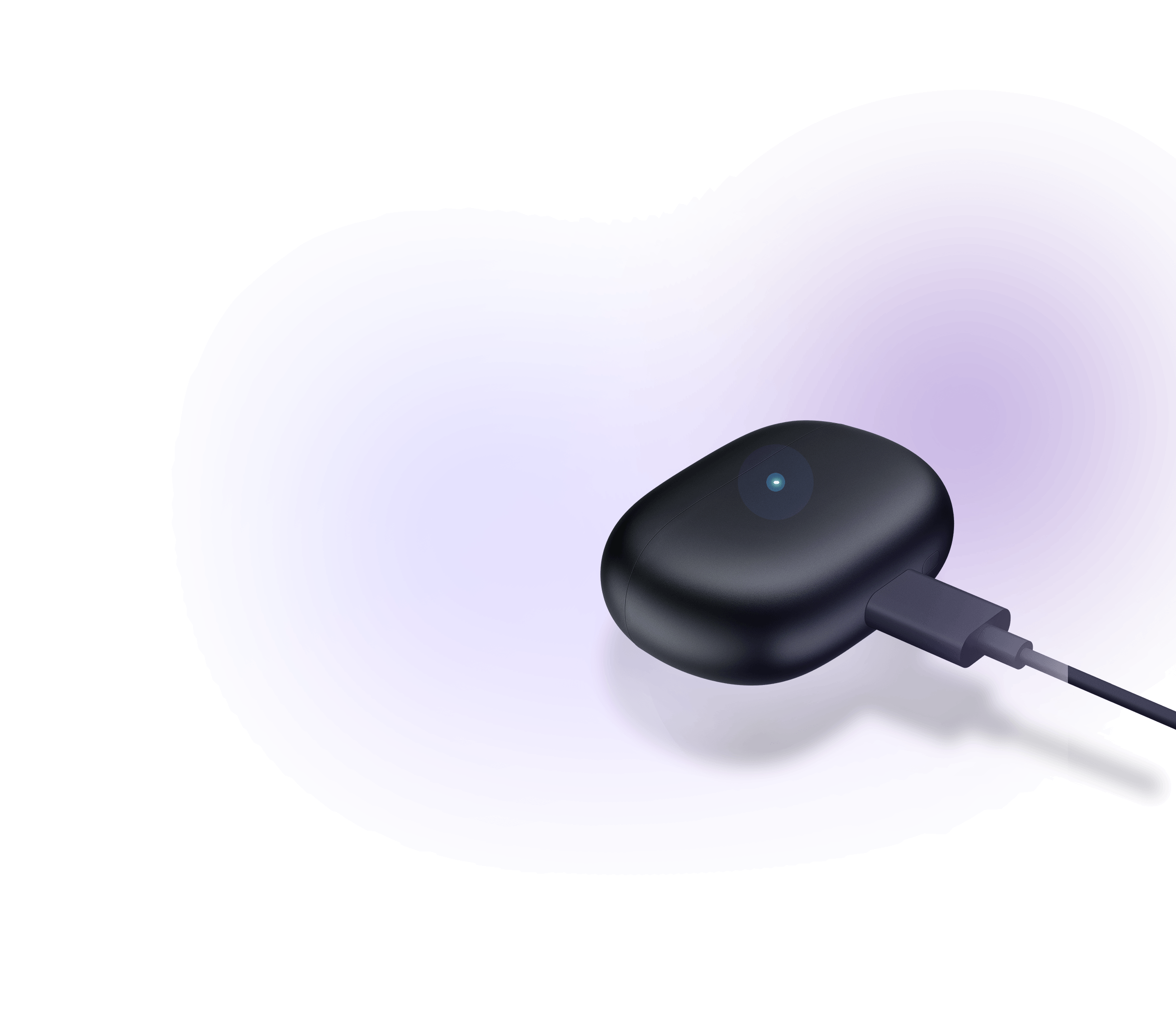 Up to 36 hours ultra-long battery life
Run a marathon with your favourite music
Listen to up to 9 hours of music on a single charge, or up to 36 hours when used with the charging case. And if you're in a hurry and forgot to recharge, the earbuds can play up to 2 hours of music after a quick 5-minute charge.
Total battery life with case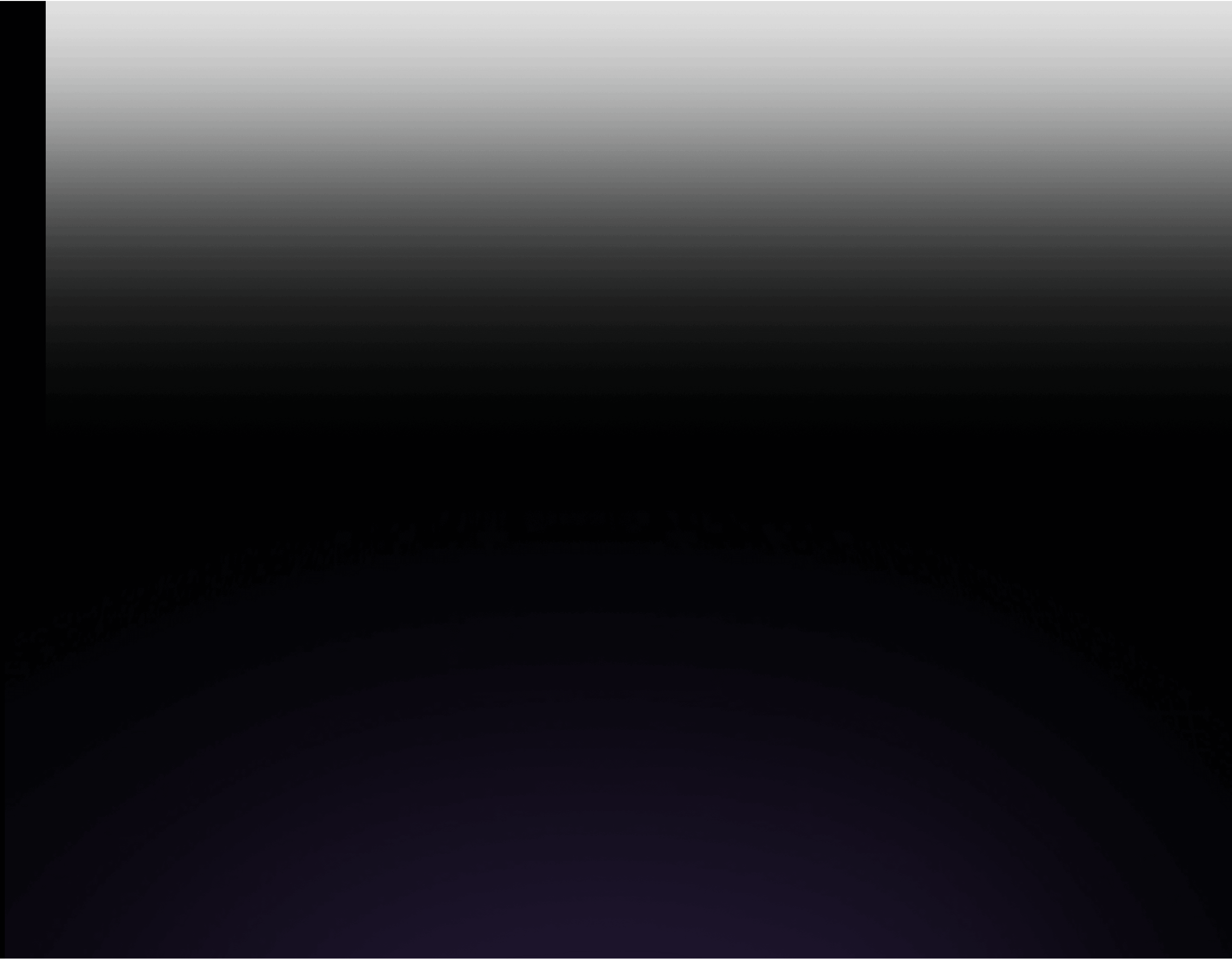 Dual device smart connectivity*
Switch effortlessly between your smartphone and computer
The earbuds can connect to two Android, iOS or Windows devices at the same time, allowing you to use the same headset when you're in the office. On compatible MIUI devices, the MIUI Pop-up for Quick Pairing requests automatically appear when you open the charging case (with earbuds) near your phone.*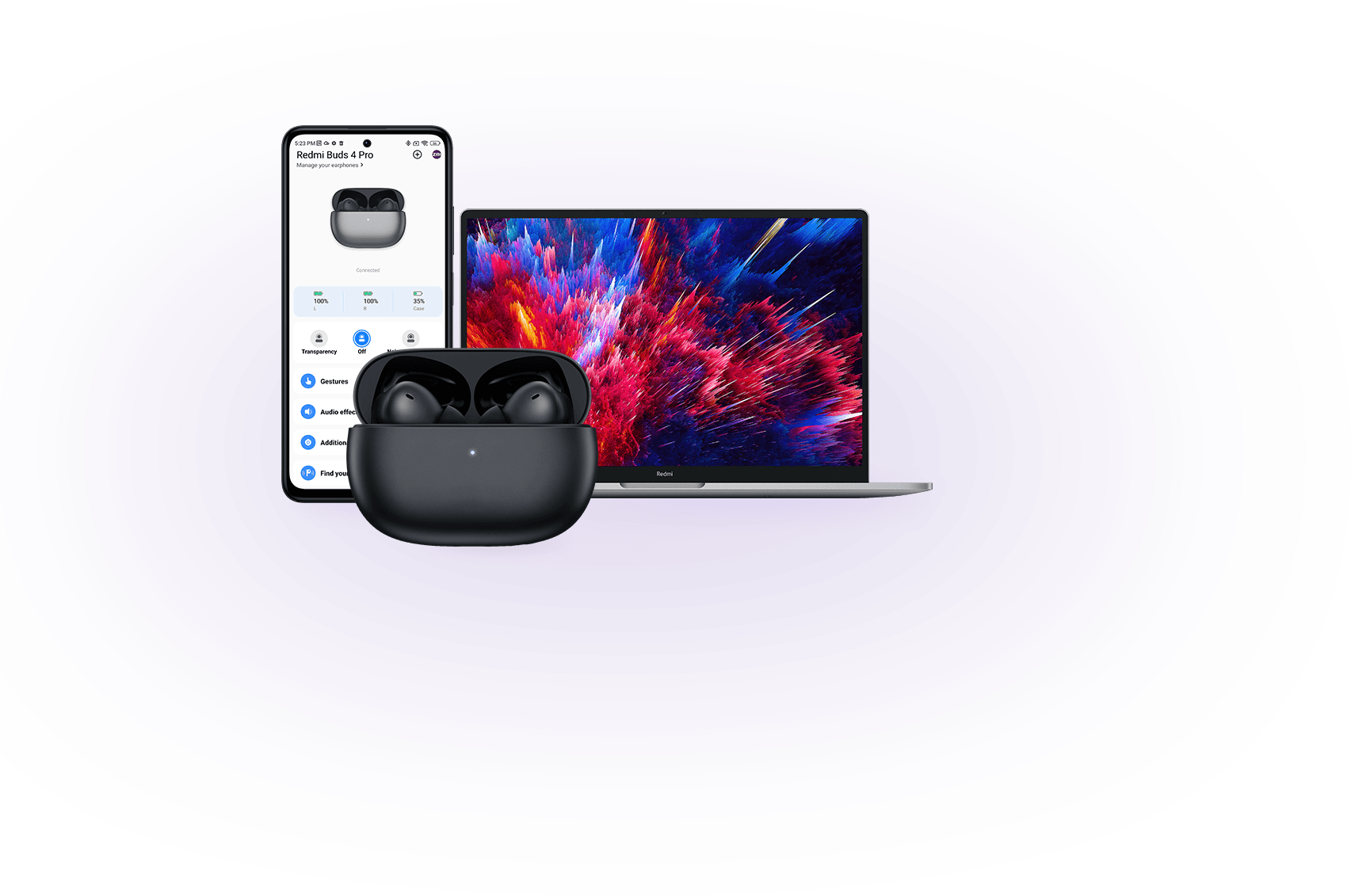 Control music and switch modes with your fingertips
Each earbud is equipped with a sensor that allows you to pause music playback and switch modes with a short or long press.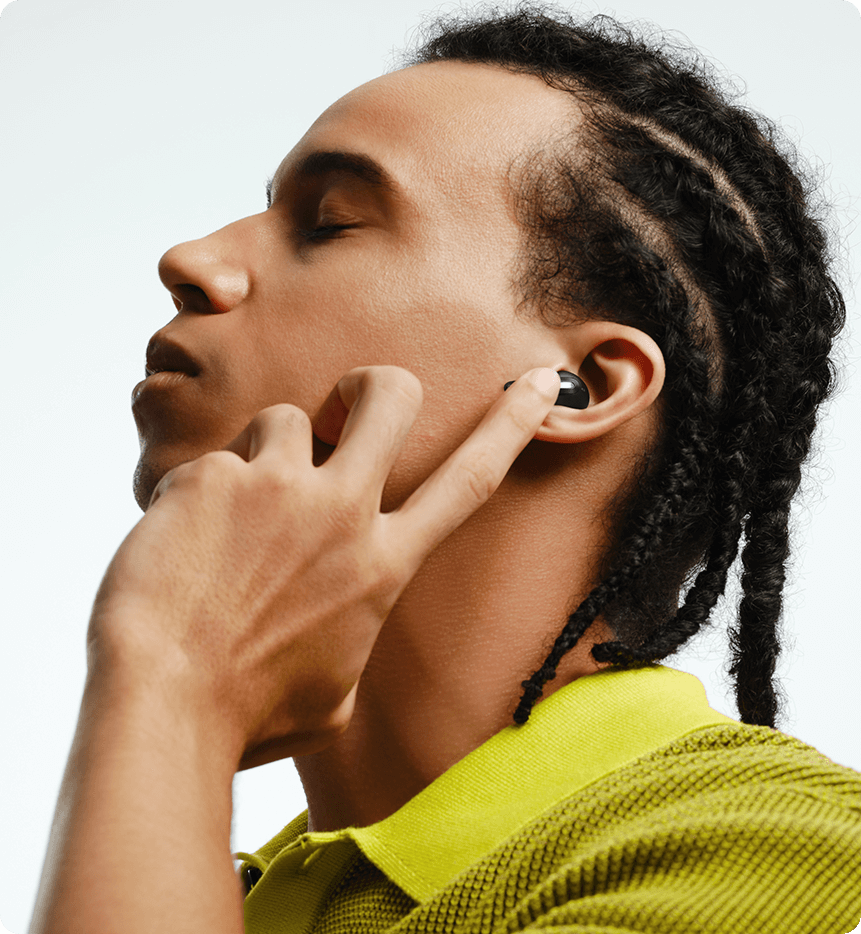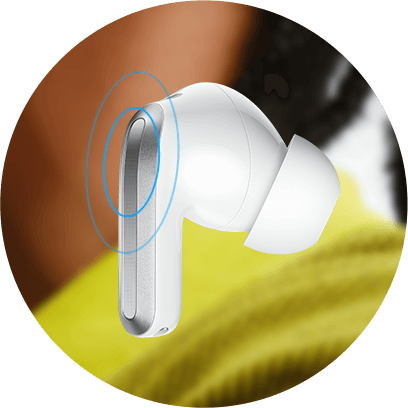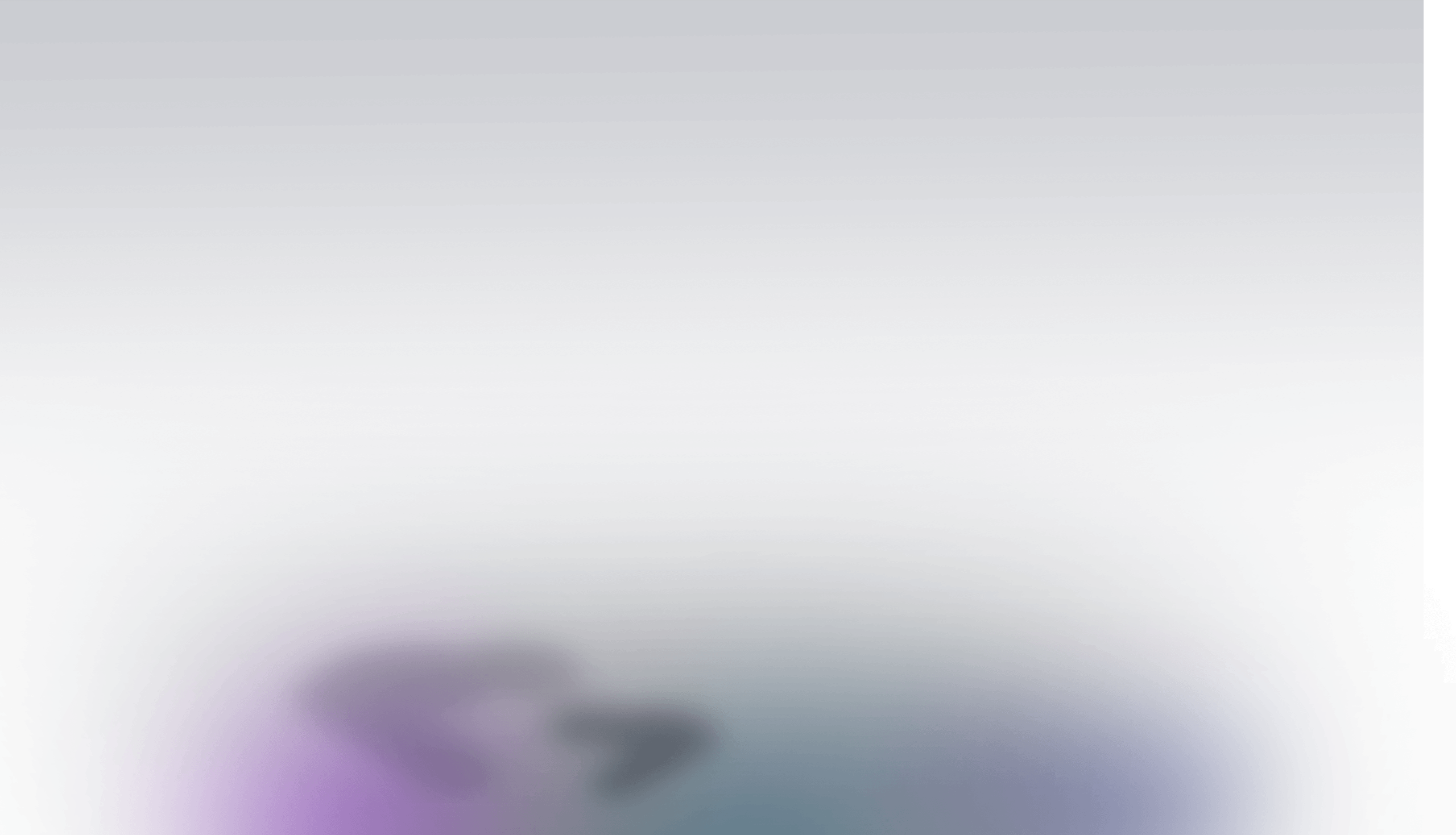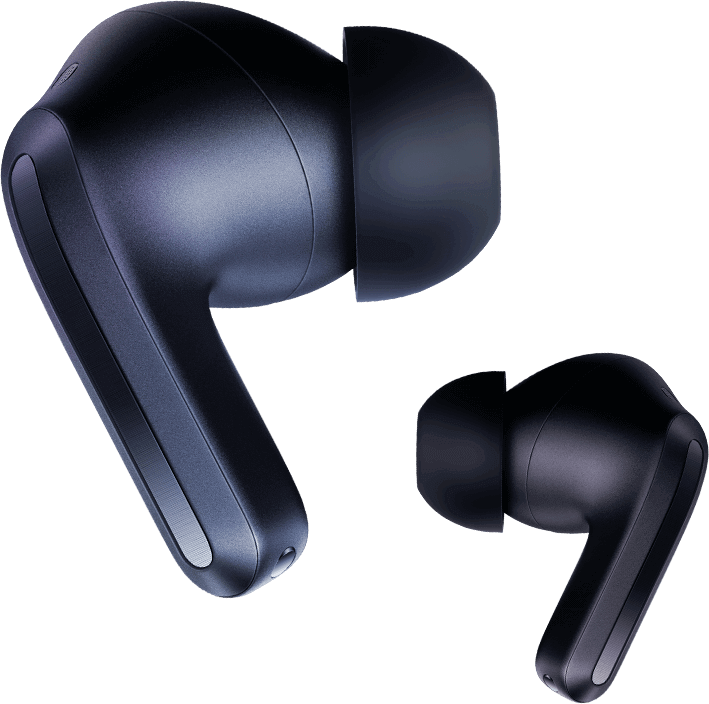 Redmi Buds 4 Pro features an innovative and sleek design with curved edges. It is also ergonomically designed to reduce pressure in the ear canal, and weighes just around 5.0 grams to ensure a comfortable fit.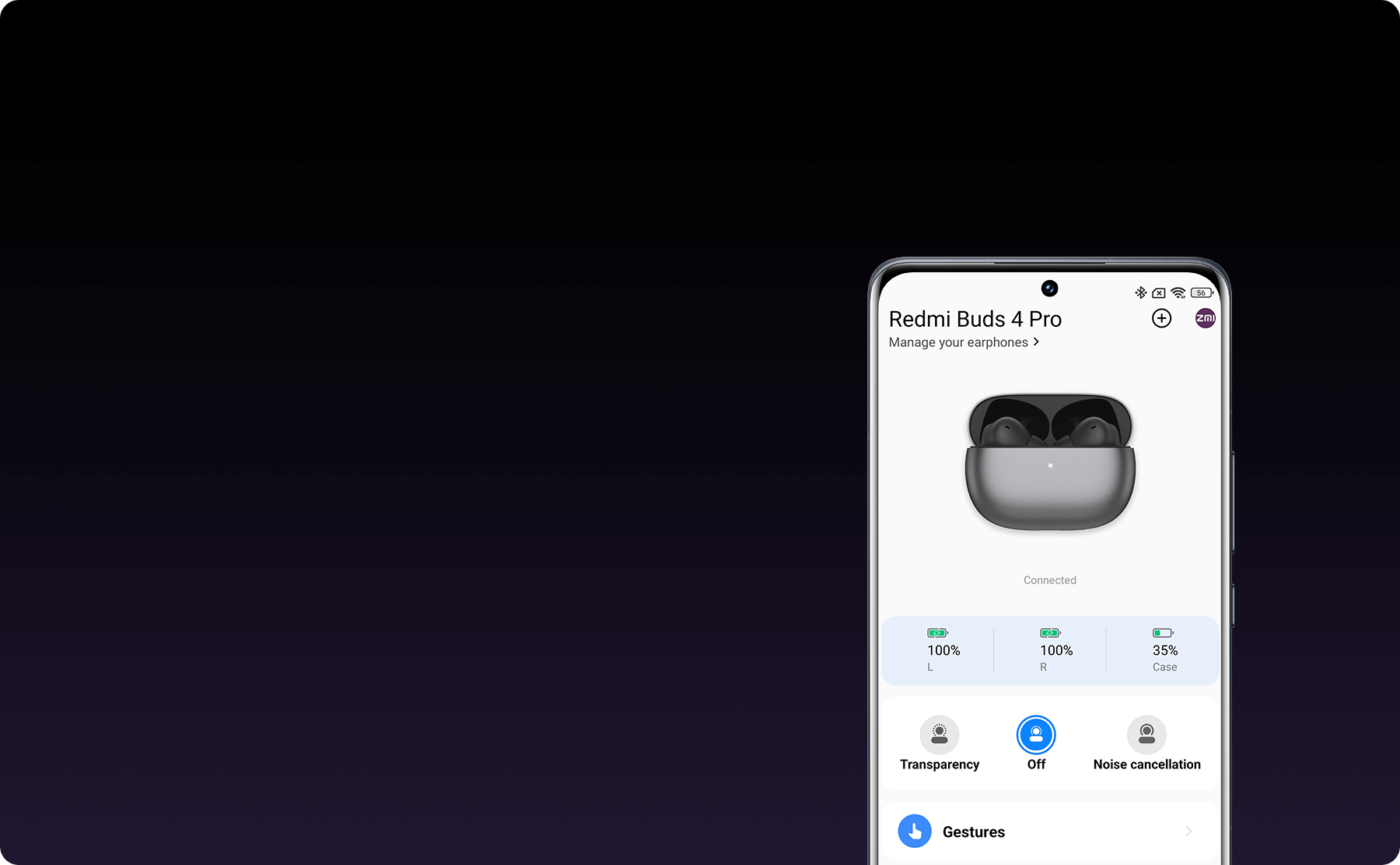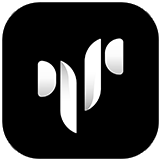 Easily customise your earbuds
Download the Xiaomi Earbuds App to adjust the noise cancellation and touch control settings for your Redmi Buds 4 Pro wireless earbuds. You're in control — adjust settings for optimal audio and install online firmware upgrades.
There are even more features for you to discover.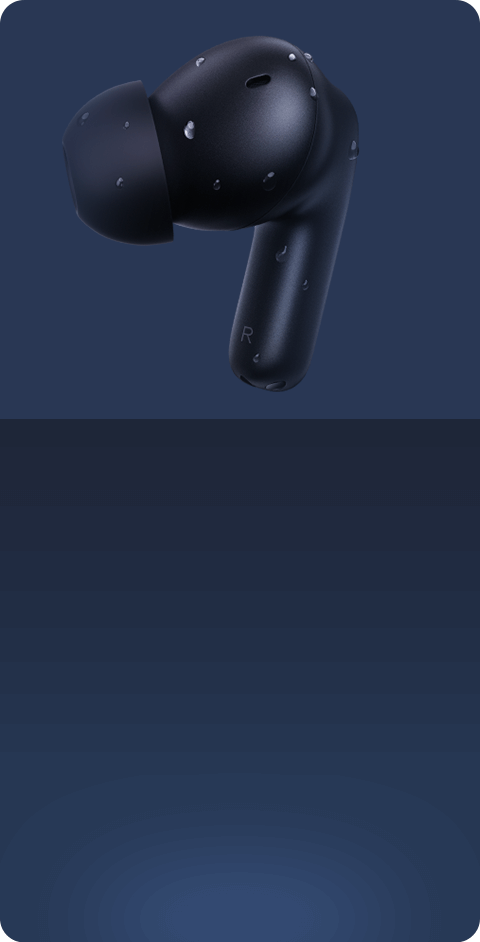 IP54 dust and water-resistance*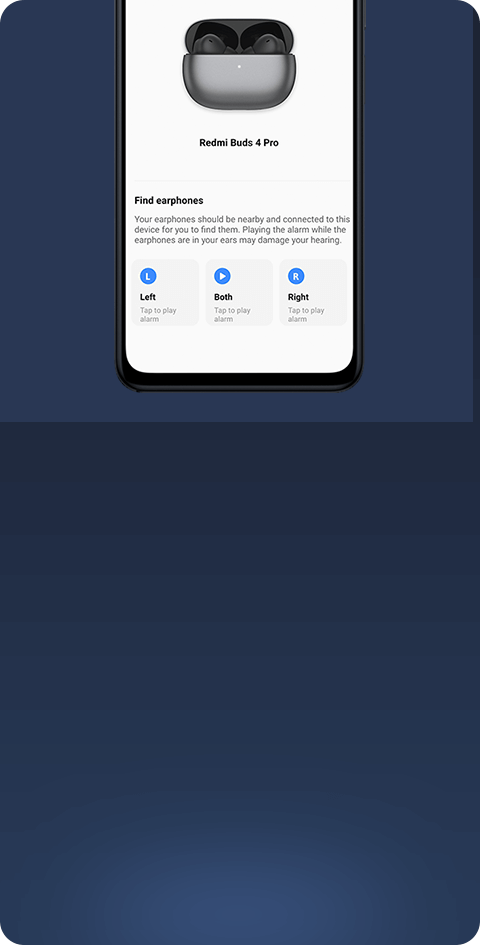 Within the Bluetooth connection range,
you can use the Xiaomi Earbuds App to locate your earbuds by playing a sound through either one.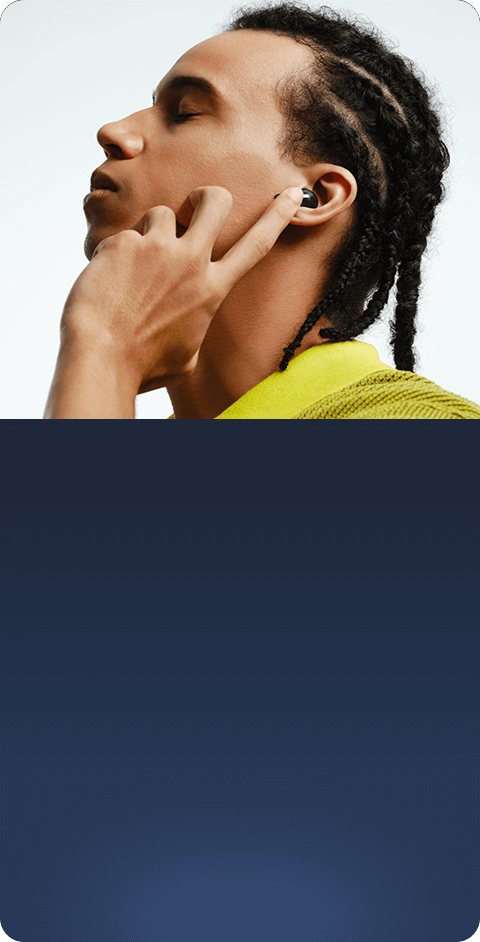 Playback is paused automatically when you remove the earbuds from your ears,
and resumes when you put them back in.
*The images on this page are for illustration purposes only and may not be the exact representation of the product. Product parameters are for reference only. Some product parameters may vary due to external factors such as environment and differences in smartphone systems. Please refer to the actual product for details.
*Noise cancellation test carried out by the manufacturer. Actual results may vary depending on usage conditions. Touching and holding either earbud only enables switching between ANC and Transparency modes by default. ANC and transparency mode settings available only on Xiaomi Earbuds app.
*To experience Hi-Res Audio and LDAC at 990kbps, please make sure LDAC has been activated on compatible Android™ OS smartphones with correct bitrate selection with Immersive sound off.
*Immersive sound is applicable to music and videos in apps that support this function. Immersive sound is switched off as default, settings available only on Xiaomi Earbuds app. The use of LDAC audio codec and immersive sound are mutually exclusive.
*You can find your earphones via sound on Xiaomi Earbuds app. The earbuds do not support this function when placed in the charging case. According to Xiaomi internal lab data, when searching for your earbuds through via sound within a close range, the distance between the phone and the earbuds should be within 10 meters in a quiet, accessible environment. The earbuds and phone should be connected via Bluetooth. Actual distances may vary depending on environmental conditions.
*IP54 dust and water-resistant test. According to the GB/T 4208-2017. Enclosure Protection Rating (IP Code), it passed the test conducted by Suzhou Institute of Product Quality Supervision and Inspection. The test report no. is WPHE220067. The test result showed that it is in compliance with the GB/T 4208-2017 standard. IP54 rating applies to the earbuds themselves, not the earbud charging case. Please do not use your earbuds around hot water, your earbuds cannot be used when bathing or showering. Please try to avoid using your earbuds during strenuous exercise, sweat during exercise may cause damage to the device. This product is splash-proof, water-resistant and dust-resistant at the time of purchase, however, these properties are not permanent and may diminish over time with everyday wear and tear. Your warranty does not cover damage caused to your device by immersion in liquid.
*Battery life and fast charging test conditions: Connect to Xiaomi 12 Pro, the earbuds' battery level is 100%, volume of the earbuds is adjusted to 50%, the Bluetooth encoding mode is AAC, and the ANC feature, transparency mode, Immersive sound and Dual-device connection are turned off through the Xiaomi Earbuds app. Test item: Fully discharge the Redmi Buds 4 Pro battery while playing audio until either earbud stops playing. Ensure that the charging port is free of liquid and foreign objects before charging. Earbud charging and battery life data was retrieved from internal test carried out by the manufacturer. Actual hours of use may vary depending on usage condition, charging level and environmental factors.
*5 minutes fast charging requires the battery of the charging case to be at 30% or above.
*Dual-device connectivity is turned on as default, experience may vary depending on the device. Please download Xiaomi Earbuds app to switch off. 3rd party computer applications are required to support synchronous pausing or resuming when answering or ending phone calls. Feature name may differ from actual settings.
*Gesture settings and in-ear detection are only available on Xiaomi Earbuds app.
*Xiaomi Earbuds app is available for download on Google Play store. Xiaomi Earbuds app is not available for iOS devices.
*Only Xiaomi, Redmi devices with the latest MIUI versions support MIUI Pop-up for Quick Pairing. Compatible models: POCO F4 GT、Xiaomi 12 Pro、Xiaomi 12、Redmi Note 11 Pro、Redmi Note 11S、Redmi Note 11、Redmi Note 11 Pro 5G.
*The Bluetooth® word mark and logos are registered trademarks owned by Bluetooth SIG, Inc. and any use of such marks by Xiaomi inc. is under license. Other trademarks and trade names are those of their respective owners.
*To enjoy Dual device connectivity between two Xiaomi/Redmi smartphone devices, please switch on the function via Xiaomi Earbuds App on one smartphone only - this feature will operate via traditional Bluetooth connection.
The promotional offer is valid until March 31, 2024 at 11:59 pm, and redeemable towards an Amazon Music Unlimited Individual Plan. The offer is only available to new subscribers to Amazon Music Unlimited. Customers who are currently in a free trial of Amazon Music Unlimited, are a current paying customer of Amazon Music Unlimited, or were previously a free trial or paying customer of Amazon Music Unlimited are not eligible for this offer. After the 4 months promotional trial, your subscription will automatically continue at the monthly price of £9.99 (£8.99 for Prime members) until you cancel. The offer is not valid for Amazon Music Unlimited Family, Student, Single Device or Annual plan or signups via iTunes. The offer cannot be combined with any other offer. Digital content and services may only be available to customers located in the UK and are subject to the terms and conditions of Amazon Digital UK Limited, including the Amazon Music Terms of Use. The offer is limited to one per customer and account. Amazon reserves the right to modify or cancel the offer at any time. The offer is non-transferable and may not be resold. If you violate any of these terms, the offer will be invalid.