Mi Watch
R E V O L VE
It's Time To Evolve
Premium Metallic Frame & AMOLED Display

Pro Exercise
Algorithm

10 Professional
Sports Modes
Runs for up to
14 Days

5ATM
Water Resistance

110+ Watch Faces
Premium
DESIGN
The Mi Watch Revolve comes in two elegant variants which ensure you stand out from the crowd. The 46mm stainless steel frame & AMOLED display makes for a large, vivid reading even under bright daylight. It also comes with Smart Always-on-Display that allows your display to stay on all day long except when the watch is off your wrist. The Corning Gorilla Glass 3 is scratch-resistant to ensure you stay stylish even in tough conditions.
Pro Exercise
ALGORITHM
As the world gets tougher, you get fitter. With the Pro Exercise algorithm, track your health indicators just as elite athletes and leading sports teams across the world do. The watch employs its Pro Exercise algorithm to provide rich, user-friendly, and actionable feedback. Study key metrics analyzed deeply to improve your mental and physical wellbeing.
HR Monitor
Identifies right fitness and performance goals based on gender and age.
Motivates you to be a better version of yourself everyday.
Globally accepted indicator of health and wellness.
Heart Rate Variability
This monitors the intervals between consecutive heartbeats to generate information on your heart health and opens a window to a variety of other fitness indicators and vitals.
VO2 Max
This is the defining measure of cardiorespiratory health and overall fitness. VO2 Max is defined as the maximum oxygen consumed at maximum effort. Assess your score using the watch in real-time during aerobic exercise and determine how to improve your fitness levels.
Body Energy Monitoring
Estimate the energy gained and lost throughout the day and plan your body resources better. Energy is measured using a combination of sleep, workouts, daily activities & heart rate variability.
Stress Management
The algorithm studies your Autonomic Nervous System (ANS) to determine your stress levels accurately through the day and negates the physical effects of workouts on your score. Track your score and measure its distribution through the day, week or more to better manage your wellbeing.
10
SPORTS
MODES
Mi Watch Revolve comes with 10 professional sports modes to help you get the best out of your favourite workouts. So whether your workouts are outdoor or indoor, in the pool or in the ocean, get a comprehensive summary of your workout quality. With inbuilt GPS you don't even need your phone when you break a sweat.
Outdoor running

Outdoor cycling

Trail running

Trekking

Treadmill
Indoor cycling

Walking

Freestyle workout

Pool swimming

Open Water Swimming

*Open Water Swimming mode will be available on iOS in future OTA update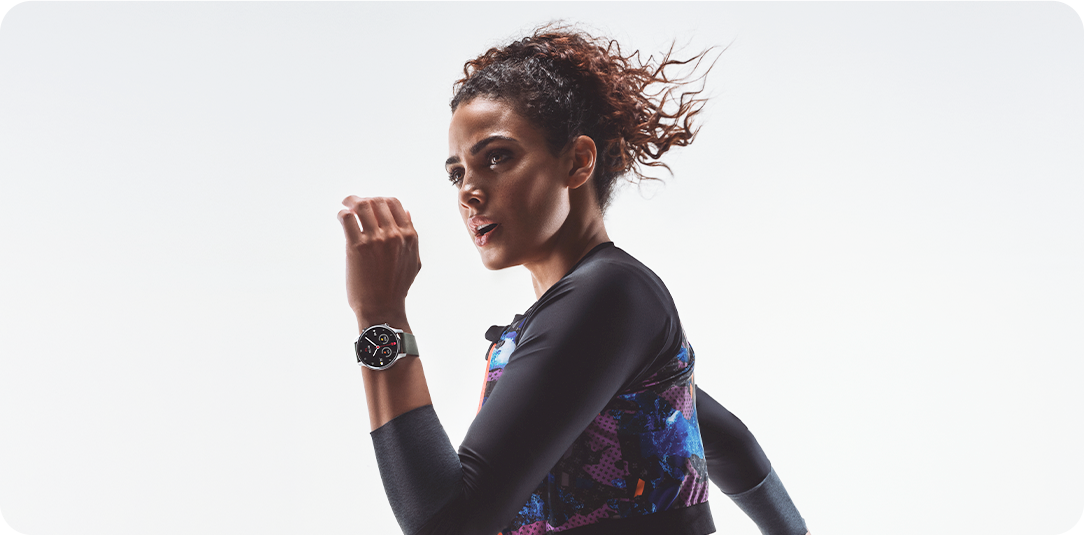 A Battery
THAT LASTS
Made to last for up to 2 weeks* straight on a single charge.
Plug the USB cable to a dual pin magnetic charger and top up
your watch off to ensure that you never have to make a stop.




Go for a nice swim or a dive* in the ocean* without a worry. The Mi Watch Revolve comes with 5ATM water resistance. Now hit the water anytime you want.
*50 meters depth for 10 mins
A Face
FOR EVERY MOOD
Access a variety of watch faces for all your moods and styles. With the Mi Watch Revolve, you get to choose from 110+ watch faces to express every side of you. We're always adding more so stay tuned and keep score.
Strap It
UP
With 5 different strap options, wrap things up in style. Choose between Neptune Blue, Space Black, Astral Olive, Cosmic Dust Maroon and a Midnight Black in leather as well. Now wear a colour for every occasion.
We've got
MORE
Beyond fitness and health, the Mi Watch Revolve also focuses on your daily lifestyle drivers.
There's a host of features for you can look forward to and round off your every need and accessorise in style.
Manage Calls

Control Music

Notifications

Smart Always-on-Display

Find My Phone
Altimeter

Weather

Flashlight

Breathing Exercise

Stopwatch
Mi
FITNESS APP
The Mi Watch Revolve pairs with the all-new
Mi Fitness app.
Here you can access all your workout summaries,
Firstbeat Algorithm scores, set notification alerts, watch
faces and lots more. Choose and control everything you
need with a single click.
Mi Watch Revolve
It's time to Evolve


The Mi Watch Revolve comes in two beautiful color variants, Midnight Black which comes with Space Black Straps and Chrome Silver, which comes with Neptune Blue Straps. The stainless steel 46mm dial has an elegant finish and is perfect for all kinds of occasions. There are few more strap variants depending on your personal tastes.
Colors are the Astral Olive, Cosmic Dust Maroon, and a cool leather strap in Midnight Black.

Mi Watch Revolve Features:
1. Premium Metallic Design with AMOLED Display - The Mi Watch Revolve comes with a premium Design with AMOLED Color Display. It also comes with an Always on Display feature for your convenience and your watch can detect if you are not wearing it and the display goes off to save battery life.
2. Firstbeat Motion Algorithm- Firstbeat is one of the world's leading providers of physiological data for sports and wellness.
3. Heart Rate Variability - This monitors the intervals between consecutive heartbeats to generate information on your heart health and opens a window to a variety of other fitness indicators and vitals.
4. VO2 Max- This is the defining measure of cardiorespiratory health and overall fitness. VO2 max is defined as the maximum oxygen consumed at maximum effort.
5. Body Energy Monitoring -Estimate the energy gained and lost through the day and plan your body resources better. Energy is measured using a combination of tracking sleep, workouts, daily activities & heart rate variability.
6. Stress Management-The algorithm studies your Autonomic Nervous System (ANS) to determine your stress levels accurately and negates the physical effects of workouts.
7. Sleep Analysis-Access your daily sleep score to measure your distribution of REM and Non-REM sleep, switching levels between them and more. 10 Professional Sports Modes - Mi Watch Revolve comes with 10 professional sports modes to help you get the best out of your favourite workouts
8. Runs for up to 14 Days- Made to last for up to 2 weeks* straight without a charge. A dual pin magnetic charger comes out of the box so that you never miss that charge.
9. 5ATM Water Resistance – Now hit the water anytime you want. Be it a nice swim in the ocean or just a regular swim in the pool.
10. 100+ watch faces - With the Mi Watch Revolve, you get to choose from 100+ watch faces to express every side of you. We are always adding more to stay tuned and keep score.
*Please note that all functions, features, specs and any other product information provided on any Xiaomi and subsidiary platform, including but not limited to, benefits, design, pricing, components, performance, availability and capabilities describing the product are subject to change and changed by the company when deemed necessary without any notice or obligation