Ultra-narrow bezel design fits perfectly anywhere at home
The higher screen-to-body ratio with no obtrusive edges translates into a more immersive, enjoyable visual experience, a home theatre for your living room.
Supports Dolby Vision® for details in both bright and dark
A higher dynamic range delivers brighter brights and darker darks by enhancing the sharpness, contrast and color of images, while true-to-life levels of detail let you see more than ever before.


Android TV™, even more amazing applications for you
Android TV™ provides a more streamlined entertainment experience. Choose from the library of over 400,000 films and shows or install apps for quick access from your TV — there are over 7000 available for download.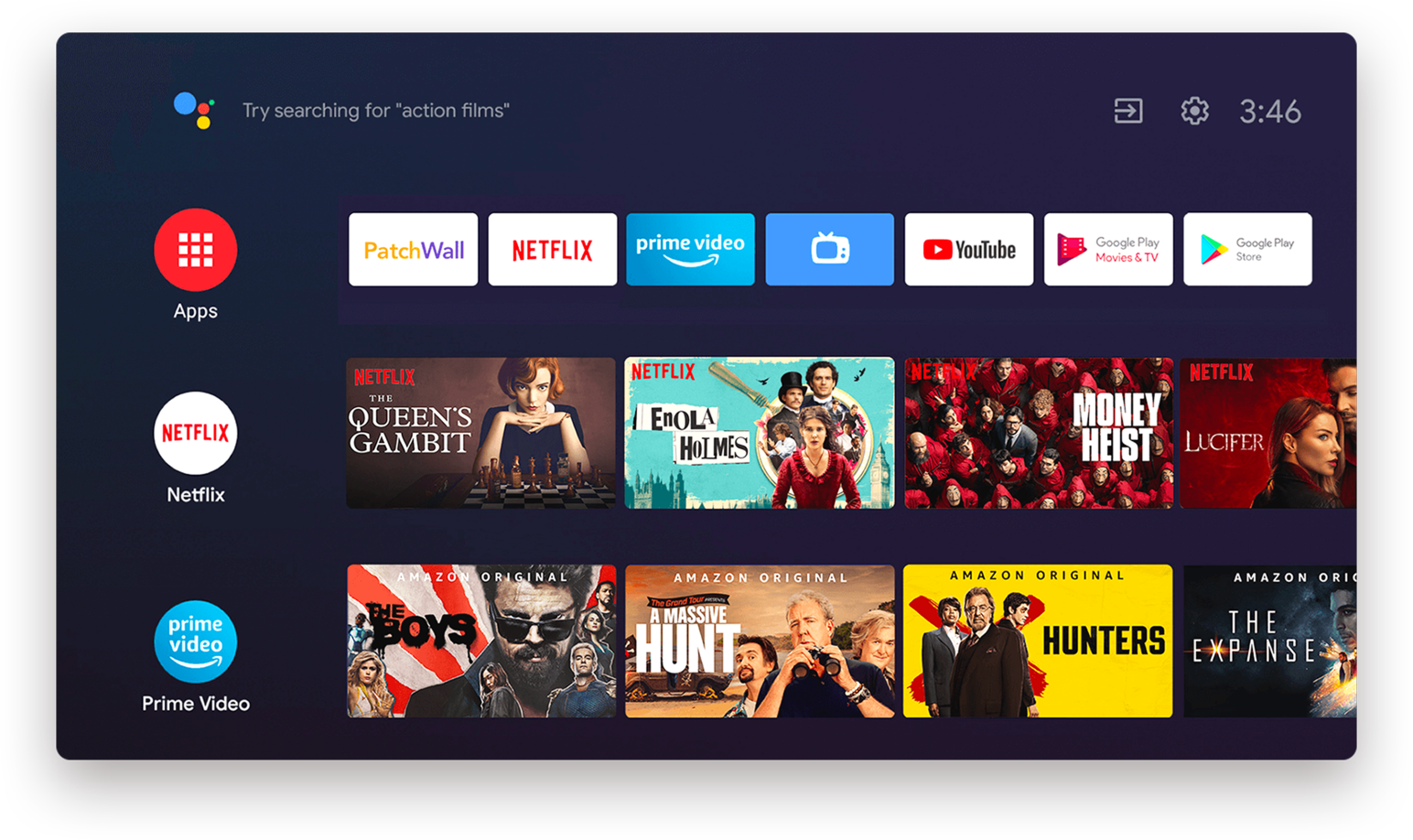 Easy viewing with voice control
Control your TV with simple voice commands. Your smart TV comes with built-in Google Assistant. That means that with one simple tap you can use voice commands to easily control your device, manage tasks and view your calendar. You can even control the other smart devices in your home from your smart TV. The future is now.

360° Bluetooth remote control*, works from any angle
The remote control can control your TV from any angle. Enjoy access to your favorite streaming platforms with dedicated buttons for Netflix and Prime Video.
*Remote control varies by market.
Dolby Audio™ and DTS® dual decoding technology Cinematic audio experience at home
Equipped with two 10W stereo speakers and support for Dolby Audio™ and DTS-HD®, enjoy an immersive, cinematic audio experience.

Notes:
*TV must support 4K resolution, video streaming content must support Dolby Vision®. *Google, Google Play, Android TV, Chromecast built-in and other marks are trademarks of Google LLC. *Google Assistant is not available in certain languages and countries. Availability of services varies by country and language. *Platforms and content may vary depending on your country or region. Please refer to the services available in your location for further details. *Requires Chromecast built-in™ enabled apps. *2GB RAM and 16GB flash memory: Due to a range of factors, actual capacity may vary or be less than indicated. Part of the RAM is occupied by the operating system and part of the ROM is occupied by the operating system and pre-installed programs, therefore, actual RAM and ROM capacity is less than indicated. *Requires Video streaming content that supports Dolby audio and DTS decoding. *The product images and contents of the display shown on the product page are for illustrative purposes only. Actual results (including but not limited to appearance, colour, dimensions etc.) and contents of the display (including but not limited to wallpapers, backgrounds, pictures, UI design etc.) may vary. Please refer to the actual product. *Unless otherwise indicated, information on product pages consists of typical values obtained from Xiaomi Laboratory data, technical design parameters and data provided by suppliers. Actual data across product pages may vary depending on the test software version, the specific testing environment and the specific software version. *Content on PatchWall varies by market, please refer to the local product information for your market.