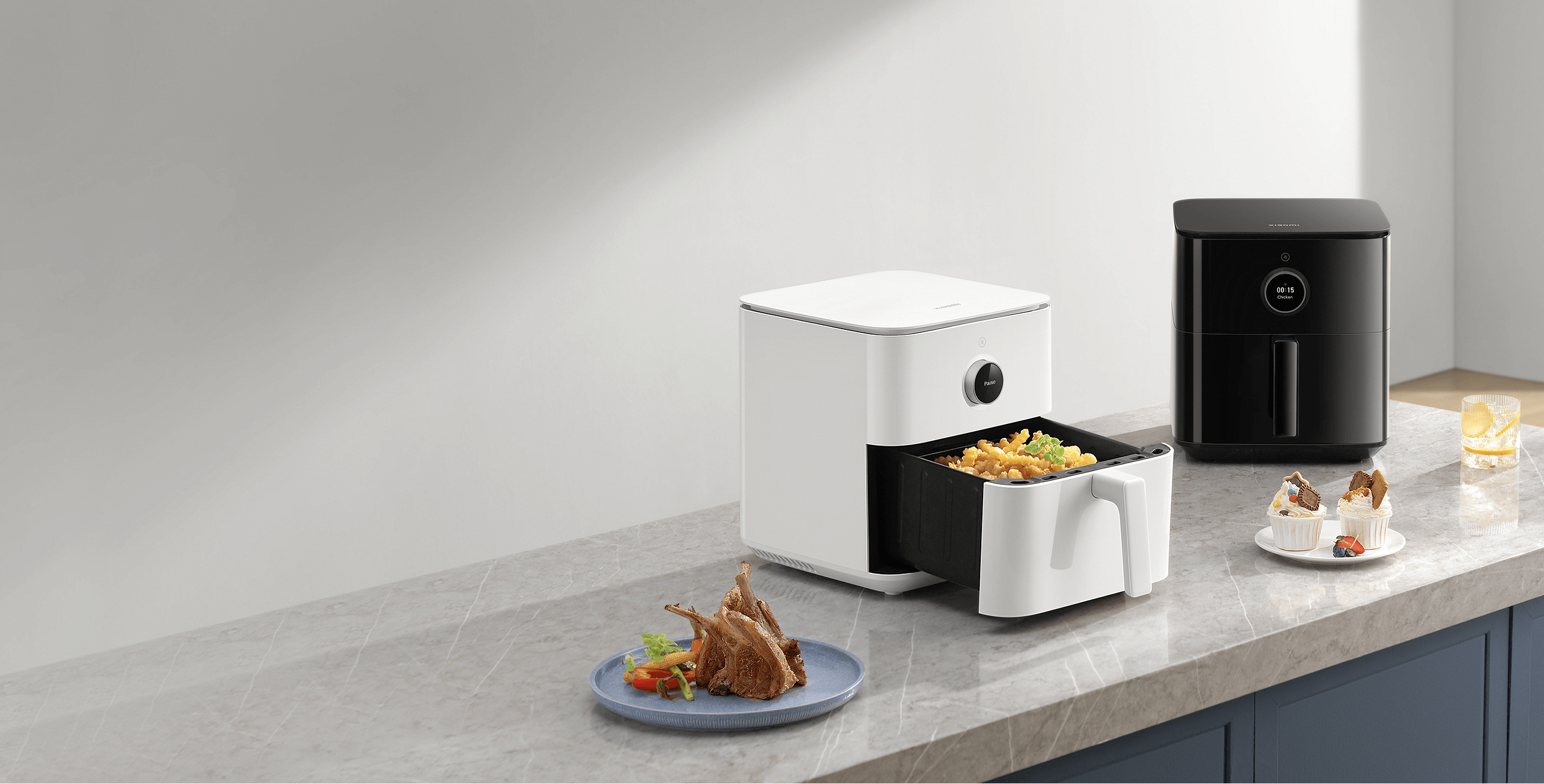 Air frying | Baking | Yogurt | Dried fruit | Defrosting | Fermentation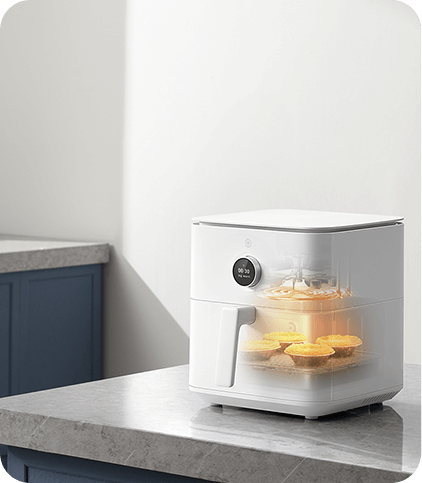 Automatically keeps dishes warm after cooking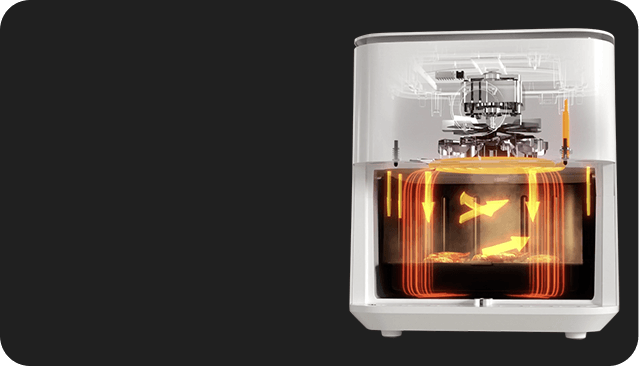 360˚ convection heating for even, flip-free cooking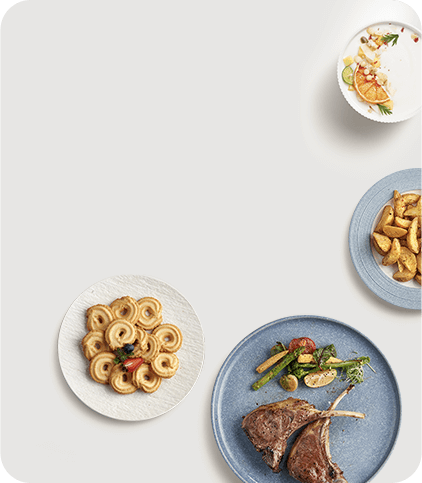 40˚C to 220˚C ultra-versatile temperature range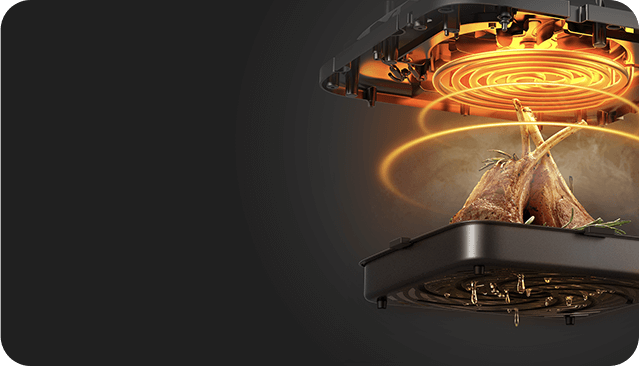 Dedicated degrease feature for removing excess fat and oil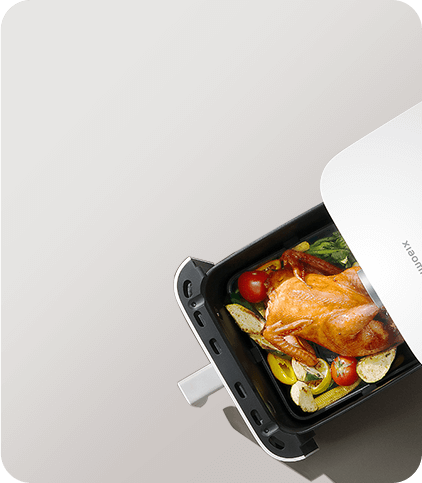 Large 6.5L capacity to cook more food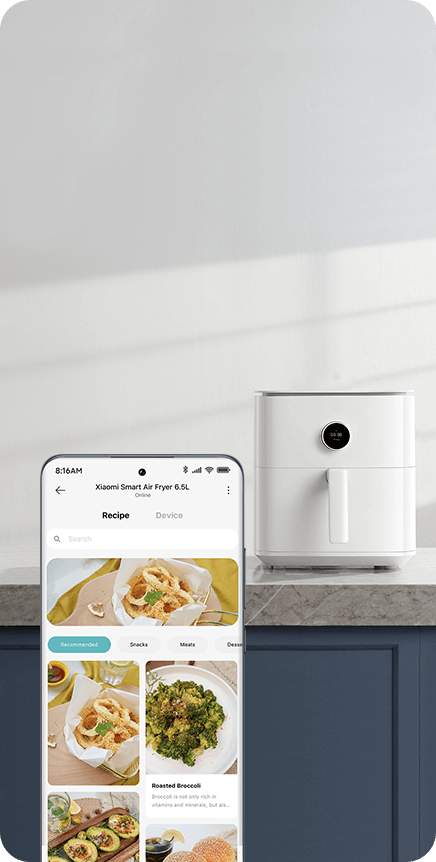 Effortless smart control including 24 hour scheduling, one-touch cloud recipes, and more

360° convection heating for even, flip-free cooking*
The upgraded circular air duct improves air circulation and airflow distribution, sending hot air directly to the frying basket, heating evenly with no need for flipping.
*Using paper liners, tin foil etc. while cooking may affect 360° convection heating.

High-temperature degrease feature* Enjoy healthy, low-fat and authentic flavours
Excess fat and oil can be effectively filtered with the degrease feature, degreasing efficiency up to 196%* ; Even in crispy grill mode, fat and oil can be reduced by up to 88.3%*.
*Degrease feature available for chicken wings, lamb chops and steak modes.
*When cooking pork with the degrease feature, compared with Mi Smart Air Fryer 3.5L, there is an increase of over 196%. Cook fries in crispy grill mode with 88.3% less fat than traditional frying. All data are from Careline Lab.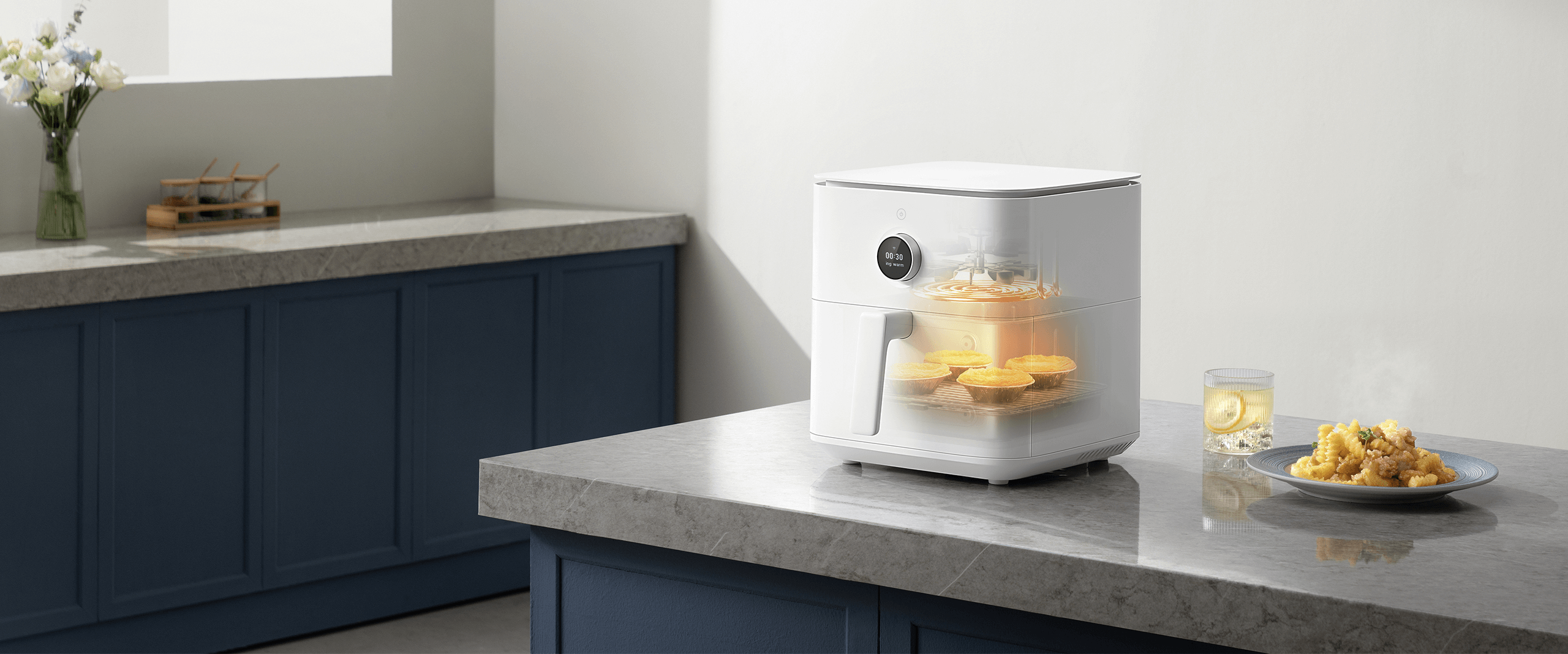 Keep dishes warm automatically* Maintain taste until the food is out of the basket
After cooking, the machine automatically enters a 30-minute warming mode to keep food in the basket crisp and tender as if it were just cooked.
*Warming feature not available when cooking temperature is below 80℃, or for vegetables, yogurt, defrost and dried fruit cooking modes. Automatic warming functions for up to 30 minutes per meal.

NTC precise temperature control, with an adjustable temperature range of 40–220°C
Built-in NTC smart temperature control technology precisely monitors the temperature during the cooking process to avoid charring and undercooking. With a minimum temperature of 40°C, it can maintain a constant temperature for defrosting, fermentation and fruit drying. With a maximum temperature of 220°C, it is proficient in roasting, frying and baking.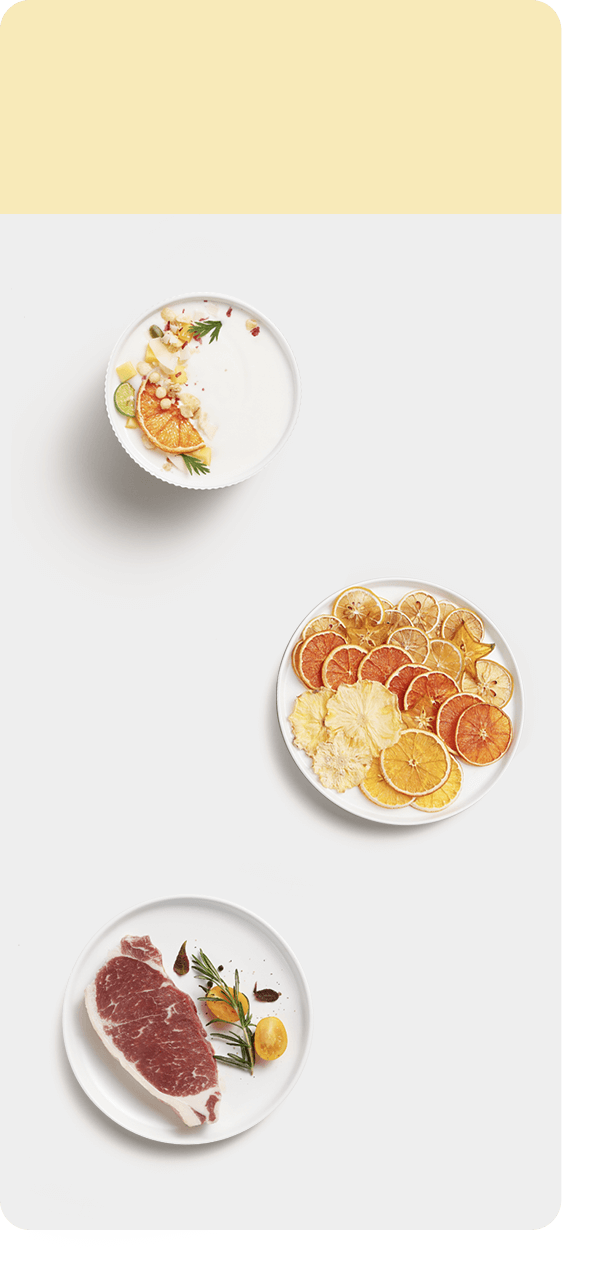 Low-temperature range (40–80°C)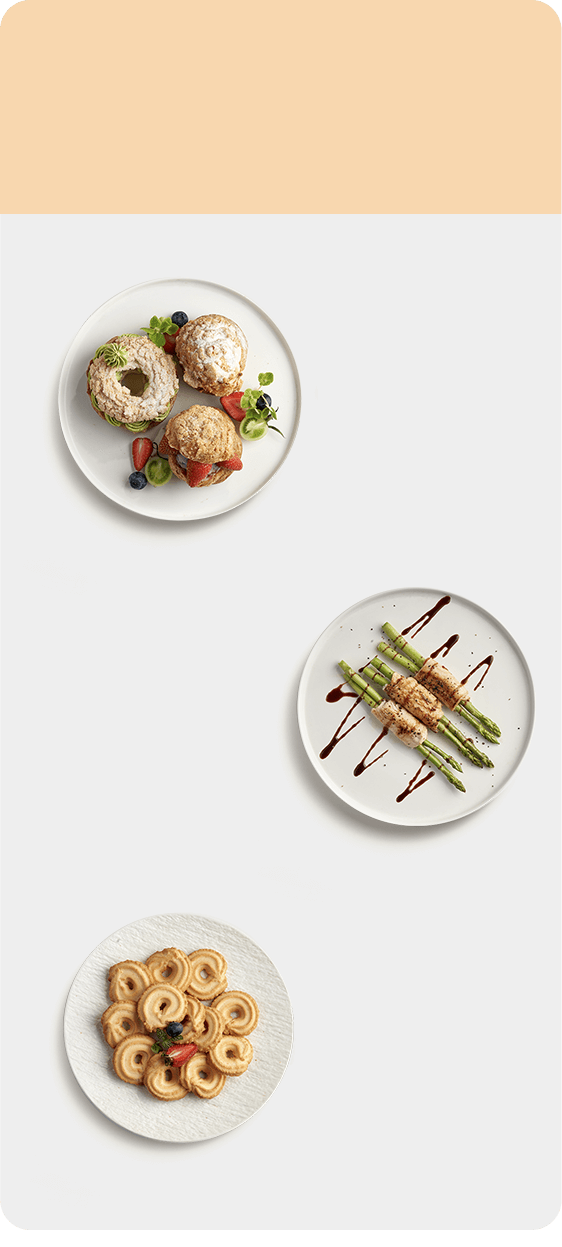 Medium-temperature range (80–180°C)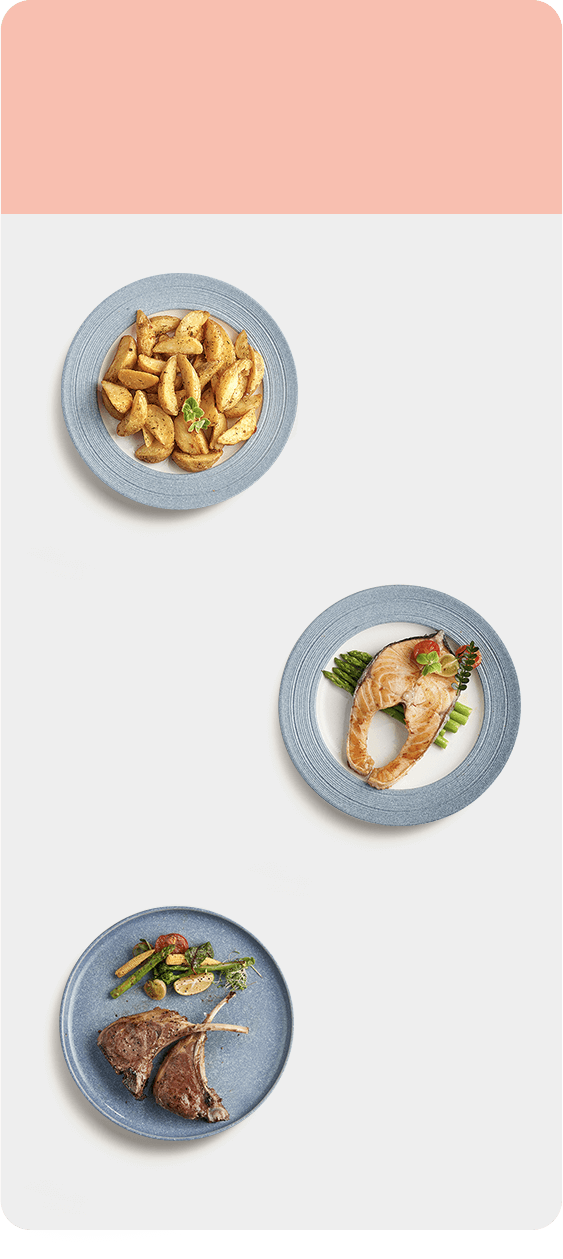 High-temperature range (180–220°C)
*Temperatures and time above are for reference only and may need to be adjusted according to actual conditions.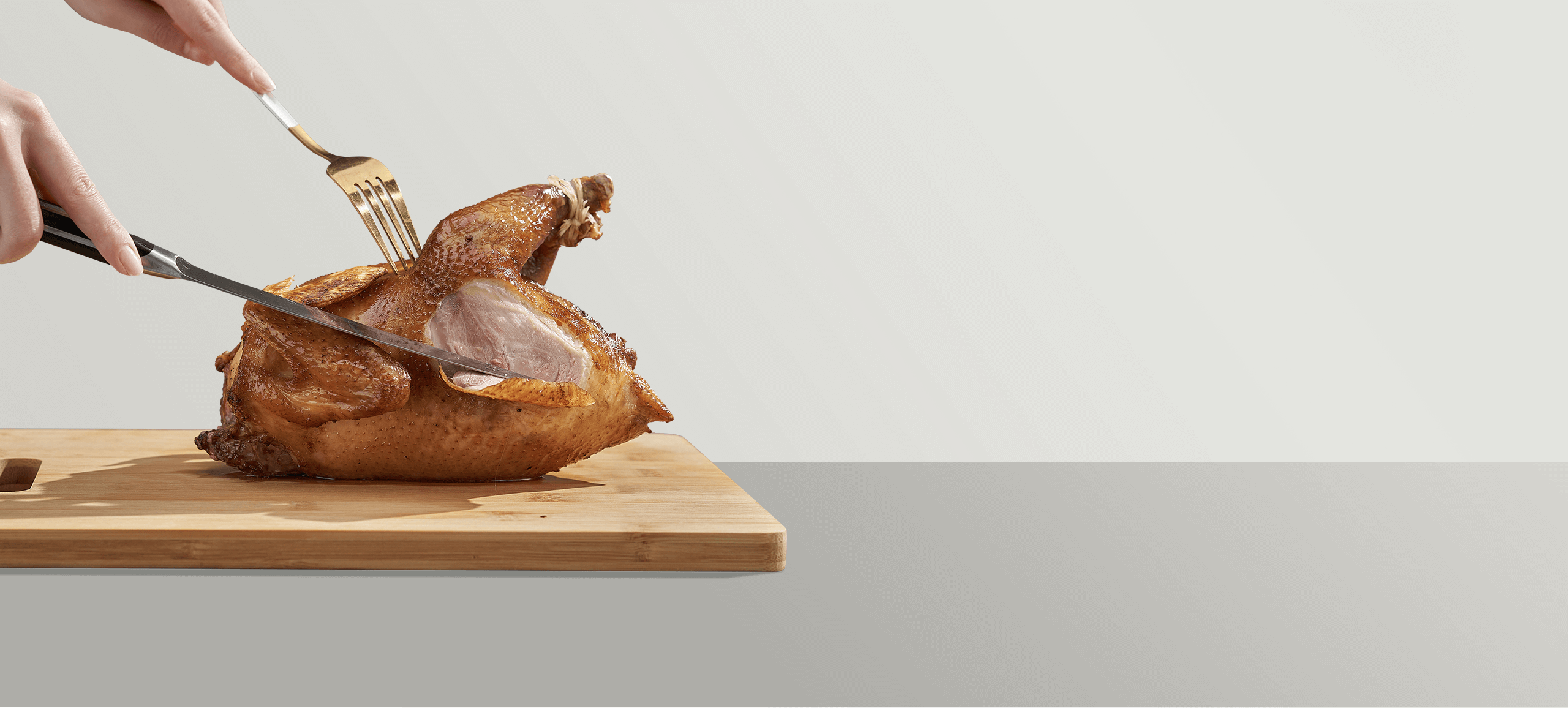 220°C high-temperature baking Efficient, quick and delicious
With a maximum temperature of 220°C, you can lock in juices and ensure a crispy outer layer while reducing cooking time by 33% compared to temperature of 180°C, improving efficiency, speed and flavour.


*Data from Careline Lab. Chicken wings were cooked using this product at 220°C for 10 minutes, which achieved the effect of cooking at 180°C for 15 minutes using traditional products.
Accessing the Mi Home app/Xiaomi Home app makes smartphone control simpler. Smart scheduling up to 24 hours in advance*, 100 one-touch cloud recipes and more.

24 hour smart scheduling for enjoying delicious food without waiting

Prepare breakfast ingredients and pre-set to cook after 10 hours


Get up and enjoy a delicious breakfast right away
*24 hour scheduling not available for defrost, yogurt, and dried fruit modes.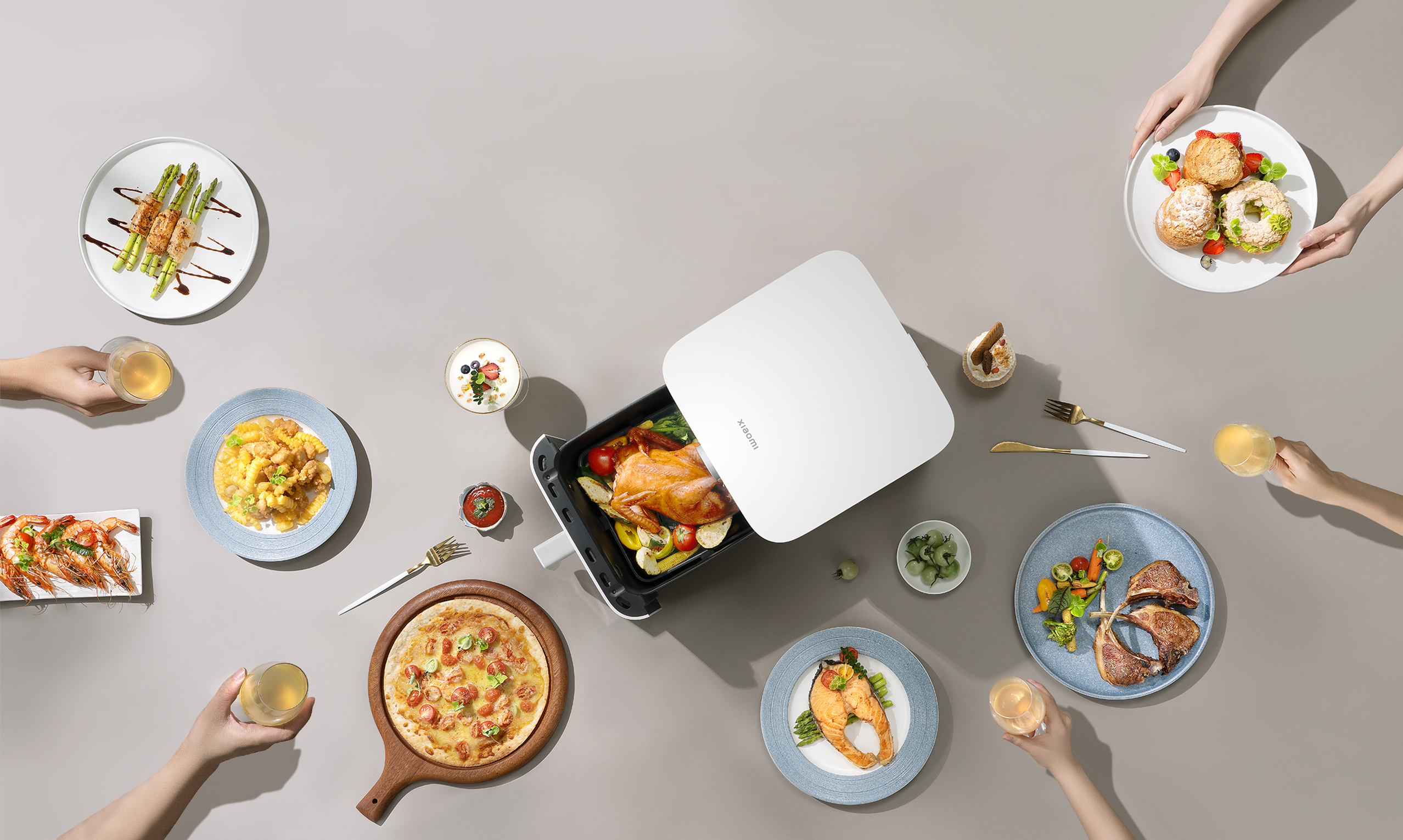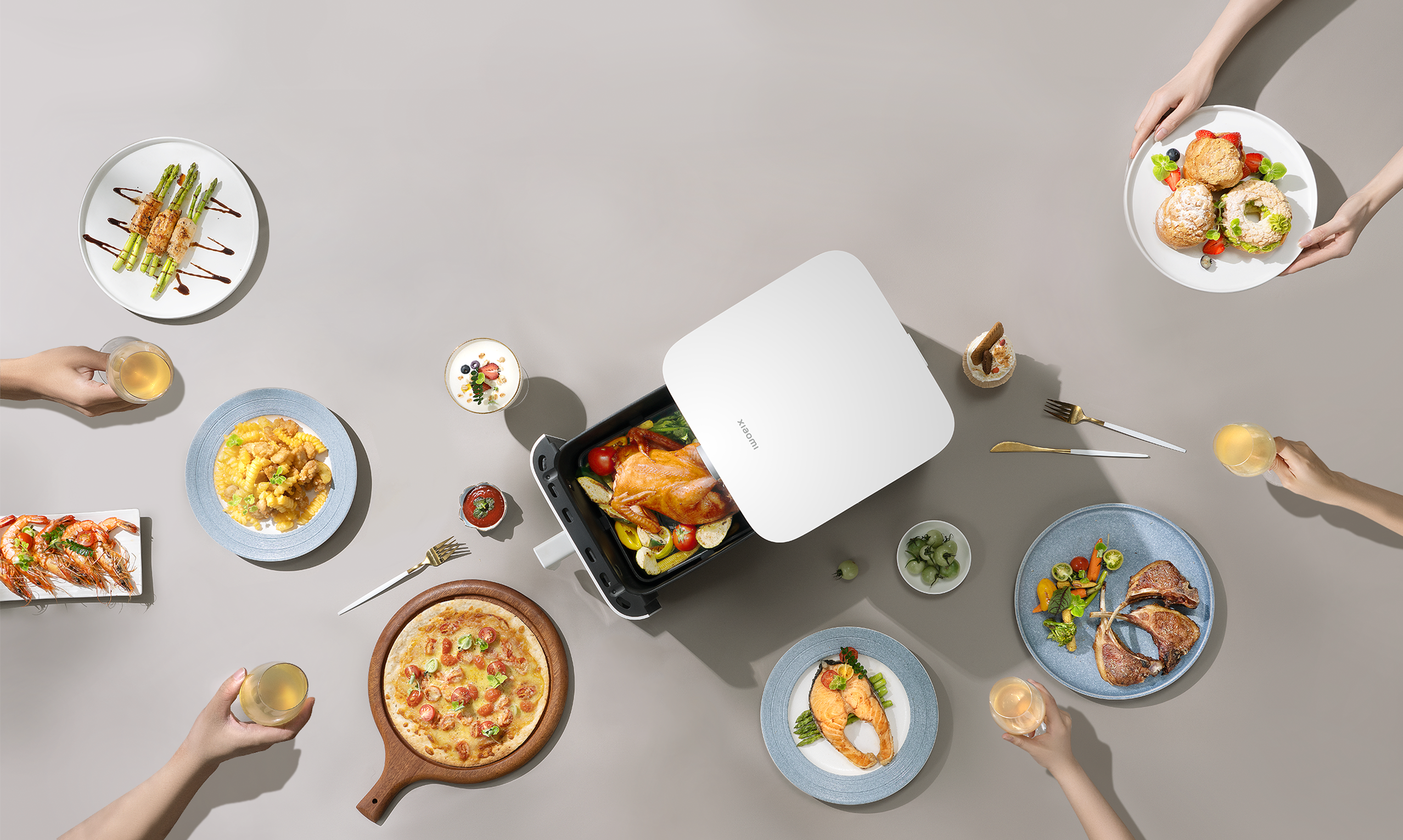 Large 6.5L capacity to let family and friends gather around
Its extra-large capacity makes it easy to roast a whole chicken. Whether it's a family gathering or a friend's party, you can handle it with ease.
LCD smart display to make cooking easy and fun
Adjust temperature and time
This smart display makes it easy to adjust the cooking mode and temperature control and set the time by spinning and tapping.
Select cooking modes easily
12 pre-set modes with simple and easy-to-operate one-tap smart cooking. You can also use the manual mode to customise even more delicious food.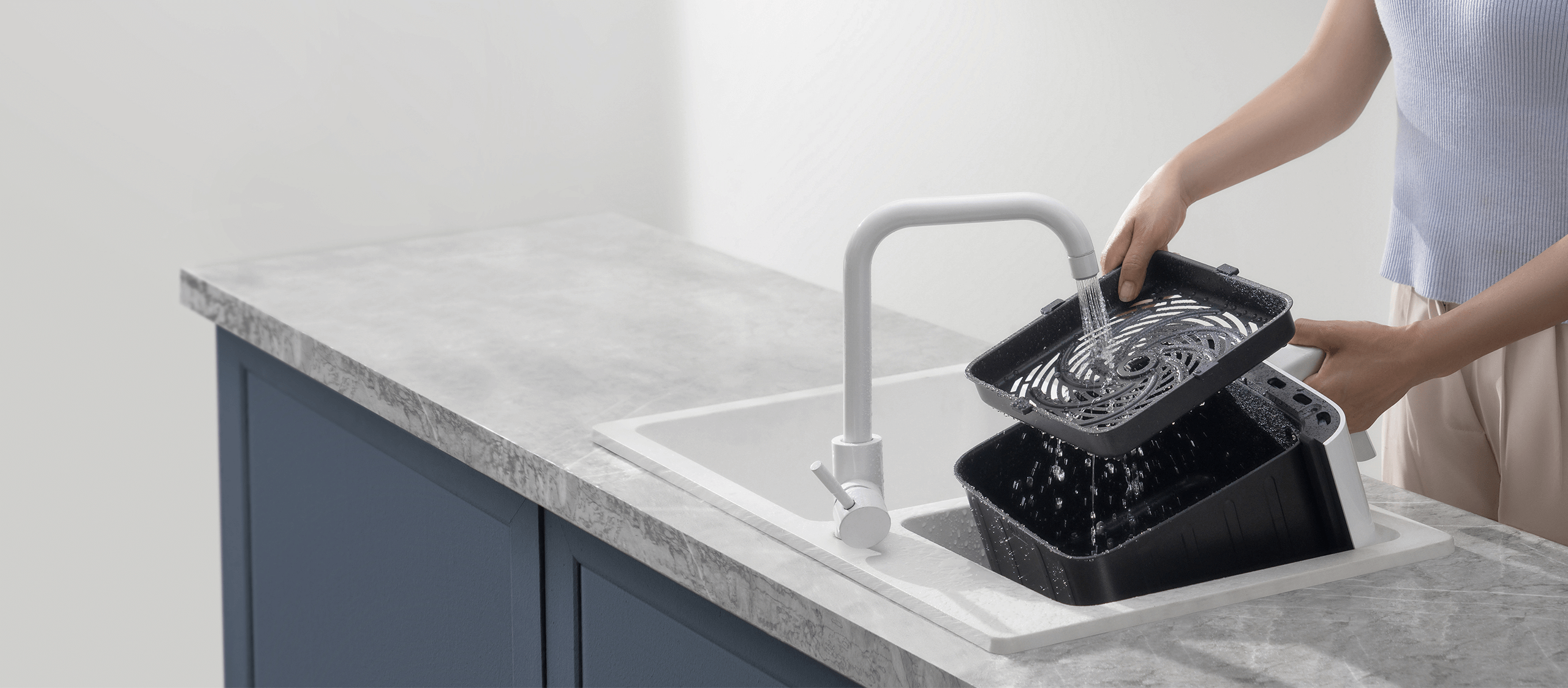 Dual-layer PTFE water-based non-stick coating Effortless post-meal cleaning
The food grade non-stick coating is wear-resistant and easy to clean with one rinse, saving you time and easing your safety concerns.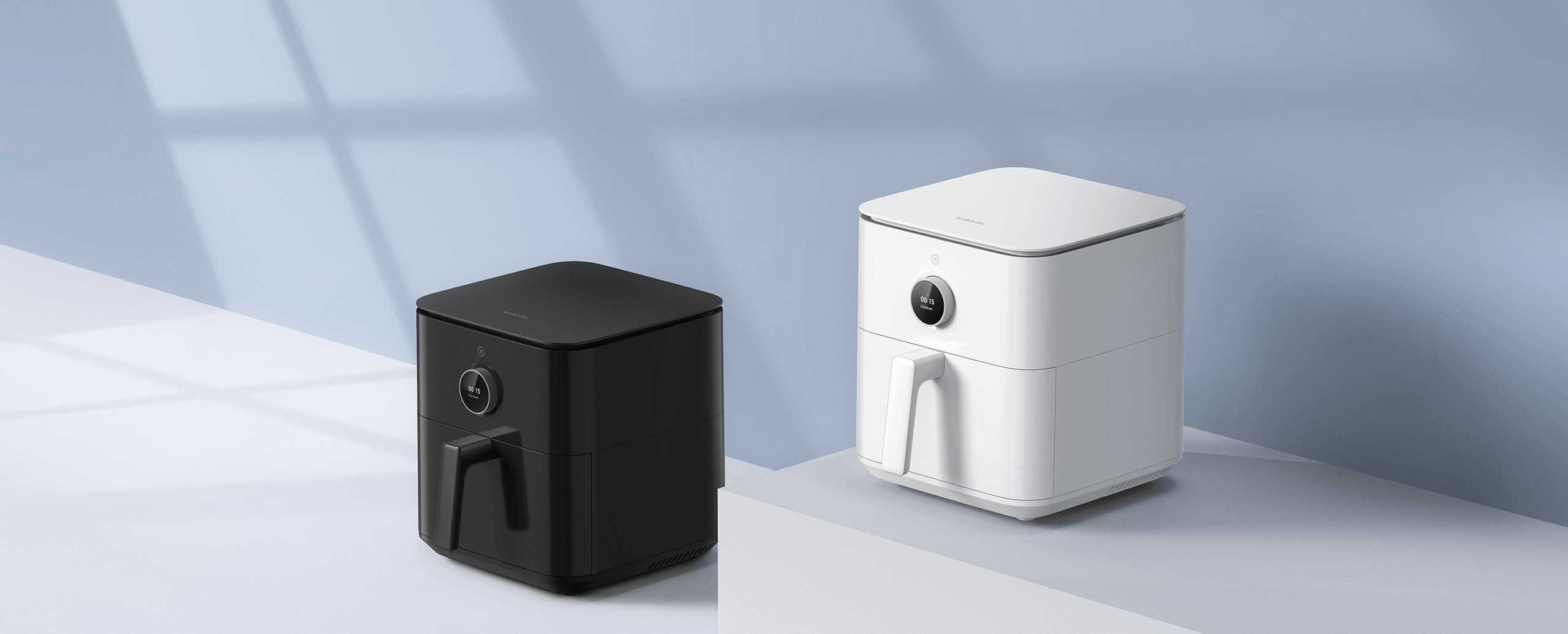 Quality details, considerate design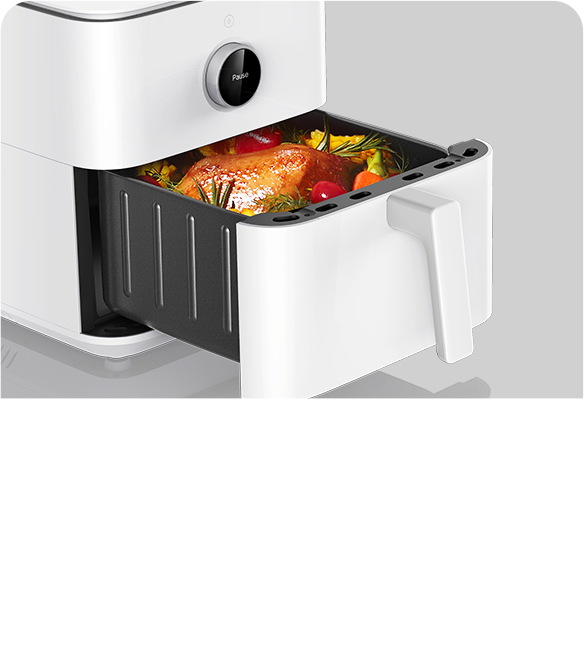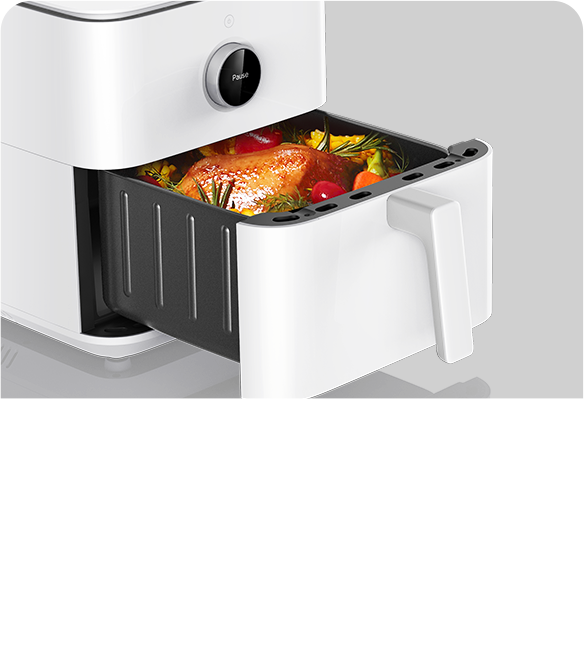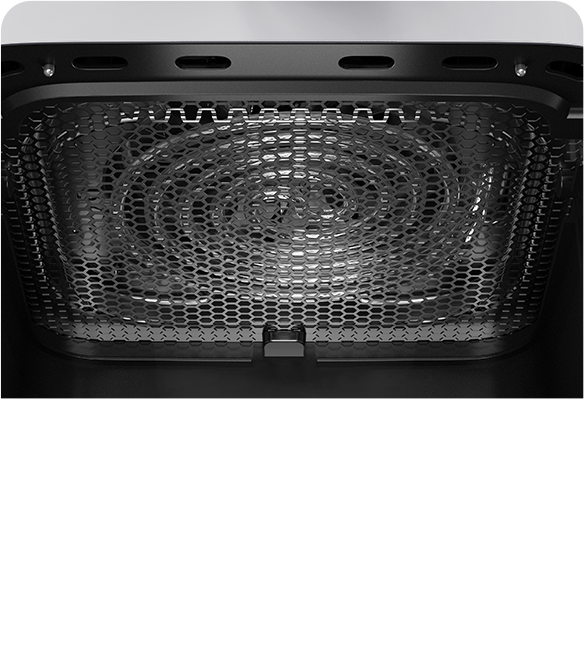 Automatic pause when the basket is removed
Adding ingredients while cooking is simple and worry-free.
Protective grill
The heating element area is isolated to prevent accidental burns.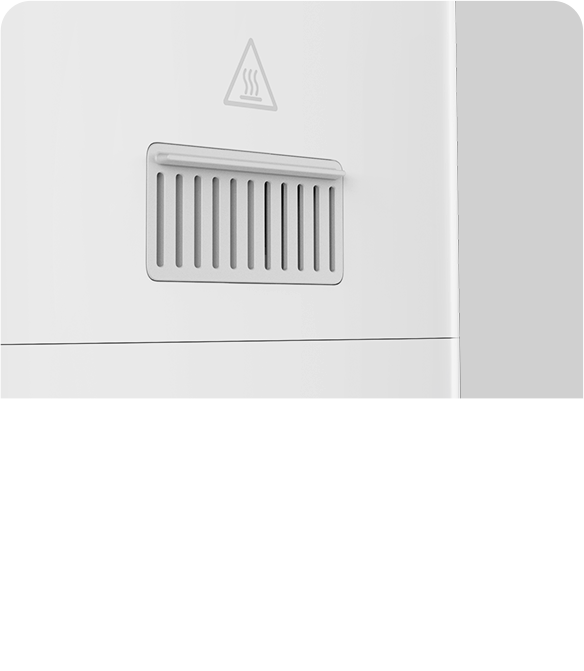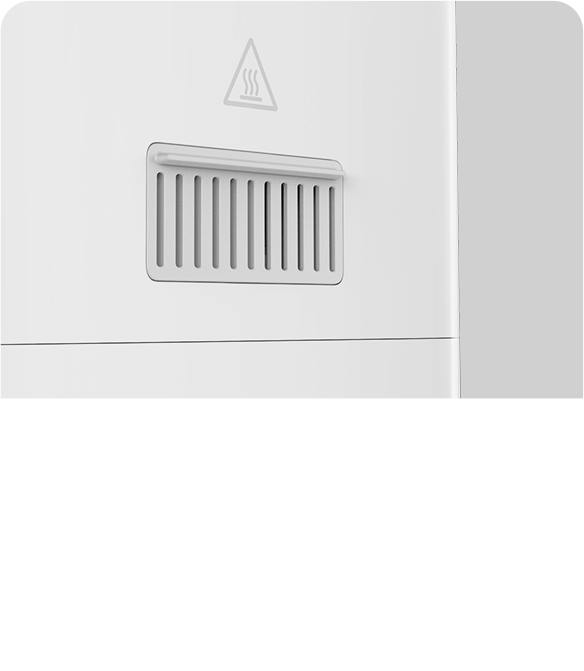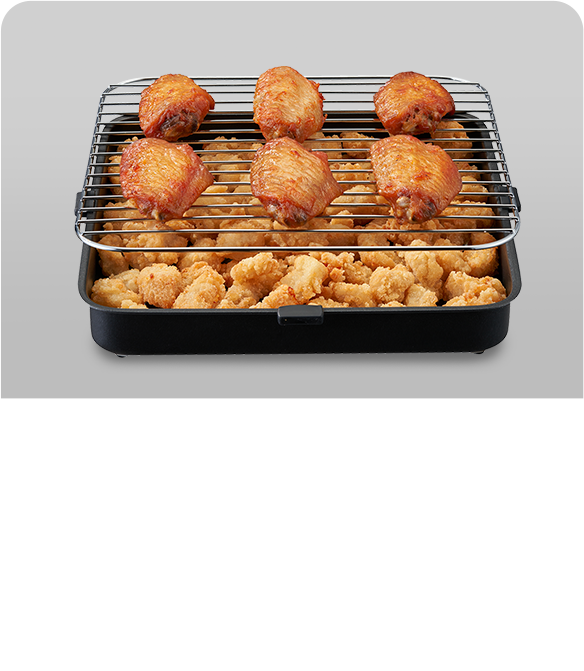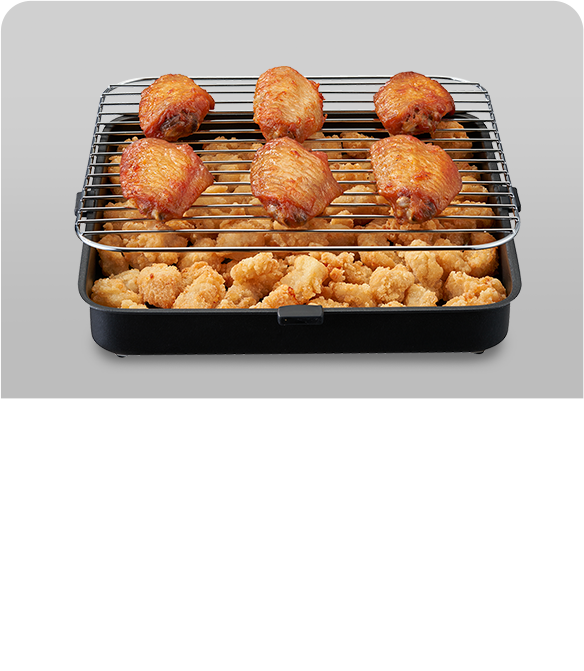 Rear cooling vent
Fast cooling for longer lifespan.
Coupled with an exclusive grill
Double-layer baking for an increased capacity.