Mi Smart Band 6
Bounce Into Action
Mi Smart Band Series by Xiaomi sold around 7M+ bands in India (IDC Worldwide Quarterly Wearable Device Tracker, March 2021)

3.9cm(1.56) AMOLED Full Screen Display
More at just a glance
SpO₂ Tracking
Stay in tune with your health!
30 Fitness Modes
Give that workout
your best!
Women's Health Tacking
Stay one step ahead of
your cycle!
Continuous Heart Rate Monitoring
Keep track of your ups and downs
Easy Magnetic Charging
14 days continuous battery life
Personal Activity Intelligence (PAI)
For a healthier lifestyle
Stress & Sleep Monitoring
Got you covered, night & day
5ATM Water Resistance
Stroke Recognition Compatible
Customizable Watch Faces
Stand out in style!
3.9cm(1.56) Full Screen Display
World's first Running Track Inspired Full Screen Display! Get more with just a glance
+50% Larger display area*
Mi Smart Band 6 sticks to a classic shape with an innovative large screen and rounded edges, making it comfortable to wear and look *compared to Mi Smart Band 5
326ppi AMOLED
Display
Comparable to image sharpness on smartphones. Set your background to a picture of what is close to you or choose from our 80+ watch faces to make your day brighter.
SpO₂ Tracking
Blood oxygen saturation (SpO₂) is an important physiological parameter of the respiratory cycle of the human body.
Stay in tune with your body, measure anytime, anywhere!
*The SpO₂ feature is not intended for diagnosis, prevention, monitoring, prediction, prognosis of any disease,investigation of physiological processes or any other medical purpose. All data and tracking should be used for well-being and personal reference only. If you feel uncomfortable,please rely on professional medical devices or consult a doctor for assistance.
30 Fitness Modes
All you need to take it to the next level! Mi Smart Band 6 now features 30 fitness modes with 19 new quick reaction fitness & sports modes such as Cricket, Badminton, HIIT, Basketball, Boxing, and Zumba. Exercise duration, calories burned and heart rate are tracked with high precision 6 axis sensors for a more efficient workout.
Cricket
Kickboxing
Zumba
Basketball
HIIT
Badminton
Boxing
Pilates
Gymnastics
Swimming
Rowing machine
Yoga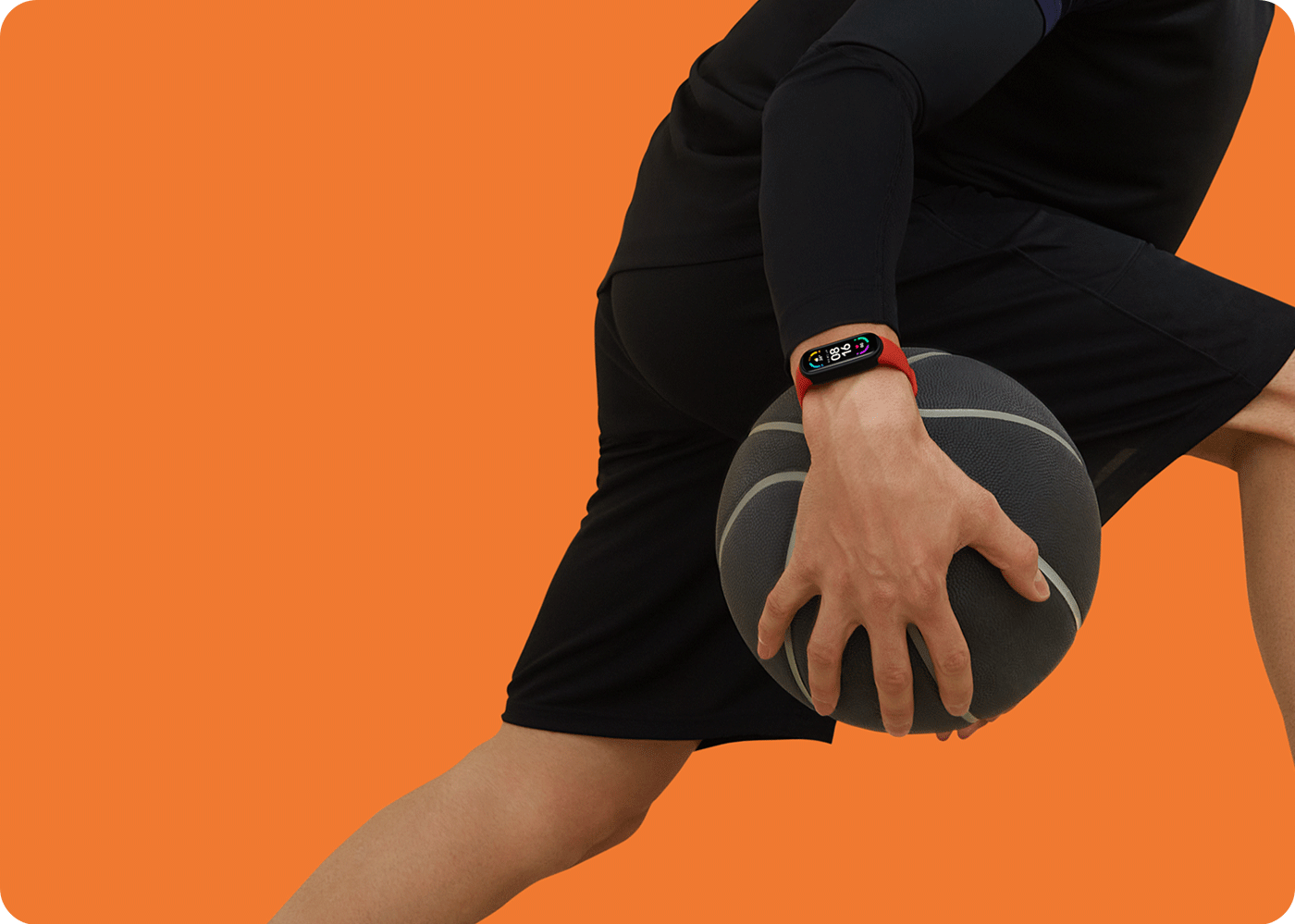 Basketball Mode Improves Reaction Time
Basketball is a good cardio exercise that can help enhance your reaction time, relieve stress, and improve teamwork skills.
Zumba mode Enjoy the fun of dancing
Transform yourself by getting your heart pumping while moving to the rhythm. Listen to the music and let your body follow the beat.
Boxing mode Improve your endurance
The Mi Smart Band 6 is round and compact, so you can easily wear it with hand wraps and boxing gloves, to record your exercise data.
Women's Health Tracking
Stay one step ahead of your cycle!
Monitor the patterns of your cycle, log periods and track ovulation, giving you one thing less to worry about.
Stress Monitoring
Stay calm, we've got you covered!
Keeps track of your stress levels and gives suggestions for easing and recovering from stress.
Continuous Heart Rate Monitoring
Keep Track of your Ups & Downs
The built-in PPG biosensor measures your heart rate when exercising and resting.
Breathing Exercises
Improve your inhalation quality
Quickly ease your body and mind with a guided breathing exercise of 1–5 minutes' duration, following the Inhale pattern.
Mi Fitness App & Mi Fit Compatible
Personalise your Smart Band
Vibrant colours to show off your style
Default Colour Strap: Black*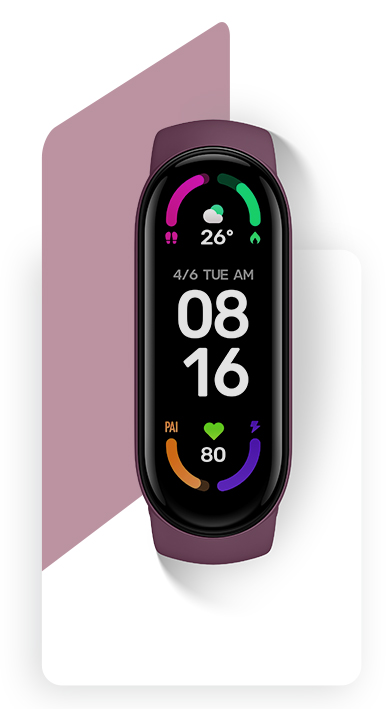 Maroon
Orange
Blue
Light Green
Connect the Mi Smart Band 6 to magnetic charging port with no hastle!
Quick Replies and Alerts
Bluetooth 5.0 Compatible Manage your Camera & Music
Useful features you might like
Idle alerts
Music
playback
Find my
phone
Phone
muting
Do not
disturb
Phone Unlocking
Incoming call notification
Weather
forecast
Countdown
timer
Calendar
reminder
Event
reminder
Message
alerts

Notes: *No.1 wearable band brand in the world. Canalys wearable band model-level shipment estimates, basic band category, Q4 2020 *The display size of the Mi Smart Band 6 is approximately 50% larger compared to Mi Smart Band 5. Data obtained from Huami Labs. *Customized display: Some of the band displays support custom content, allowing you to display your favorite or most-used features on the display according to your needs. *Female health tracking: This feature should not be used or relied on for any medical purposes. It may not accurately predict your menstrual cycles or related information. All data and tracking should be used for personal reference only. *The SpO₂ feature is not intended for diagnosis, prevention, monitoring, prediction, prognosis of any disease, investigation of physiological processes or any other medical purpose. All data and tracking should be used for well-being and personal reference only. If you feel uncomfortable, please rely on professional medical devices or consult a doctor for assistance. *50 m water resistance: The 50 m water resistance is based on standard GB/T 30106-2013 and has been tested by the China National Horological Quality Supervision and Testing Center. Water resistance report numbers: Mi Smart Band 6: QT2012060. The water resistance rating is 5 ATM (equivalent to a depth of 50 m under water), allowing the device to be worn while showering and swimming, but not in saunas or when diving; *Personal Activity Intelligence: This refers to the band's Personal Activity Intelligence (PAI) vitality index; a new, innovative system that converts your heart rate data into a personalized score that indicates the level of activity required in order to maintain good health. *Conditions for testing Mi Smart Band 6 battery life with heavy use are as follows: Fully charged; automatic heart rate monitoring activated for 1 min; scientific sleep detection activated; stress detection activated; sleeep breathing quality monitoring activated; lift-wrist-to-wake function activated; all other settings set to factory defaults; 200 notifications received and displayed per day; 2 alarms per day, each with 5 seconds of vibration; 200 activations of the lift-wrist-to-wake function; syncing data with the app once per day; manually measuring SpO₂ levels twice a day; recording exercise for 120 minutes per week. *Conditions for testing Mi Smart Band 6 battery life in standard mode are as follows: Fully charged; automatic heart rate monitoring activated for 30 minutes; scientific sleep monitoring disabled; stress detection disabled; sleep breathing quality monitoring disabled; lift-wrist-to-wake function activated; message notifications activated; all other settings set to factory defaults; 100 notifications received and displayed per day; 2 alarms per day, each with 5 seconds of vibration; 100 activations of the lift-wrist-to-wake function; syncing data with the app once per day; manually measuring SpO2 levels twice a day; recording exercise for 90 minutes per week. *Conditions for testing Mi Smart Band 6 battery life in power saving mode are as follows: Fully charged; automatic heart rate monitoring disabled; scientific sleep detection disabled; lift-wrist-to-wake function disabled; 50 notifications received and displayed per day; 2 alarms per day, each with 5 seconds of vibration; screen unlocked 50 times per day; syncing data with the app once per day. *All battery life test data has been obtained from Huami Labs. Various factors can influence battery life such as settings used, the way the device is operated, environmental conditions and so on, all of which may result in battery life in actual use differing from that found in lab data; *All images used are for illustrative purposes solely to demonstrate the functionality of the product and are not fully representative of the product itself. **The SpO₂ feature is not intended for diagnosis, prevention, monitoring, prediction, prognosis of any disease,investigation of physiological processes or any other medical purpose. All data and tracking should be used for well-being and personal reference only. If you feel uncomfortable,please rely on professional medical devices or consult a doctor for assistance